It might be early days into 2019, but echoes of the 2018 Athletics season still reverberate, so let's recount some of the outstanding performers, outlining who we think were the World's Top 12 Sprinters last year.
Let's bring you the first part, from 12-7, with the concluding part coming up tomorrow. Do let us know if you agree or disagree with the athletes we have listed.
 12.) Briana Williams
She doesn't turn 17 until March this year, but Briana Williams has already made a name for herself as the next big star to come out from the land (Jamaica) where a 'galaxy of Athletics stars' are birthed.
Some have likened her to the legendary Shelly-Ann Fraser-Pryce; others to Elaine Thompson, and they are not wrong with the comparisons, seeing that Williams became a World Junior Champion at 16. Not many in the world can boast of such feat, and to be drawn in the same league as Thompson and Fraser-Pryce is not just complimentary.
Williams started showing signs of what to expect from her when as a 13-year old, she ran a time of 12.09s to win her heat at the USA Junior Championships in Jacksonville. Although she clocked 12.58s a year later in Atlanta, her progression was on the right path.
The breakthrough came in 2017 on her home track in Kingston where she ran an astonishing 11.30s to finish 2nd in the women's 100m at the Jamaica U20 Championships.
Through out the 2017 calendar season, of the ten 100m races she took part in, all were below 12s. For someone that was just 15 at the time, it was a remarkable performance.
Williams laid a good foundation of what was to come, seizing the opportunity in the 2018 season to dominate in her age category, and also rubbing shoulders with her seniors.
One of the major highlights of her career so far, came at the Jacksonville Bob Hayes Invitational, where she stormed to a Personal Best (PB) of 11.13s. Remember, it was at Jacksonville that she recorded her then PB of 12.09s in 2015.
Before clocking this new one of 11.13s, she had given a hint of what to expect from her after finishing 2nd in her heat at the Kingston Carifita Trials in 11.38s. She won the trials a day later, clocking 11.58s.
Williams was undoubtedly the favourite going into the World Junior Championships in Tampere, especially on the back of her performances at the Albuquerque Great Southwest Classic in June, which she won in 11.25s. She finished 3rd a week later at the Racers Grand Prix in 11.26s, and 5th at the Jamaican Senior Championships in 11.21s.
Coming to Tampere, as expected, Williams didn't lose a race in the rounds en route winning the Junior title in 11.16s, ahead of USA's Twanisha Terry who was 2nd in 11.19s, and Great Britain's Kristal Awuah 3rd in 11.37s.
Williams made it a double, winning the women's 200m with a Championships Record of 22.50s. Her two GOLD medals helped Jamaica finish second on the table behind Kenya, with an overall tally of 12 medals: four Gold, five Silver and three Bronze medals.
Interestingly, before settling for the 100m and 200m, Williams also tried out the Long and Triple Jump events. In fact, she has PBs of 5.02m and 11.71m in both events, which she jumped in 2014 and 2015 respectively.
Her achievements in 2018 earned her a spot on our rankings, and she is the only Junior Athlete on the list.
11) Sergey Shubenkov
In 2017, of the twelve races that Sergey Shubenkov competed in, heats and finals inclusive, he only won three: one in the heats and two in the finals. Not exactly a good year for him especially as he was struggling to adapt to a new identity as an Authorized Neutral Athlete (ANA).
However, so many things changed in 2018 and he had a lot more to cheer about coming through the barriers in the men's 110m Hurdles.
To pale into comparison his 2017 season, Shubenkov competed in eighteen 110m Hurdles races in 2018 and won fourteen of them. That's a much higher percentage than the previous year. Of the four that he did not win, Shubenkov finished 3rd in one, 2nd on two occasions and a disqualification at the Paris Diamond League. He was that consistent.
Shubenkov didn't start his season in full throttle, finishing 3rd at the Shanghai Diamond League in 13.27s, and then 2nd in Eugene in 13.08s, and he didn't look back from then.
Having won the 2015 World Championships with a then PB of 12.98s, the first time he would run under 13s, Shubenkov had to wait for three years to go under 13s again. Racing at the Montreuil Elite Meet in June, Shunbenkov clocked 12.99s to win the event.
It was the first of three more sub 13s to come, as he raced to a Lifetime's Best of 12.92s to win at the Székesfehérvár Gyulai István Memorial meet in Hungary. Three days later at the Lausanne Athletissima meet, Shubenkov ran 12.95s, a clear winner over Devon Allen who was 2nd in 13.29s, and Pascal Martinot-Lagarde 3rd in 13.30s.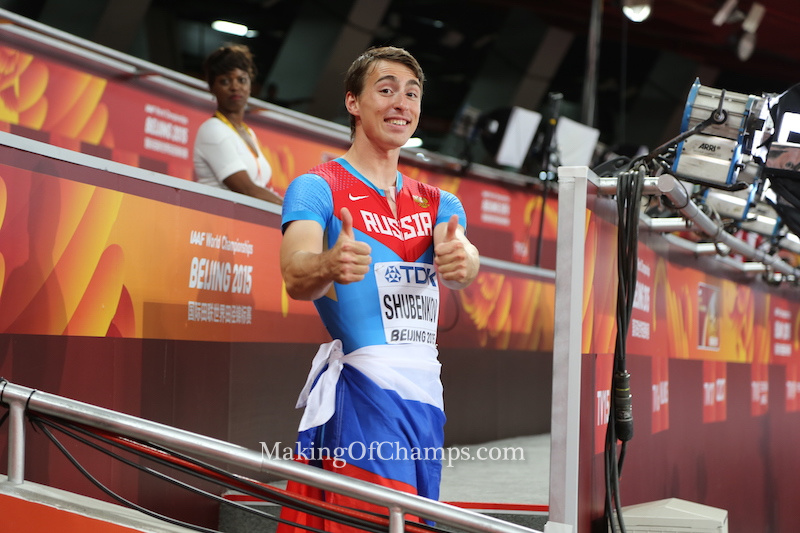 Shubenkov narrowly missed out on winning the European Championships title in Berlin, clocking an identical time of 13.17s as Martinot-Lagarde who got the win, with the former settling for Silver.
However, there was more to come for Shubenkov who shook off the disappointment of Berlin to win the Diamond League trophy in Brussels, racing to a fast 12.97s to secure the win.
Shubenkov didn't let off there; he left some more in the tank for the Continental Cup in Ostrava, beating the field to win the title in 13.09s. In a year where Omar McLeod huffed and puffed, Shubenkov was the undisputed king of the 110m Hurdles in 2018.
10) Brianna McNeal
This is the second 'Brianna' we are featuring in our Top list, but this one has two Ns in her name and has been in the game much longer than the younger 'Briana' whom we have at No. 12.
2018 was the year Brianna McNeal finally shook off the shadow of Kendra Harrison and charted her own course as a strong challenger in the women's 100m Hurdles.
Not like McNeal started blossoming in 2018. In fact she holds the fourth joint fastest time ever in the women's 100m Hurdles, clocking a fast 12.26s, which she ran in 2013 at the Des Moines meet in USA.
That time saw her equal Lyudmila Narozhilenko's 12.26s in the all time list, which the latter ran as far as 1992 in Sevilla, Spain. At the time McNeal ran hers, it was the joint 3rd fastest time in history before Kendra Harrison smashed the World Record (WR) in 2016.
Last season, McNeal accounted for five of the ten fastest times in the world over the 100m Hurdles. Only Harrison ran faster than her in 2018, when she won the London Diamond League with a time of 12.36s, and McNeal finishing 2nd in 12.47s.
However, it was McNeal who went on to win the Diamond trophy by the end of season in Brussels, winning that encounter in 12.61s to secure the top prize and a guaranteed place at this season's World Championships in Doha.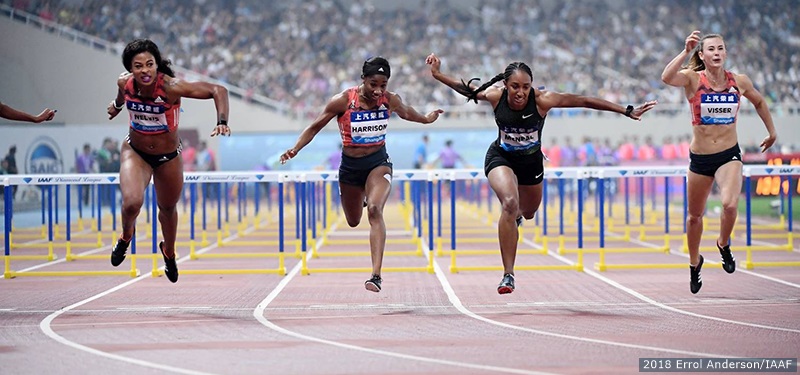 McNeal was particularly impressive in the Diamond League meets she entered for, winning five of the eight that she took part in. Her standout performance came at the Stockholm Bauhaus-Galan meet where she ran a Season's Best (SB) of 12.38s to win.
She came up with a couple of other good races, winning the Hengelo FBK Games in 12.66s, the same time she used to close out her season at the World Challenge in Zagreb where she finished 2nd.
She arguably dominated the 100m Hurdles last season, and having beaten Harrison, she will no doubt have a strong belief in her abilities going into the 2019 season.
9.) Dina Asher-smith
British sensation and delight, Dina Asher-Smith in 2018, lived up to the hype and expectations many of her home fans have saddled her with, having an incredible season to cherish.
Opting out of the 100m to compete in just the 200m and 4x100m at the 2017 World Championships in London, Asher-Smith narrowly missed out on an individual medal, finishing 4th in the 200m final then with a time of 22.22m.
Asher-Smith started her season with a couple of indoor competitions, matching her 60m PB of 7.08s to win her heat at the Glasgow Müller Indoor Grand Prix, before going on to finish 2nd in 7.09s.
Her season really took off at the Commonwealth Games in Australia when she raced to an SB of 22.29s to clinch the Bronze medal behind Shaunae Miller-Uibo and Shericka Jackson. That was the first senior individual medal she would win outside Europe.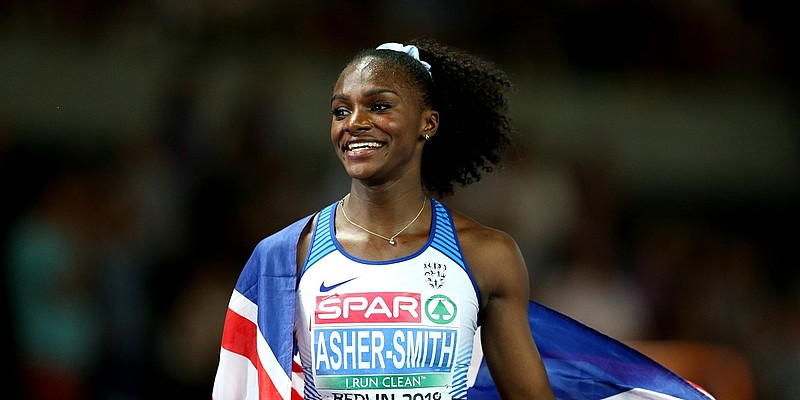 Asher-Smith came back to help Great Britain easily storm to victory in the women's 4x100m final, beating Jamaica and Nigeria to get the GOLD medal as the quartet passed round the baton in 42.46s.
After the Commonwealth Games in April, she only made one outing at the Rabat Diamond League in July, finishing 2nd in the 200m in 22.40s, prior to the European Championships in Berlin in August.
It's not a secret that 200m seems to be her forte, but at the Championships in Berlin, Asher-Smith showed what she can do in the 100m as well, racing to a joint World Lead (WL) and English National Record (NR) of 10.85s to win GOLD.
That winning time tied her to the No.1 spot alongside Marie Josee Ta Lou in the world rankings, with the Ivorian having clocked 10.85s earlier in the season at the Doha Diamond League.
Asher-Smith completed the European double, and also getting one over Dafne Schippers in the 200m, beating her Dutch rival to win GOLD with yet another WL and NR, crossing the line with a Lifetime's Best of 21.89s.
No other athlete in the world went under 22s in the women's 200m last year except Asher-Smith. The closest to her was Nigeria's Blessing Okagbare-Ighoteguonor, who ran an African Record of 22.04s, ranking No. 2 in the world.
At the Diamond League final in Zurich, Asher-smith finished 2nd in 11.08s and also 2nd at the Continental Cup in Ostrava clocking 11.06s, with Ta Lou winning the latter.
Such was Asher-Smith's performance which earned her a place in the five finalists for the 2018 IAAF Female Athlete of the Year award. Although she did not win, she would take solace knowing that her season really went well.
 8.) Noah Lyles
Seen in some quarters as the undisputed successor to Usain Bolt, Noah Lyles is doing all the right things: performance and aura wise to back up that assertion. Just visit any of his social media handles and you would agree that he has the charisma.
It would have been easy to have written off Lyles as the next prodigy after he won the 2014 Youth Olympics 200m title in Nanjing with a time of 20.80s, but two years later in Bydgoszcz, he proved that he was not a one-off wonder, winning the 100m Junior title in 10.17s.
That was when Lyles really took off in full flight, going on to become a full blown athlete in 2017 when he turned pro, and winning the 200m Diamond trophy. Managing the transition from being a Junior athlete to a Senior one, 2018 was a true test to show if he could truly weather the storm.
Lyles started his season in an impressive fashion, clocking a very fast 9.86s at the Gainesville Tom Jones Memorial meet, although the excessive wind reading of +4.1 ruled out the time from being legal. He was to get another chance to show that the first one wasn't a fluke.
In June, competing at the Racers Grand Prix in Kingston, Lyles finished 2nd with a then PB of 9.93s, slightly beaten by Zharnel Hughes who won in 9.91s, and Yohan Blake 3rd in 10.00s.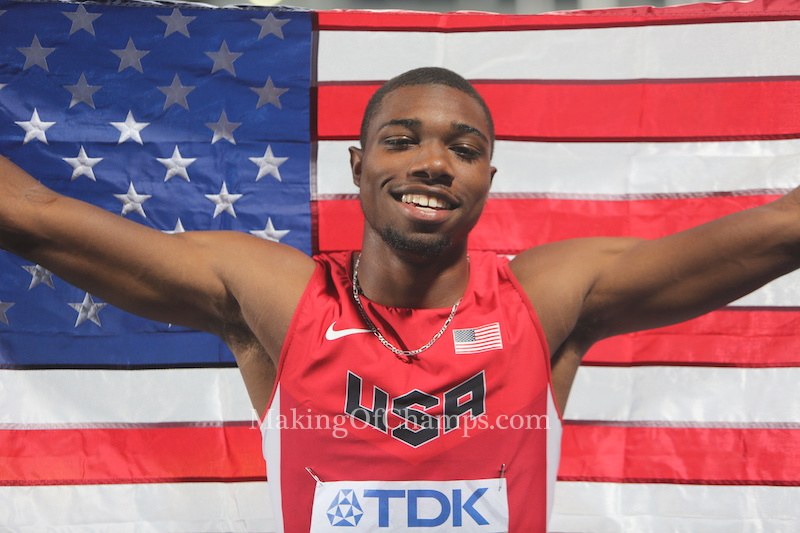 However, it was at the USA National Championships that Lyles finally cut his teeth in the 100m, running three PBs and winning the final in 9.88s, a time that was the WL mark for about two months. Only Christian Coleman (9.79s) and Ronnie Baker (9.87s) ran faster than him in 2018.
As expected, Lyles won the Continental Cup title in Ostrava, beating the field to win with a time of 10.01s. It was Lyles' first global individual medal in the 100m as a senior.
Over to the 200m where he has held sway, Lyles opened up his season in this event, clocking 19.83s to win at the Doha Diamond League.
With South Africa's Clarence Munyai holding the 200m WL of 19.69s, which he ran in March, Lyles braced up for the challenge and twice ran WLs of 19.69s in Eugene to equal that, then going on to better that with 19.65s, which he won with at the Monaco Diamond League.
Of the fastest times in the 200m last year, Lyles accounts for five of them. In fact he ran four of the top five times in the world in 2018. He was that good over the distance.
Perhaps the stiffest test he faced came at the Lausanne Diamond League, coming up against Michael Norman who was in great form. Although Norman got a good start, leading after the bend, Lyles dug in deep to beat him in the home straight and win in 19.69s, the second time he was recording an identical time in 2018. Norman finished 2nd with a PB of 19.88s.
Lyles had more to come in the season, winning his second consecutive Diamond Trophy in the 200m in Zurich, clocking a time of 19.67s the second fastest time in the world last year. He also helped Team Americas win GOLD in the men's 4x100m relay, with the team returning a time of 38.05s.
It's going to be an interesting 2019 season for Lyles who will be making his Senior World Championships debut in Doha. Don't bet against him winning the double.
7.) Marie Josee Ta Lou
For so long, Marie Josee Ta Lou has been the maid of honour; now the whole world is getting accustomed to her being the bride. Having had close shaves in 2016 when she finished 4th in both the 100m and 200m at the Olympics, Ta Lou has really gone from strength to strength since then.
In 2017, Ta Lou was beaten at the line by Tori Bowie who snatched the 100m World title from the Ivorian by a very tiny margin, after using her taller physique to cross first.
Ta Lou went back and worked much harder, starting her 2018 season as early as January, competing at the Berlin Indoor Championships. Although she finished 6th in 7.22s, it was just work in progress.
By February, she was already getting into shape, clocking a 60m PB of 7.08s to win the Eaubonne Meet. Days later, she raced to another PB to win the Glasgow Müller Indoor Grand Prix title in 7.07s.
Then came the Birmingham IAAF World Indoor Championships in March. Ta Lou ran 7.17s to win her heat, and then put herself in contention for the title when she won her semis in 7.08s.
It would have taken some beating to defeat her compatriot, Murielle Ahoure who stormed to an African Record of 6.97s to win GOLD, but Ta Lou ran fast enough to get on the podium and win Silver with a PB of 7.05s.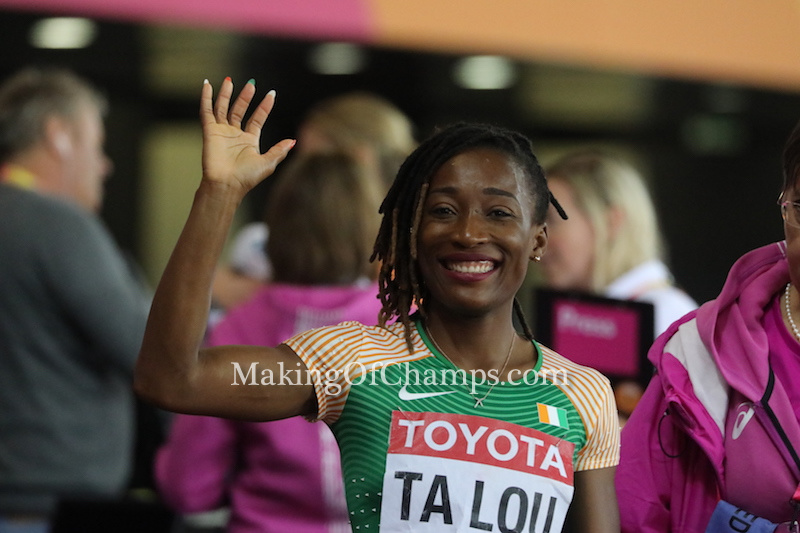 With the Indoor season over, Ta Lou carried that form into the Outdoor circuit, and in her first race, ran a WL of 10.85s to win the Doha Diamond League. Only Asher-Smith matched that time in the world in 2018.
Ta Lou was so good in the 100m last season, that alongside Asher-Smith, they were the only two athletes to go under 11s on five different occasions. However, of the top five fastest times in the world last year, Ta Lou has three.
Not having won the African Championships 100m title before, winning Bronze and Silver in 2014 and 2016 respectively, there was no better time for her to win it than 2018.
She grabbed it with both hands, storming to a double in Asaba, winning the 100m in 11.17s, and then adding the 200m to her collection with a time of 22.50s. That was her reward for years of hard work and patiently bidding her time.
Coming to the Diamond League final exhausted, Ta Lou finished 3rd in the 100m in Zurich, posting a time of 11.10s. Days later, she did go on to win at the Berlin and Zagreb World Challenge meets in 11.08s and 11.05s respectively.
In a battle of World Leaders, Ta Lou went into the showdown with Asher-Smith at the Continental Cup in Ostrava with both athletes eager to deliver the points for their continents. Ta Lou held on to win the title in 11.14s.
Although Ta Lou is not an outright favourite in the 200m, in recent years, she has been challenging for medals in this event and has always been in contention.
This season, Ta Lou could possibly elect to skip the African Games in Morocco to likely focus all her attention on the World Championships in Doha, which has proven to be a good ground for her.
When Ta Lou steps out for the 100m final, the other seven finalists would be confident of their own chances too, but they will no doubt be wary of what the Ivorian can do, because 2019 could finally be the year she lands the big prize.