Every Athletics season throws up a pool of talented athletes who have all the proponents needed to go on and dominate their event  for several years if their potential is fully maximized.
Going by the impressive performances we witnessed from Nigerian athletes in 2018, we shortlisted 10 athletes who had their breakout season, making a big entry into Athletics reckoning this year.
Majority of these athletes were unknown before 2018, but there's hardly any keen Nigerian Athletics follower who is oblivious of them now. In fact, they are being touted in some quarters as the next generation of Nigerian athletes who could attain global recognition.
So starting in descending order from 10-1, let's bring you the first five athletes who have had a breakout season. Hopefully, you would agree with us when we bring the concluding part tomorrow.
However, if you think there are other deserving athletes whom we might have skipped, please do let us know.
                                           10) Princess Kara
Just ask Princess Kara who her role model is and she won't hesitate to reel out the name: Sandra Perkovic. Although Kara still has a mountain to climb to attain the enviable heights of the multiple Olympic and World Champion, she's well on the path of making a name for herself.
Although Chinwe Okoro and Chioma Onyekwere are currently the first picks for Nigeria in the women's Discus, Kara is gradually challenging that duopoly and could wrestle a place next season for the African Games.
Competing in all the AFN Golden League meets this season, Kara never lost and had to contend with mostly herself, never threatened to relinquish her position as the best female Discus thrower based in Nigeria.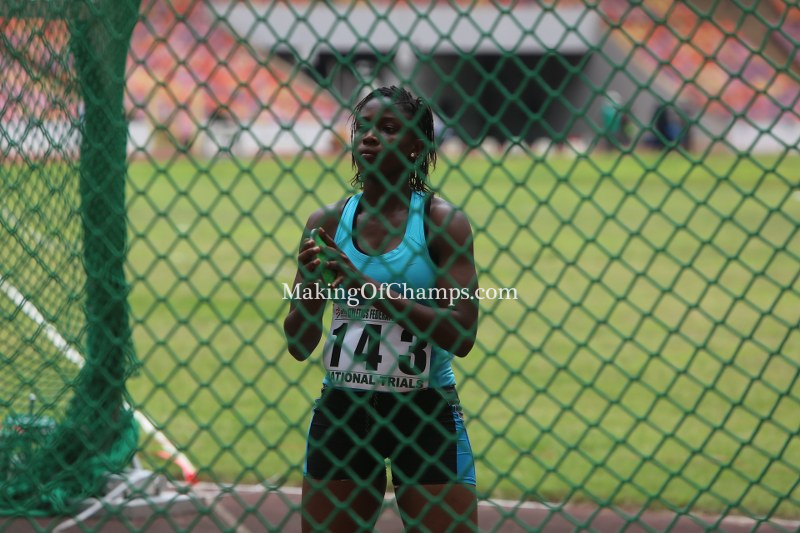 With a Personal Best of 44.78m, which she threw last year at the Golden League meet in Port Harcourt, Kara has since maintained some form of consistency, which has seen her throw marks over 40m, aiming for the 45m range as her progression continues.
In March, she threw 42.60m to win in Abuja, and although it was not enough for her to make the Nigerian team to Australia a month later, having won the Commonwealth Games Trials in February, she was eventually selected for the U20 West African Games in Ghana.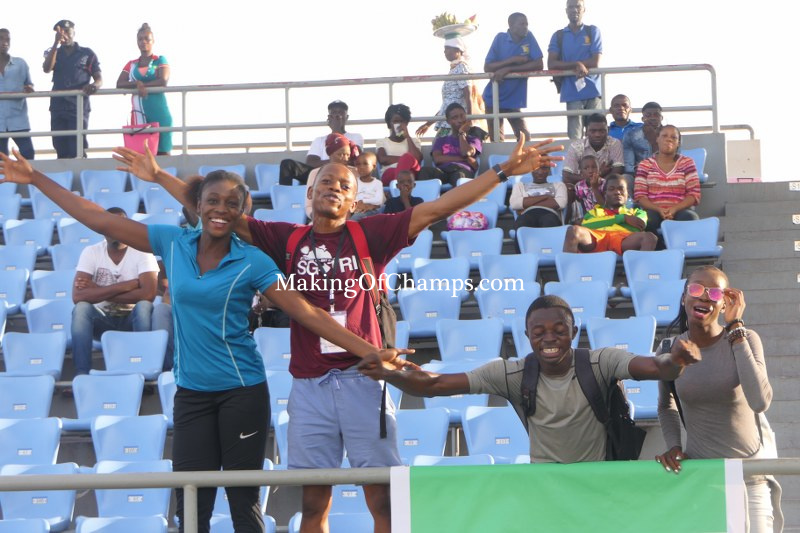 She didn't participate despite making the trip to Cape Coast, and then switched to cheer-leading, being at every event a Nigerian athlete took part in to cheer them. She easily won the National Junior title in Ozoro, throwing a distance of 44.38m to win GOLD.
Kara was initially in the provisional Nigerian team for the African Athletics Championships in Asaba, but had to be dropped for Okoro and Onyekwere. It was a disappointment that encouraged Kara to aim for a good climax to her season.
Aiming to have a bright spot to talk about, Kara worked hard to be at the National Sports Festival (NSF) in Abuja. Competing with gusto, she came close to matching her PB, winning the Sports Festival title with a throw of 44.50m.
All her legal throws were over 40m, and Kara is now knocking at the door of 50m. With a physique just like her idol (Perkovic), Kara will build on the disappointments of 2018, and also take solace in how her season ended; certainly it's a good sign.
                  9) Margaret Bukola Bolufawi
Boluwatife, Bolutife…Bolufawi, such was the confusion when people were trying to really know Margaret Bukola's surname after she staged a big upset to win the women's 100m title at the NSF in Abuja.
By the way, we can confirm that her surname is 'Bolufawi', not 'Boluwatife' that some people had adopted as her surname before she stormed to instant stardom.
With reporters swooning around her and asking for her name, a humble Bolufawi reveled in the moment, gladly obliging with answers. At least that's what they get for not even considering her a dark horse, not to talk of being the favourite for the title.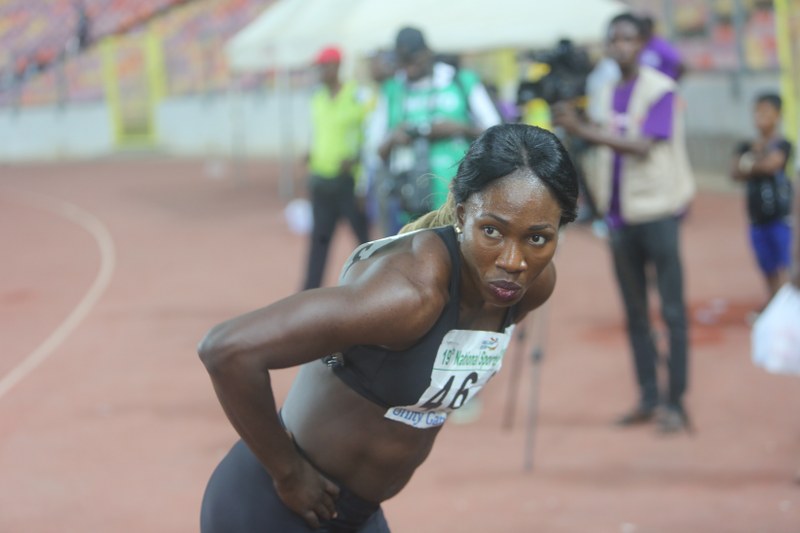 It's not that Bolufawi is entirely a newcomer. Well, she has been taking part in different AFN Golden League meets. In fact, she was part of Nigeria's 4x100m quartet that won GOLD at the 2013 African Junior Championships in Mauritius.
Well, this is the year, Bolufawi finally gets her breakthrough, having been persistently challenging to be among the top female sprinters in the country. Early this year at the Port Harcourt Golden League, Bolufawi finished 3rd with a time of 12.24s in the 100m Final B won by Blessing Ogundiran (11.97s), and Peace Uko 2nd in 12.19s.
It was not the sort of performance to make people take notice, considering also that she finished 3rd in her heat at the Abuja Golden League in March with a then PB of 12.16s, and you would forgive those who failed to keep tabs on her.
However, Bolufawi has ensured that we all now have the triumphant memory of her blazing through to the finish, having gone back to work hard and coming to stun the field to win the Sports Festival 100m title.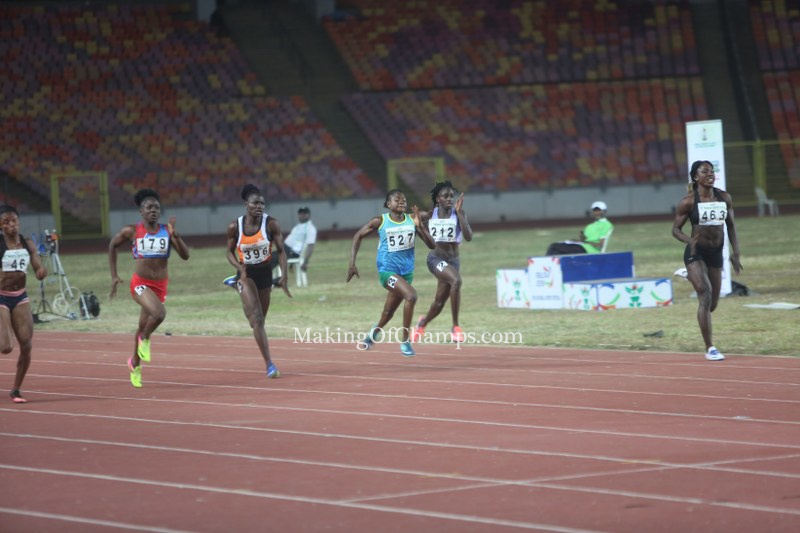 Racing through undetected, Boluwafi was way on her own in Lane 1 as she defied the odds, beating the installed favourites to win GOLD with a Lifetime's Best of 11.45s.
Bolufawi even qualified for the final of that race as one of the fastest losers, finishing 3rd in heat 3 of the 100m semis, to book a spot in the final alongside Marvelous Asemota who was 4th in 11.84s.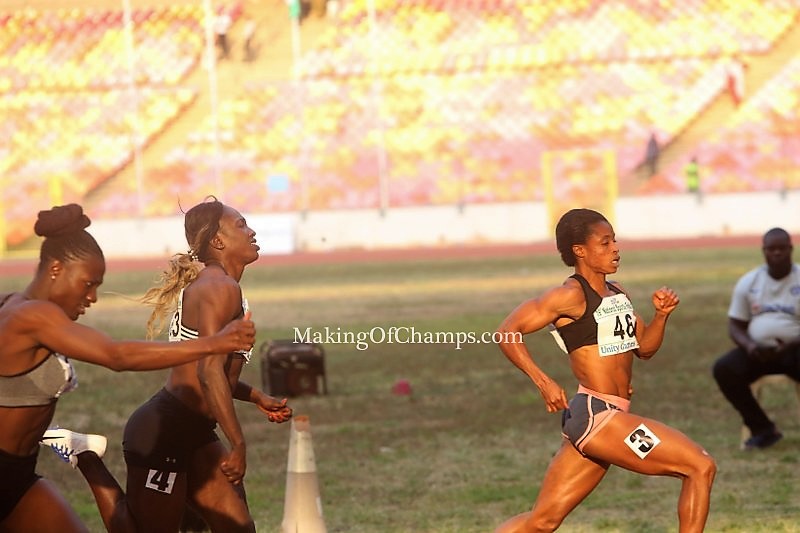 Bolufawi ran three PBs to win GOLD in Abuja, first clocking 11.62s in the preliminary rounds, and then 11.60s in the semis. Those times should have given her a chance, but with Peace Uko, Joy Udo-Gabriel, Mercy Ntia Obong and Rosemary Chukwuma all running so well, it was hard seeing beyond this quartet. Even Balikis Yakubu (WAUG Silver medallist) was given a better seeding.
So while many got fixated on what would happen on the inside lanes, Bolufawi drifted people's attention to the outside lane as she stormed to an emphatic victory.
From having a PB of 12.16s this year, Bolufawi now has a new one of 11.45s. Surely, she will now be considered as one of the top challengers in 2019.
                                      8) Esther Issa
Seen as the natural successor to Nigeria's women's High Jump throne, well till Doreen Amata vacates it, Esther Issa has now gradually started assuming that position as an heir apparent.
It must be said that since Amata, the country has had a dearth of talent coming through from this event to compete on the global stage.
However, Issa now looks like she could follow in the steps of Amata and fly Nigeria's colours in the coming years at major international competitions.
Having been a known face in recent years at different Nigerian meets, 2018 seems to be the year Issa finally came of age. She has really improved, finally overcoming what looked like an onerous task of scaling past 1.75m, a height which was her PB for a long time.
Not until the Commonwealth Games Trials in Abuja did she finally surmount that task, scaling a new height of 1.80m, which won her the Trials. Issa did not make the trip to Australia, but the satisfaction of finally jumping above 1.75m demonstrates that she is well on track.
Issa won the National Junior title, also jumping 1.80m, then 1.82m at the MoC Grand Prix (not ratified), underlining the fact that she has come to stay.
Going to Ghana in June and facing hostile jeers from the home crowd, Issa, who was competing with a swollen knee, battled through the opposition to emerge as the U20 West African High Jump champion, jumping 1.75m.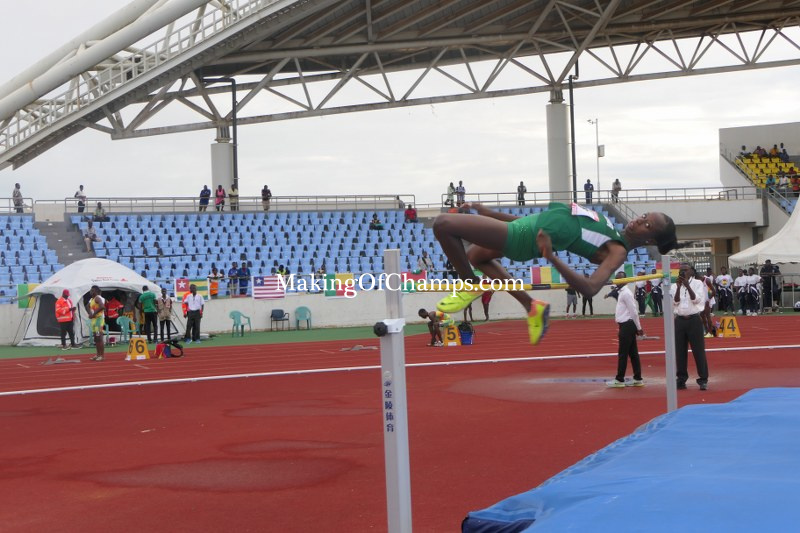 She was selected for the African Senior Athletics championships in Asaba and although she would have hoped for a podium placement, Issa finished in a respectable 5th place.
She assuaged for her miss in Asaba, jumping a new Festival Record of 1.80m to win the women's High Jump at the NSF in Abuja. With the bar raised at 1.85m, she got injured and it altered her rhythm, which made her not give her all at that height.
Issa surpassed the Festival record of 1.75m held by Nneka Uku and Hope Aruya, who both jumped that height at the 2006 (Ijebu Ode) and 2009 (Kaduna) Games respectively.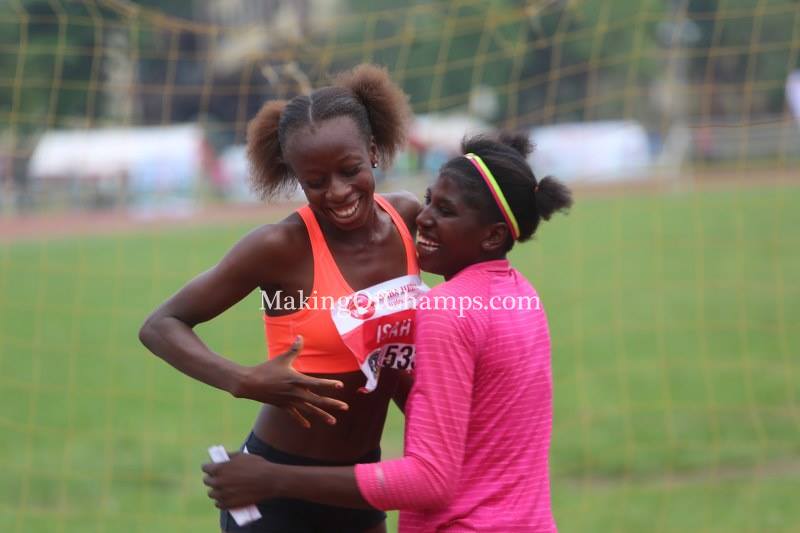 It's interesting to note that Issa jumped 1.80m on four different outings this year, and coming from someone who was struggling with 1.75m, it's a confidence booster. In 2019, she would likely jump a new PB, and who knows, maybe scale 1.90m.
                             7) Arinze Benjamin
For someone not up to 6ft tall, it's amazing the distance Arinze Benjamin can jump in the Long Jump event. Let's also add here that he has a Personal Best of 10.67s in the 100m, which he ran recently in Abuja.
However, for Benjamin's adventures in the 100m, the Long Jump event seems to be his natural calling, and he has on different occasions admitted that he uses the 100m "to open up his body" as he would say, before going on to compete in the Long Jump.
Benjamin is not a new comer to the game, but 2018 has been the year he attained more prominence for his jumping abilities, winning the Long Jump National Junior title in Ozoro, leaping to a distance of 7.57m.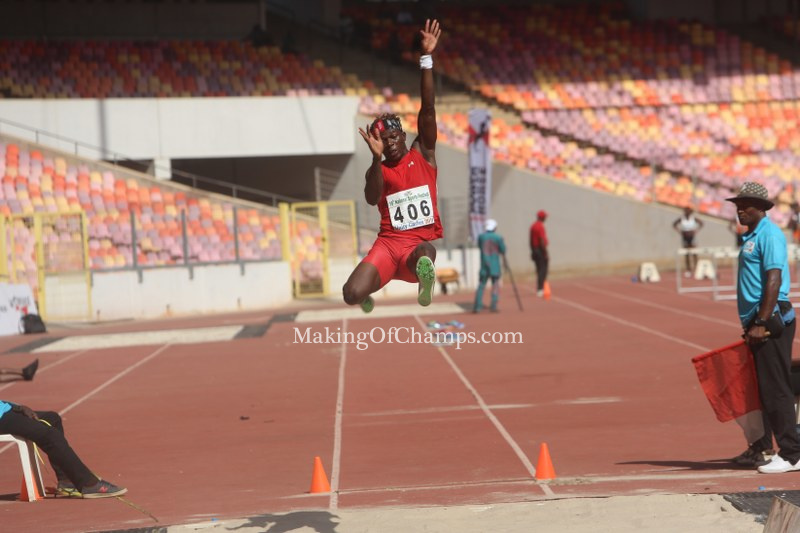 Although not ratified, Benjamin jumped what would have been a lifetime's best of 7.91m at the MoC Grand Prix in June.
Having made his international bow for Nigeria at the West Africa U20 Championships in Cape Coast, Benjamin won GOLD, and it's interesting to note that he won after attempting just two jumps because of an injury, winning with a mark of 7.09m.
Such was the confidence the Athletics Federation of Nigeria (AFN) had in Benjamin winning a medal at the World Junior Championships in Tampere that he was one of only three athletes chosen to represent the country. Unluckily for them, they didn't make the trip and Benjamin missed that window.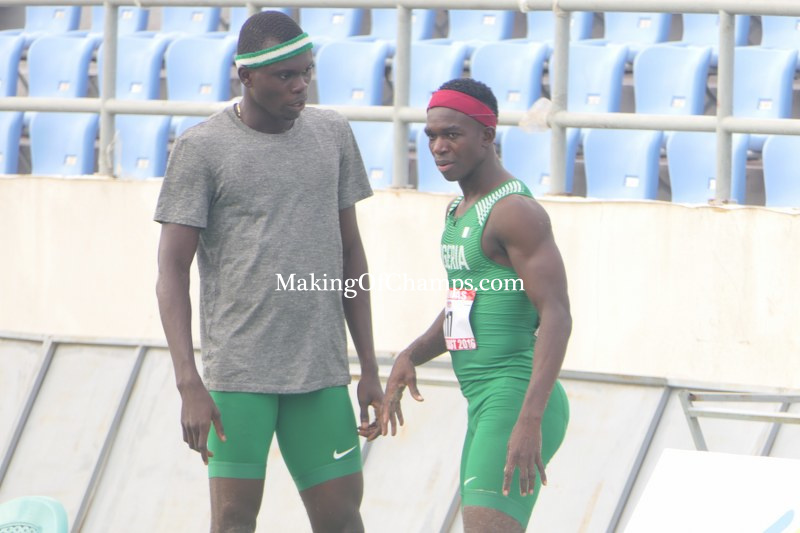 He went on to make his senior appearance for Nigeria at the African Championships in Asaba, but with some injury concerns, and competing against established names like Luvo Manyonga and Ruswahl Samaai, it wasn't the kind of outcome he would have wished for.
Benjamin got another chance to milk out more achievements from his season, going into the Sports Festival as an underdog to Joseph Edafiadhe who having just won GOLD at the West Africa University Games (WAUG) with a PB of 7.65m, was undoubtedly the favourite.
Even Benjamin said afterwards that he was spurred by the size of the task he faced. Benjamin not only won GOLD in Abuja, he added an icing to it, leaping to a PB of 7.77m. That mark wasn't far off from J.J Kio's Festival Record of 7.92m, which he jumped in 1988 in Port Harcourt.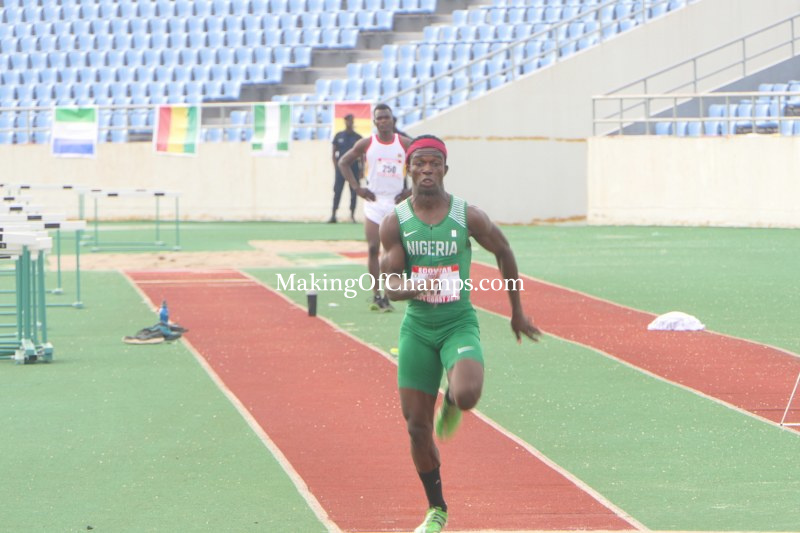 With continuous improvement, Benjamin looks like the next Nigerian jumper who could have 8m in his spring, maybe in 2019.
                                          6) David Olowookere
David Olowookere may no longer need to convince his family members to allow him travel across Nigeria for meets as he is now a National Champion. Sounds like a tale, but it's actually non-fiction, straight from Olowookere's ladder to success story.
For some Nigerian athletes, getting funds to travel for competitions could be their biggest worry, but for Olowookere, at some point last season, he was at the verge of pulling out completely from Athletics as his family doubted if he was indeed an athlete. Not until they started seeing his pictures and videos on Making of Champions' social media pages that conviction finally set in.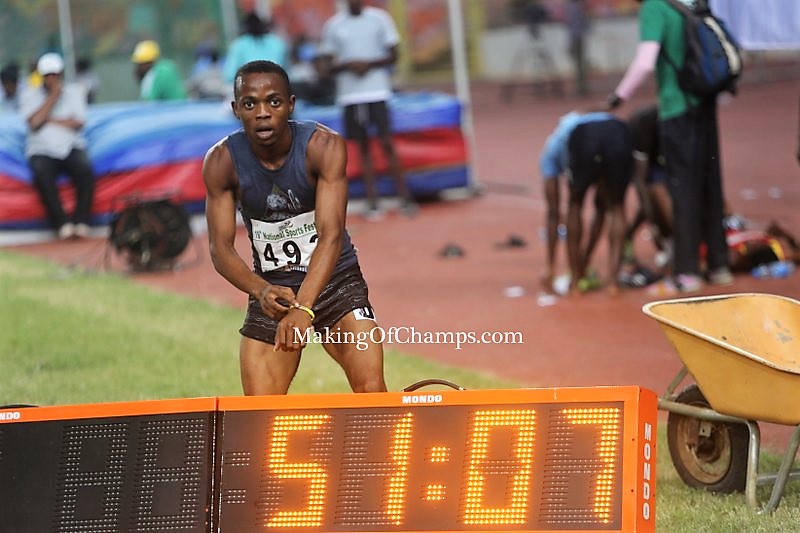 Competing in the 400m Hurdles, Olowookere has been one of the main challengers to Henry Okorie who has been the dominant figure in this event on the home front.
When Olowookere went under 53s for the first time in January at the AFN Golden League in Port Harcourt, he was content finishing 2nd with a then PB of 52.91s. Yes, you guessed right; Okorie won that race.
A month later at the Commonwealth Games Trials in Abuja, Olowookere was not afar off from his PB, finishing 2nd yet again, but this time clocking 52.93s. The progression was evident, at least he had succeeded in establishing himself as a mainstay in the 400m Hurdles. Okorie and Rilwan Alowonle went to Gold Coast ahead of Olowookere, but the latter would get his time.
Selected as first choice for the U20 West African Championships, Olowookere didn't execute a good race plan as he settled for Silver in the 400m Hurdles, also going on to win another Silver running the 2nd leg in Nigeria's 4x400m team.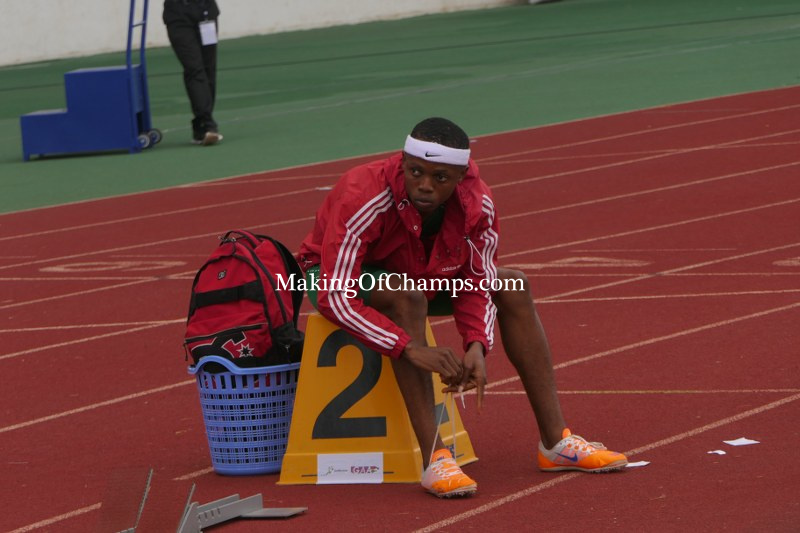 He was overlooked for the African Championships, although one would argue that Alowonle and Okorie were way better at the time. However, on the strength of his showing at the NSF in Abuja, one will have a rethink revisiting that argument.
Coming from Lane 6, Olowookeere tried as much as he could to make sure he stayed with Okorie who was in Lane 8, catching up with him on the 10th barrier and accelerating as though his life was pegged to a triumph, winning with a Lifetime's Best and Festival Record of 51.07s.
Not many would have placed a bet on Olowookere winning, not to talk of breaking a Record which stood for 27 years. Martins Egberase had the previous 400m Hurdles Record of 51.77s which he ran at the 1991 NSF in Bauchi.
Surely, he will be dreaming of running below 51s now, less than a year after he went below 53s for the first time in his career. Who knows, he could even surprise himself with running below 50s in 2019.
Now that he has gotten over the mental block of beating Okorie, Alowonle watch out. Next season is now three-pronged: Alowonle, Okorie and Olowookere; the latter is now fully in the mix.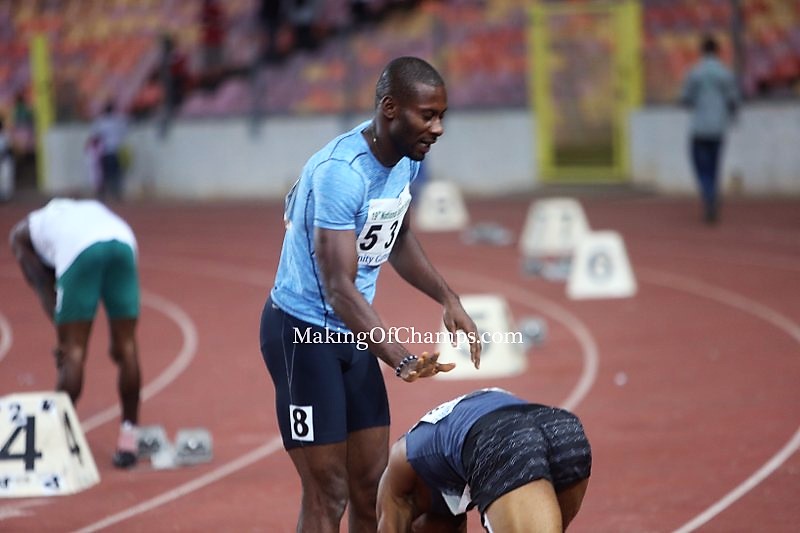 At least, Olowookere may no longer need to explain to his family what meets he would be off to next season, with many potential international trips now lined up. They would be in front of their TVs cheering him on.