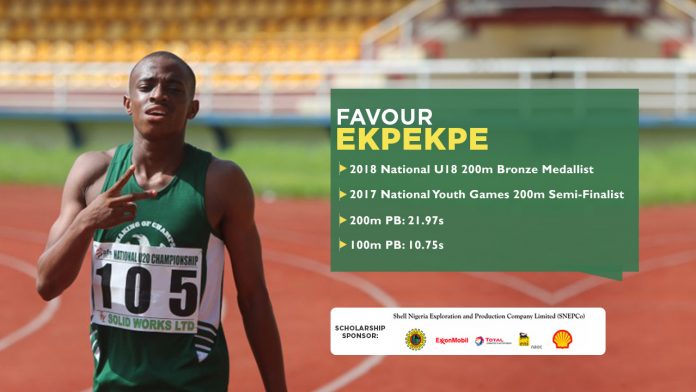 Favour Ekpekpe has become the latest Making of Champions' (MoC) athlete to receive a scholarship award from Shell Nigeria Exploration and Production Company Limited (SNEPCo), with the prestigious Oil and Gas company awarding him a one-year scholarship.
The 17-year old joins his club teammate, Chiamaka Egbochinam as the two athletes SNEPCo will be sponsoring, following the extension of the latter's scholarship to complete her secondary school education.
This lays credence to Ekpekpe's meteoric rise within just a year of joining the MoC track club, relocating to Lagos after completing his Secondary school education at the renowned Government College Ughelli (GCU).
Incidentally, the GCU was where MoC discovered Ekpekpe, competing then for his school at the Youth Scholar Athlete Development Programme (YSADP), sponsored by Shell Petroleum Development Company (SPDC). His performances then caught the eye, and he was drafted in to join MoC.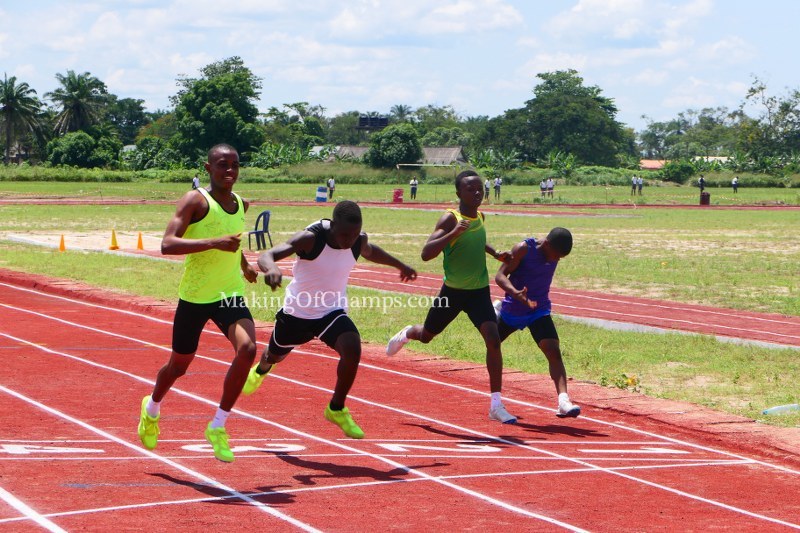 Although he was not selected to be part of Team Delta state at the 2017 National Youth Games in Ilorin, Ekpekpe had to represent Kebbi state whom he had no ties with and got to the semifinals of the Boys 200m for his adopted state.
Just about a year since coming to Lagos, Ekpekpe has been steadily improving and started gaining National recognition because of his performances at some of the Golden League meets he had competed in, and also the National Junior trials.
To understand better the progress Ekpekpe has made within 9 months of joining MoC, he now has a Personal Best (PB) of 10.75s in the 100m, having come from struggling to go under 11s to now being a sub 11s runner. In fact, last year in Ilorin he clocked a then PB of 11.67s, that's a tremendous leap in less than a year.
The 200m is where he has made tremendous progress, shaving off more than a second from his then PB of 23.22s which he ran last year in Ilorin, to clock a new one of 21.97s which he ran at the National Junior Trials in Ozoro.
Competing in his first National U18 Championships, Ekpekpe put up a good performance to win his first ever National medal, winning the Bronze in the 200m.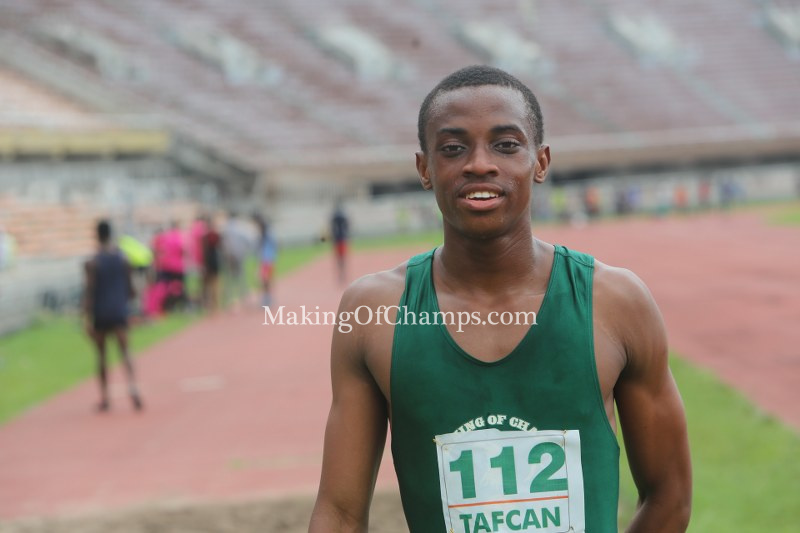 The performance earned him a call-up to the National camp for the African Youth Games in Algeria. Although he was not selected in the final team Nigeria took to Algiers, having come very close to that is definitely a huge step-up
Shell's Scholarship for Ekpekpe will afford him the opportunity to prepare for WAEC and JAMB Examinations to gain admission into a University next year, while training for the 2020 Olympics! It will also cover his accommodation, feeding, healthcare, training and competition costs, to allow him to seamlessly mix his education and Athletics career.
For Egbochinam, having been impressed by the performances she has churned out in the last two years she has been under Shell's Secondary School Scholarship, they have decided to extend it by another year to further cater for all her needs for the 2019 season.
Since being under Shell's student-athlete scholarship, Egbochinam has made remarkable progress in her career, with the biggest achievement so far being the Silver medal she won in the Girls 100m at the 2017 National Youth Games.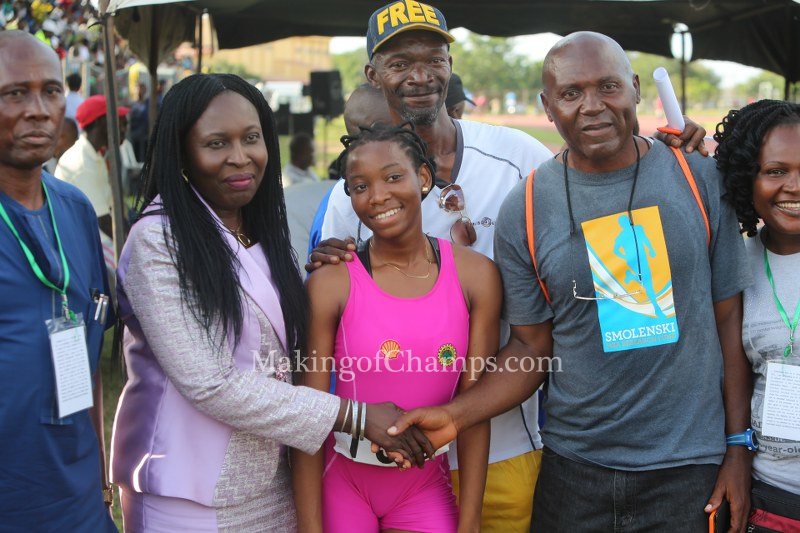 Just before the games in Ilorin, she had won Bronze in the 100m at the National Junior & Youth trials in Abuja, making it two National titles that she won in 2017.
This year, Egbochinam further improved, going under 12s for the first time in her career and twice racing to new PBs in the 100m. At the National U-20 trials in Ozoro this year, she clocked 11.95s in the 100m heats and went on to better that with a new one of 11.88s in the semis.
Just like Ekpekpe, Egbochinam was also called up to the National camp to prepare for the African Youth Games, although she eventually didn't make the final team.
Still only 17, Egbochinam is making steady progress in her career while still studying at a top private secondary school in Surulere, and thanks to Shell her tuition and other needs in her final year in secondary school will be taken care of.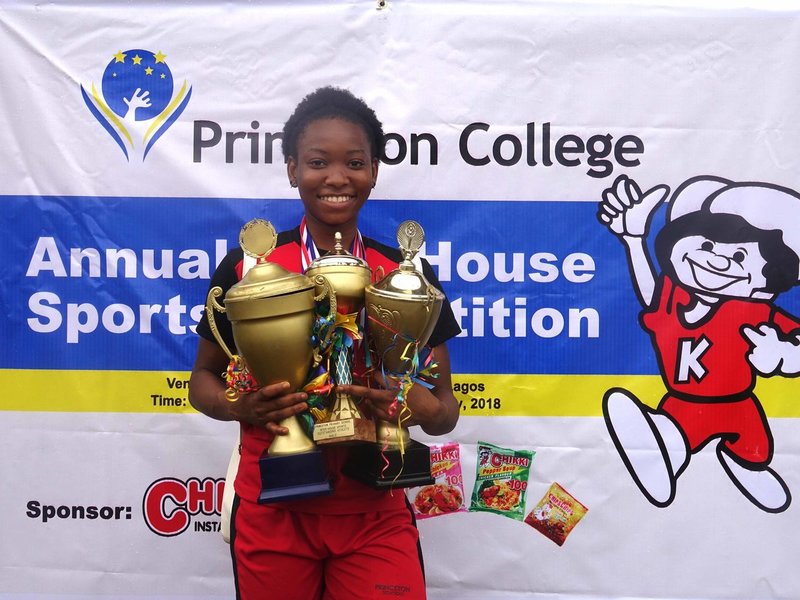 Ekpekpe and Egbochinam are now the two athletes Shell is sponsoring in the MoC athlete-scholarship programme, making Ekpekpe the sixth athlete overall in the MoC Track Club to receive a Scholarship. What better way to commence the 2019 Athletics season for Ekpekpe, than this.