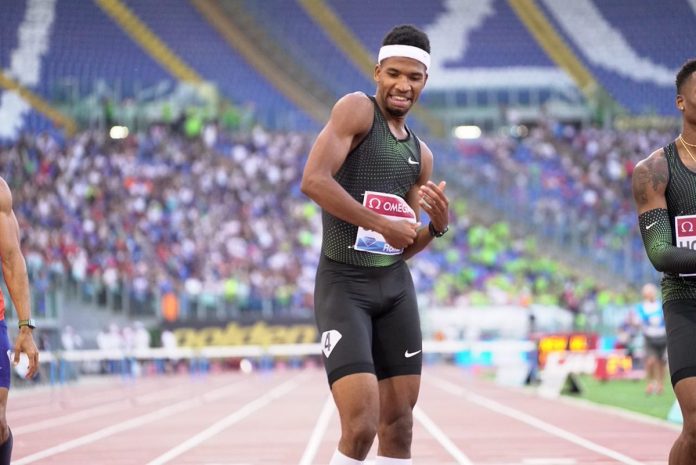 Qatar's Abderrahman Samba produced the biggest highlight of the Rome Diamond League, storming to remarkable records to win the men's 400m Hurdles with a Diamond League Record (DLR), World Lead (WL), Area Record (AR) Meeting Record (MR) & Personal Best (PB) of 47.48s.
It was the sort of performance that got the crowd excited, seeing as he executed a well calculated race to beat World Champion Karsten Warholm who was initially in the lead.
Such was how fast the race was as Warholm who finished 2nd, ran a National Record and Personal Best of 47.82s. Yasmani Copello finished 3rd with a time of 48.63s.
Samba who surpassed Félix Sanchez's MR of 47.73, now has three of the four fastest times in the world this year, and to think that he recently switched events, having been previously running the 400m flat.
In the men's 100m, Ronnie Baker showed that his win in Eugene was no fluke as he raced to a WL and PB of 9.93s to secure victory over his American compatriot Christain Coleman.
Coleman stayed with Baker till the first 40m, but the latter pulled clear to run his second sub 10s of the season. Jimmy Vicaut was 2nd in 10.02s and Filippo Tortu 3rd with a time of 10.04s while Coleman was 4th in 10.06s.
In the women's 200m, Ivory Coast's Marie Josee Ta Lou got her 3rd Diamond League win of the season, winning the women's 200m with a Season's Best of 22.49s. Ta Lou bolted out of the blocks to beat Ivet Lalova-Collio who was 2nd with an SB of 22.64s and Mujinga Kambundji 3rd in 22.76s.
Towards the finish in the men's 400m, it looked like Abdalleleh Haroun could overhaul the lead, but Fred Kerley wasn't going to allow him as the American won in 44.33s. Haroun was 2nd in 44.37s and Paul Dedewo (who once competed at a Nigerian Trials) running a PB of 44.58s to finish 3rd.
The big upset in the women's 400m Hurdles saw Georganne Moline who was uncatchable win with an SB of 53.97s. Janieve Russell was 2nd in 54.08s and Dalilah Muhammad 3rd in 54.65s.
It was a Kenyan 1-2-3 in the men's 800m with Wyclife Kinyamal getting the win at the line with a time of 1:44.65, and Ferguson Rotich outdipping Jonathan Kitilit to take 2nd with an SB of 1:44.74 and the latter 3rd in 1:44.78.
While Timothy Cheruiyot raced to victory in men's 1500m winning in 3:31.22 and beating his training partner Elijah Manangoi who was 2nd with an SB of 3:33.79. Samuel Tefera was 3rd in 3:34.84.
Although it got a bit nasty in the last water pit of women's 3000m SteepleChase as Emma Coburn fell and Celliphine Chespol & Hyvin Kiyeng making the best of the opportunity, it was Kiyeng who despite losing some balance still found a way to beat her Kenyan compatriot and win with an MR & WL of 9:04.96