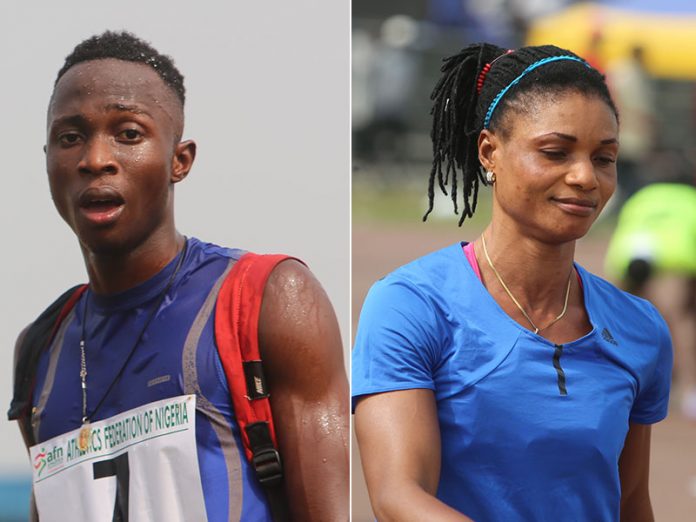 The men and women's 400m final formed the highlights of Day 2 of the Athletics Federation of Nigeria (AFN) Golden League held at the Sports Complex of the University of Port Harcourt in Rivers State on Sunday, January 28th.
The women's event was completely dominated by National Champion Patience Okon-George who having secured qualification for the Commonwealth Games the previous day with her time of 52.38s, further lowered her Season's Best (SB) to 51.94s to finish ahead of Glory Nathaniel (53.35s) and Rita Ossai (53.36s).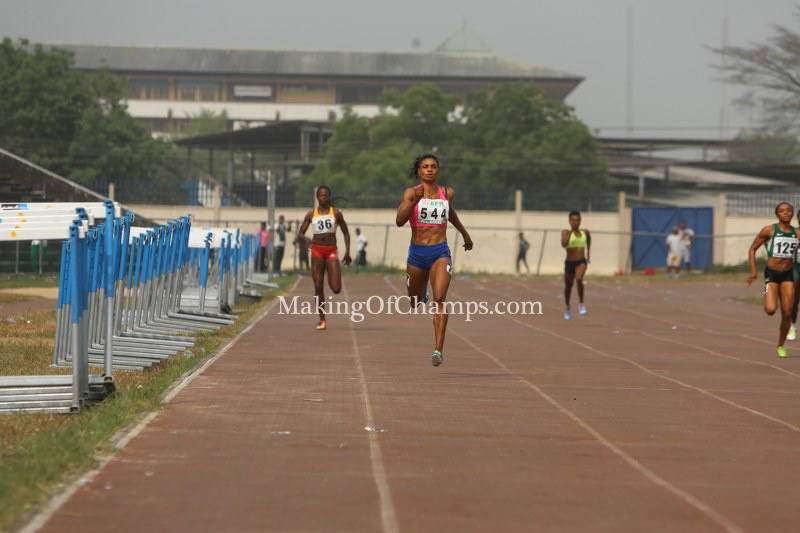 While speaking to Making of Champions (MoC) afterwards, Okon-George revealed that her target for the season is to make the podium in Gold Coast come April.
She said: "I came here to run the qualifying time for the Commonwealth Games which I did, so I'm grateful to God for giving me the grace to do that. I pray to run a good race at the Commonwealth Games and to make the podium there. My plan is to win the GOLD medal there".
The men's final on the other hand, turned out to be a thrilling contest between National Champion Samson Nathaniel and National Leader Bamidele Emmanuel, with the pair re-igniting their rivalry from last year's National Championships.
Unlike last year where Nathaniel got the upper hand to win GOLD while Emmanuel settled for Silver, the tables were turned this time around as the latter gave a good account of himself by getting one over Nathaniel, storming to victory with a Personal Best (PB) of 46.11s while Nathaniel followed in 46.34s. Orukpe Erayokan was 3rd in 47.03s.
Emmanuel will be hoping to surpass the Commonwealth Games qualifying standards of 45.50s and 46.00s, seeing as he was just 0.11s off the 'B' standard.
Meanwhile Isoken Igbinosun continued her winning streak, racing to victory in the women's 200m with a time of 23.70s, leaving Mercy Ntia-Obong (24.12s), Praise Idamadudu (24.16s) and Rosemary Chukwuma (24.24s) trailing in her wake.
After comfortably winning his heat in 21.59s, Emmanuel Arowolo extended his dominance to the final where he narrowly edged MoC's Jerry Jakpa to win in 21.53s, as the latter returned a time of 21.61s in 2nd place. Chukwudi Olisakwe was 3rd in 21.68s, with Usheoritse Itshekiri (21.78s) and Obinna Metu (21.91s) following.
Grace Ayemoba was the woman to beat in the 100m Hurdles which she won in 13.50s to finish ahead of Efe Favour (13.91s). In the men's 110m Hurdles, Oyeniyi Abejoye had the last laugh as he stunned Martins Ogieriakhi (14.16s) and Bashiru Abdullahi (14.22s) to win the race in 14.08s.
Fegor Clifford won the women's 400m Hurdles final in a time of 60.50s, while Sarah Kadiri and Joy Abu followed in 60.83s and 61.21s respectively. Henry Okorie dominated the men's race in 52.56s, and was followed by David Olowookere who clocked a time of 52.91s.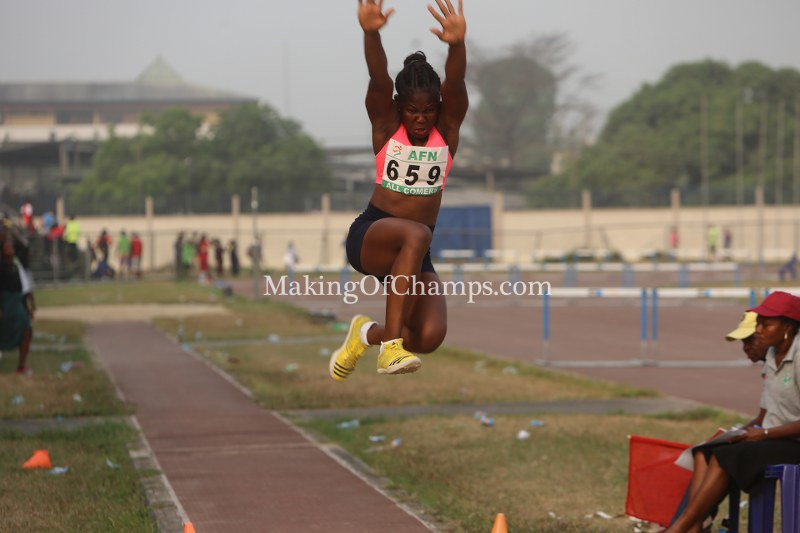 Blessing Ibrahim leapt to an SB of 13.49m to win the women's Triple Jump final ahead of Grace Anigbata who had a mark of 13.22m. Pius Nzuba won the men's event with a jump of 15.70m, while Ineh Meyiwa settled for 2nd place with 15.13m.
Precious Okoronkwo won the women's Long Jump with a mark of 6.13m, with Victory George (5.83m) and Rukevwe Esiekpe (5.64m) placing 2nd and 3rd respectively. National senior and junior champion Esther Isa won the women's High Jump with a height of 1.75m to finish ahead of Adeshina Temitope (1.60m).
It was a fierce battle between National Champion Eke Kalu Onwuka and Austine Nwoye in the men's Shot put event. However, the stiff competition pushed Onwuka to a PB of 17.90m while Nwoye also set a PB of 17.30m to finish 2nd.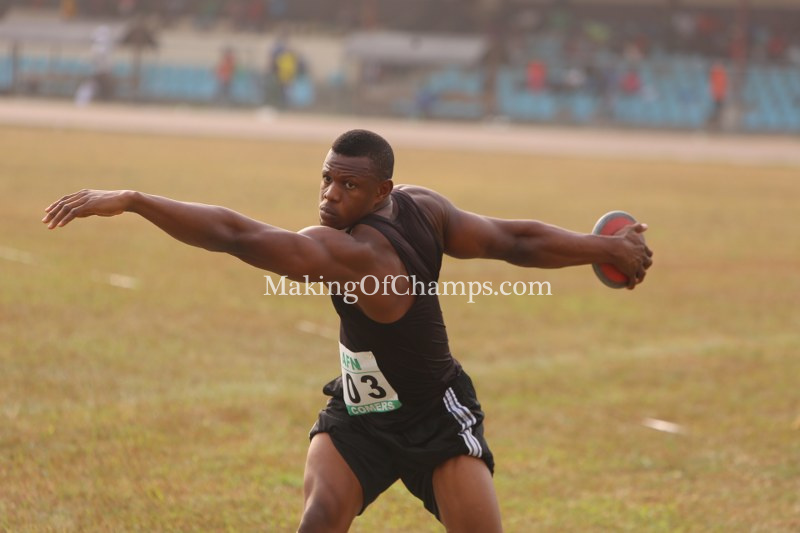 Former National Champion Kenechukwu Ezeofor was 3rd in 14.99m. Nwoye went on to win the men's Discus event with 52.90m, while Ezeofor followed with a throw of 49.12m.
The Customs dominated both the men's and women's 4x100m relay races, with Ntia-Obong running the anchor leg in the women's event to bring the baton home in 47.09s for the Custom's team. Team NSCDC (47.61s) and MoC (48.83s) were 2nd and 3rd respectively.
In the men's event, the quartet of Orukpe Erayokan, Abiola Soyemi, Emmanuel Arowolo and Isah Salihu secured the win for Customs in 41.89s, with Cross River (43.70s) and Akwa Ibom states (44.01s) settling for 2nd and 3rd respectively.