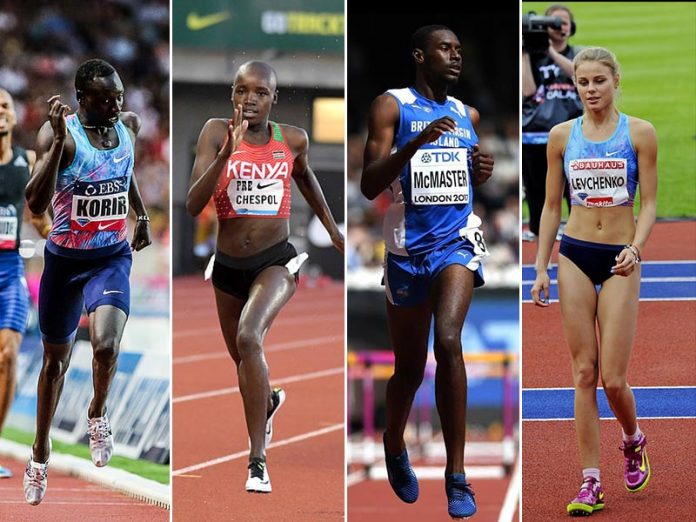 Every new season, there are athletes who announce themselves on the big stage with good performances, especially at a major competition like the World Championships. And so it is not out of place to peg these athletes as the next rated stars to dominate the sport.
Having ended the 2017 season, and with the 2018 season about to commence, we have drawn up a list of eight athletes who are our Breakout Athletes this year. Let's get to explaining why we have chosen them, starting with Part 1 of the series featuring Nos. 8 to 5.
8) Emmanuel Korir
Just before the commencement of the 2017 World Championships in London, we named Korir as one of the five young athletes to watch out for at the competition.
Having dominated at the NCAA for his school University of Texas El Paso (UTEP), the 22-year old headed to London with three of the Top 5 fastest times in the men's 800m in 2017. In fact, Korir had the World Lead (WL) of 1:43.10, a new Personal Best (PB), which he ran on his maiden Diamond League debut in Monaco, and it was such fantastic build-up to the World Champs.
Korir opened his season by clocking a time of 1:46.50 in the 800m in his first ever indoor race, and then a week later, he stormed to a world indoor best of 1:14.97 in the 600m at the Cherry and Silver Collegiate Invitational in Albuquerque, taking 0.15s off the former record set by Germany's Nico Motchebon in 1999.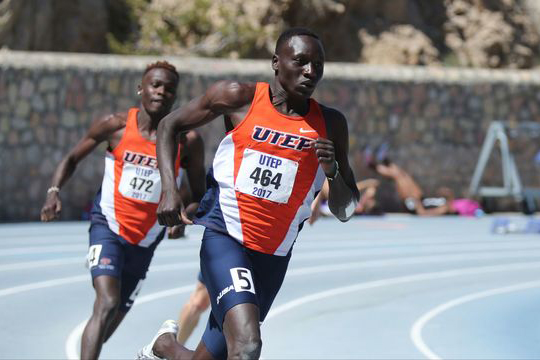 Earlier in March, he clinched the NCAA Indoor title, going on to establish himself on the pedestal of one young athlete to keenly follow. In April, Korir ran the No.2 fastest time on the NCAA all-time list, clocking 1:43.73 at the Brutus Hamilton Challenge in Berkeley. He went on to also claim the NCAA outdoor title in 1:45.03.
Korir had since given every indication that he was ready to rival his older compatriot and World Record (WR) holder David Rudisha. The UTEP Freshman upstaged older compatriots like Ferguson Rotich to claim his first national title at the Kenyan Trials, taking the win in an impressive time of 1:43.86, cementing his status as one of the best in the world going into the World Champs.
Although things didn't go to plan for Korir in London where he made his first international appearance for Kenya as he was unable to make the final, finishing 4th in the semis, he would take solace in the fact that it was his first World Champs, and that there is still more to come for him in the near future.
2018 will be a big season for Korir who will be hoping to impress at the Commonwealth Games in Gold Coast, and the African Championships in Nigeria, and yes, the London World Champs was just a blip.
Do you know that Emmanuel Korir was formerly a 400m runner before he recently made the switch to the 800m?
7.) Celliphine Chepteek Chespol
Here is another Kenyan athlete with tremendous promise. With all her names starting with the C alphabet, we decided to coin an acronym for her – 'Triple C'!
In 2016, Chespol, who competes in the women's 3000m Steeplechase, served the world a snippet of her talent when she raced to the world Junior title at the IAAF U-20 World Championships in Bydgoszcz, Poland, winning with a Championship Record (CR) of 9:25.15.
Meanwhile a year earlier, Chespol had won GOLD at the IAAF World Youth Championships in Cali, Colombia, winning the 2000m Steeplechase with a Personal Best of 6:17.15.
Following her Youth and Junior achievements, 2017 was the year Chespol really made the big step-up, competing in the senior category not just to make up the numbers, but coming in as a big contender.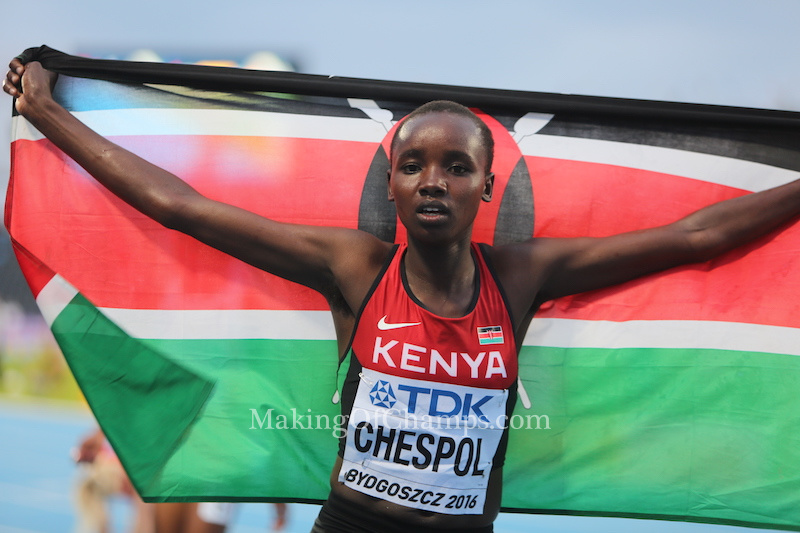 This year at the Eugene Diamond League in May, Chespol stormed to a then World Leading time of 8:58.78. The interesting thing about that race is that she achieved such despite having slipped and fallen down. In the Steeplechase, a slip could cost you dearly.
That time made her only the fourth woman in history to ever dip under 9mins; in fact, it is the 3rd fastest time in history.
Chespol didn't execute a good race plan in London which affected her chances of winning a medal. In fact, all the Kenyan athletes in that race, with the exception of Hyvin Kiyeng, had an off day, with America's Emma Coburn winning a historic title.
If there is any Kenyan athlete who could really challenge and come close to Ruth Jebet in the quest for Steeplechase dominance, it is Chespol.
Do you know that only World Record (WR) holder Ruth Jebet has run faster than Chespol in the history of women's Steeplechase?
6) Kyron McMaster
Although he won Bronze at the World Junior Championships in 2016, not many knew much about Kyron McMaster before he started dominating in the men's 400m Hurdles this season.
A native of the British Virgin Islands, McMaster who just turned 20 in January this year, is looking like the athlete who could end the American dominance in this event.
Earlier this year in May, McMaster announced himself to the world when he stormed to a World Leading (WL) time of 47.80s at the Jamaican Invitational in Kingston, making him the only hurdler to have dipped inside 48s this season.
In fact, he holds three of the five fastest times in the world this year. In the build-up to the World Championships, he finished 2nd at the London Diamond League, clocking a time of 48.12s.
Although the London World Champs was one to forget for McMaster after he was disqualified in the first round for an infringement, there's no doubt that he would have been the overwhelming favourite for the title.
McMaster shook off that disappointment and went on to win the Diamond League trophy with victory in Zurich where he beat World Champion Karsten Warholm, clocking an impressive time of 48.07s.
Do you know that McMaster's coach Xavier "Dag" Samuels tragically passed away on September 9, 2017 during the Hurricane Irma, after falling from the roof of his house?
5.) Yuliya Levchenko
If there is any female athlete who came close to Mariya Lasitskene in the women's High Jump this season, then it's 20-year old Ukrainian jumper Yuliya Levchenko.
Lasitskene's dominance was out of this world and she seemed to be competing against herself at almost every meet this year. However, at the World Championships in London, she was firmly challenged by Levchenko.
Levchenko has been progressing very well through the ranks, winning the Youth Olympics in 2014 in Nanjing, and claiming Bronze two years later at the IAAF World Junior Championships in Bydgoszcz, Poland.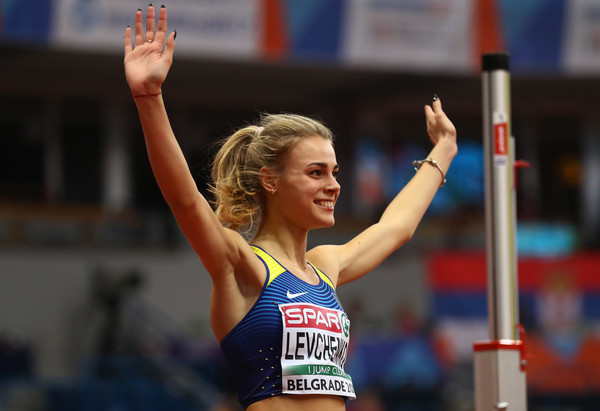 However, at her maiden World Championships competition in 2015, she finished 13th and couldn't make it to the final. She got better and came back two years later to win Silver with a 2.01m mark.
It's not just about winning the medal, but the manner that she pushed Lasitskene all the way even after other contenders had exited the competition, rattling the favourite for a potential upset.
Levchenko brought her best to the contest, jumping to three PBs of 1.97m, 1.99m and 2.01m respectively in one day, only failing one attempt in the latter, which was a big improvement for someone whose previous PB was 1.96m.
This year, Levchenko was named European Athletics Rising Star of the Year by IAAF.
Do You know that just last year at the Rio Olympics, Levchenko couldn't make the women's High Jump final, finishing 19th? But this year, she won a complete set of medals: Bronze at European Indoor Championships in Belgrade, Silver in London and GOLD at the European U-23 Championships in Bydgoszcz.