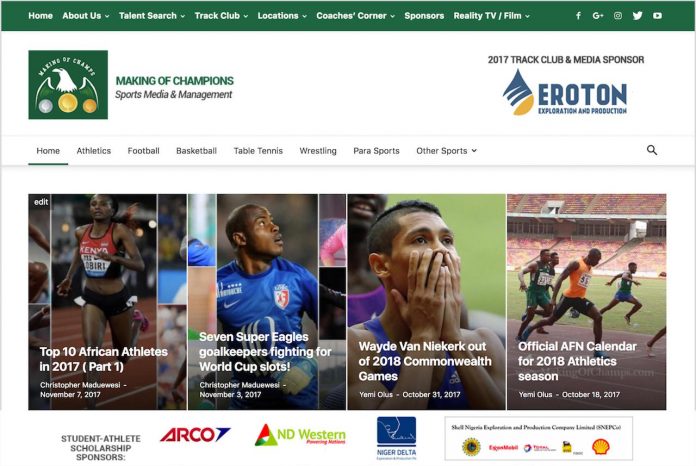 It is with great pleasure that we at Making of Champions, Nigeria's leading Sports Media & Management Company, can announce the launch of our new website!
While our website can still be found at makingofchamps.com, we have completely revamped the page to be faster, cleaner, more easily navigable, and with lots more content for all sports lovers. We now have 2 separate menus on our home page where you can find all our Sports Media & Management Content.
On the Green menu you can find everything about Making of Champions and our efforts over the last 4 years to help revive Athletics (Track & Field) in Nigeria. You'll find everything from snippets of our Making of Champions: "The History" documentary, to our talent search initiatives such as the Top Sprinter Reality TV Show and the AFN/MoC National U20 & U18 Championships, and last but certainly not the least, the MoC Track Club which is already producing some of Nigeria's future Champions!
The White menu is for our news stories, and despite the fact that Athletics is our first love and the building block for every other sport, we decided following the IAAF World Championships in August that the MoC Media team will now focus on all sports and not just Athletics! We first saw the impact of MoC Media covering all sports in 2016, when we covered every single moment, in every single sport, of Nigeria's participation at the Rio Olympics & Paralympics!
Our hardworking team of MoC Sports Writers is poised to bring you the best news on Team Nigeria internationally across any sport, while the MoC Media team also includes Photographers & Videographers who will continue to create exciting local and international Nigerian & African sports content for the benefit of our fans all over the world! The sports that will most prominently feature on our website include Athletics, Football, Basketball, Table Tennis, Wrestling and Para-Sports, but we'll be there covering all great Nigerian sporting stories!
We would like to thank our 2017 Track Club & Media Sponsor, Eroton Exploration & Production, for supporting both our Media & Management teams throughout the year. Eroton's support has enabled MoC Track Club Athletes compete all over Nigeria in 2017, winning 9 National medals, including 7 medals at the AFN/MoC National U20 & U18 Championship, where Eroton was the lead sponsor that ensured the event took place!
Thanks to Eroton's sponsorship, MoC's team of Videographers, Photographers and Sports Writers has amassed over half a million YouTube views and over a hundred thousand MoC website views in 2017 alone. We captured some of the most iconic moments in Athletics this year, including Usain Bolt's last ever Press Conferences before retiring, Cote d'Ivoire's Marie-Josée Ta Lou's meteoric rise to Double Silver and also Team Nigeria's performance at the World Champs!
Now we look forward to extending our coverage in 2018 to all sports, and there is plenty to look forward to. From the African Wrestling Championships in Port-Harcourt in February, to the Commonwealth Games in Australia in April and the FIFA World Cup in Russia in June/July, Making of Champions has got you covered with the latest news and more, as we celebrate the best in Nigerian sports globally!
We'd like to thank everyone of our sponsors who have helped Making of Champions come this far – it's been over 4 years since we started this journey of Making Champions and supporting Athletics and other sports in Nigeria, and in many ways it feels we're only just getting started! Many thanks to all our Sponsors, Eroton E & P, ARCO Group, Shell (SNEPCo), ND Western and Niger Delta E & P, for making the dreams of many of Nigeria's future Champions come true – some of our Athletes already have full University Scholarships in Nigeria!
In anticipation of an exciting year of Sports coverage ahead, we'll leave you with a flashback from 4 years ago that leaves us with great nostalgia. We were in Brazil in the run-up to the 2014 World Cup, where we learnt that our South American brothers have a lot of respect for the Super Eagles. Perhaps Nigeria will get to face Argentina (again) or Brazil at the 2018 World Cup in Russia?