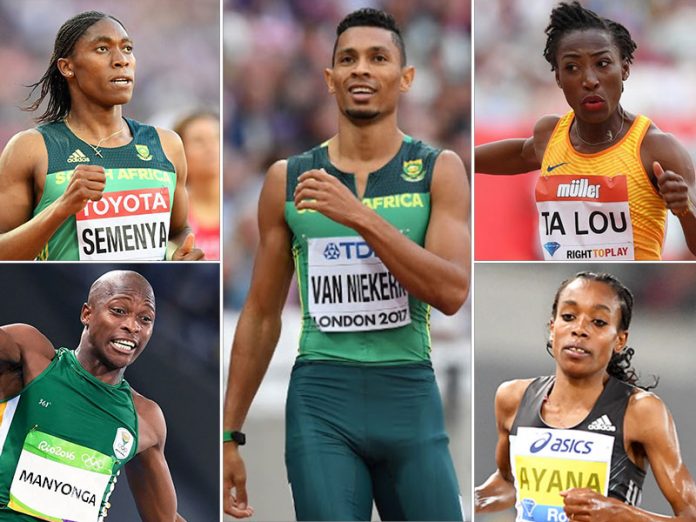 Earlier in the week, we featured Part 1 of our annual series on the Top 10 African Athletes of the year. We will continue our countdown in Part 2 of the series where we highlight the achievements of the athletes that made it to the Top 5 of our shortlist. Here's Nos. 5 to 1.
Marie-Josée Ta Lou
It's been exactly a decade since Ivoirian speed star Marie-Josée Ta Lou commenced a career in Athletics, and the petite athlete has so entrenched herself in the sprints on the global stage that no 100m/200m lineup is complete without her.
2015 was the turning point in Ta Lou's career when won the sprint double at the African Games. In 2016, she narrowly missed out on a podium finish in the 100m/200m, placing 4th in both events at the Rio Olympics. But 2017 turned out to be a different year!
Ta Lou enjoyed a brilliant campaign in the IAAF Diamond League series, and asides finishing 6th in Eugene, she secured a Top 3 spot in all of her races and even won the 200m at the Monaco Diamond League. She also shattered the Ivoirian 200m record in Lausanne, replacing it with a time of 22.16s.
Going into the World Championships, the African 200m Champion was regarded as one of the favourites for a medal despite going against more established rivals like Elaine Thompson, Tori Bowie and Dafne Schippers. The women's 100m final was a sight to behold!
Ta Lou took off at the sound of the gun and even began to steer clear of the rest of the field. However, she was oblivious to Bowie's exploits on the outer lane, with the American leaning forward just in time to take the title in 10.85s, finishing just 0.01s ahead of Ta Lou!
Despite narrowly missing on the historic feat of becoming Africa's first female GOLD medalist in the 100m or 200m at the World Championships, Ta Lou was more than pleased with her Silver medal. She went on to claim another Silver in the 200m, bettering her National Record and replacing it with 22.08s, which is just 0.01s shy of Mary Onyali's African Record.
She received a rousing welcome on her return to Cote d'Ivoire, and was honoured by the country's president Alassane Ouattara. We can't wait to see her in action next year!
Do you know that Ta Lou started her sporting career as a footballer, and is a fan of Chelsea Football Club where compatriot Didier Drogba played for several years?
Almaz Ayana
Not everyone can win a World Championships GOLD medal in their first competitive race of the season, or compete in only three races in a year and still end up as a finalist for the prestigious IAAF World (Female) Athlete of the Year, but then, not everyone is Almaz Ayana!
The world of Track and Field missed Ayana's heroics this season as the Ethiopian middle distance athlete had to watch from the sidelines for the better part of the year, following an injury-plagued season. Nevertheless, the fans knew that they would be treated to something special at the World Championships when it was confirmed that the 10,000m World Record (WR) would compete in London.
Although she was not in the right frame to set records like she did at the Rio Olympics, Ayana gave her all in the women's 10,000m final, clocking a World Lead (WL) of 30:16.32 to finish ahead of her teammate and WR holder in the 5000m, Tirunesh Dibaba, who was a distant 2nd in 31:02.69. The margin of 46.37s between both times is the biggest in championship history, and this was set by a woman who hadn't run a race since last September!
With the 10,000m done and dusted, Ayana moved to the 5000m where she finished 2nd behind Kenya's Hellen Obiri in her heat, clocking 14:57.06. Obiri, who held sway in the absence of Genzebe Dibaba and Ayana, put up an exceptional display to beat Ayana in the final, kicking in in the last lap to strike GOLD as Ayana settled for Silver in 14:40.35.
Her performance in three races was enough to secure a finalist spot for Ayana ahead of the IAAF Athlete of the Year award, which incidentally, she won last year. A winner will be decided among the trio of Ekaterini Stefanidi, Nafissatou Thiam and Ayana later this month.
Do you know that Ayana will be making her debut over the half marathon in India on November 19th, 2017?
Luvo Manyonga
South Africa's Luvo Manyonga belongs to the exclusive class of only six athletes who maintained a clean sheet all season, with five of them being jumpers: Manyonga (Long Jump), Mutaz Barshim (High Jump), Sam Kendricks (Pole vault), Mariya Lasitskene (High Jump), and Ekaterina Stefanidi (Pole vault). And so it is somewhat safe to conclude that 2017 was the year of the jumps.
Manyonga was in a class of his own in 2017 and bestrode the men's Long Jump event like a colossus, having been relegated to runner-up position at the 2016 African Championships in Durban and even more painfully, the Olympic Games where he lost the GOLD medal to USA's Jeff Henderson by just 1cm! But Manyonga bounced back in style in 2017, opening the season with a then World Lead (WL) of 8.46m.
Nine days later, he soared to a then Personal Best (PB) of 8.62m, and then a month later, set a new African Record of 8.65m, which also stands as the WL for 2017! Manyonga was favoured to win his event at the World Championships but it wasn't exactly a smooth ride. The jumper fouled his first and sixth attempts, although his second attempt landed at an impressive 8.48m.
No other member of the field could match that mark, but a tense Manyonga had to wait with bated breath, and perhaps with a sense of deja'vu as Jarrion Lawson went for his final jump. The American came close but had to settle for Silver with 8.44m, just 4cm shy of Manyonga's winning mark. Manyonga's relief was palpable! The 26-year-old dramatically collapsed on the sand pit with his hands covering his face!
He went on to claim the Diamond League trophy a few weeks later, bringing a fitting end to a perfect season. So dominant was Manyonga in 2017 that he remained at the top of the world rankings for the entire year. He also owns eight of the Top 10 marks in 2017. Manyonga has now set his sights on breaking the World Record (WR) of 8.95m.
Do you know that Manyonga missed four outdoor seasons, starting with 2012, and only returned to competitive action in 2016, and ended up winning an Olympic medal?
Caster Semenya
What a year 2017 has been for South Africa's Caster Semenya! Having completely dominated the women's 800m in 2016, she extended her winning streak to 2017 and remained undefeated for the entire season. She also smashed her former Personal Best (PB) of 1:55.28 with which she won the Olympics, to a new time of 1:55.16 at the London Olympic Stadium.
As such, it means that Semenya now has three world titles to her name since winning at Berlin 2009, while her Silver medal from Daegu 2011 was upgraded to GOLD after initial winner Mariya Savinova of Russia was stripped of the medal for doping violations. Savinova's GOLD from the London 2012 Olympics has also been re-assigned to Semenya who finished 2nd in the women's 800m final.
Many are not aware that Semenya won the 800m/1500m titles at the 2009 African Junior Championships, so when she signified an interest in going for the 800m/1500m double at the World Championships, the world was keen to see how things would unfold.
Semenya commenced action on Day 1 of the World Champs where she competed in the heats of the 1500m.  She finished 2nd to Genzebe Dibaba in a Season's Best (SB) of 4:02.84. She then placed 3rd in her semis which was led by eventual winner Faith Kipyegon, as Laura Muir followed.
The final was a fight to finish for the South African who beat Muir to the Bronze medal in 4:02.90. With the Bronze medal under her belt, Semenya faced her specialist event squarely and predictably struck GOLD. She went on to win the Diamond Trophy in the event.
Three days later, Semenya smashed Ana Fidelia Quirot's 20-year old World Best of 1:22.63 in the 600m whilst competing at the 76th edition of the ISTAF World Challenge in Berlin, replacing it with a time of 1:21.77 as USA's Ajee Wilson followed in 1:22.39  to occupy 2nd position on the all-time 600m list. Semenya has certainly earned her No.2 spot on our list.
Do you know that Semenya's first love was Football? She is a fan of Manchester United and loves watching Golf, Rugby and Formula 1.
Wayde Van Niekerk
Our No.1 Top African Athlete in 2017 is the new poster boy of Athletics, South Africa's Wayde Van Niekerk, who went for a 200m/400m double at a major competition for the first time in his career.
Having already cemented his status as the King of the quartermile, with a world title, Olympic GOLD and World Record (WR) to his name, the super-talented sprinter decided to explore new territories in 2017. And so he opted to go for the 200m/400m double at the World Championships, with the IAAF organizing the schedule to accommodate the ambitions of the South African.
Van Niekerk opened his season at the South African Championships where he smashed his Personal Best (PB), clocking a new time of 19.90s to win the 200m, having finished 2nd in the 100m. He then smashed Anaso Jobodwana's National 200m Record of 19.87s in Kingston, replacing it with a superior time and PB of 19.84s.
As if that wasn't enough, Van Niekerk erased one more Michael Johnson Record, soaring to the top of the 300m all-time list after setting a new World Best of 30.81s at the IAAF World Challenge in Ostrava in June.
The 25-year old was very selective in his races in the 400m and only competed in his specialist event twice before the World Championships. His first race at the Lausanne Diamond League saw him setting a World Lead (WL) of 43.62s.
His second race was in Monaco where he was engaged in a fierce duel with fellow African Isaac Makwala, before snatching the win in 43.73s. This set the stage for an explosive encounter in the men's 400m, as it became one of the most anticipated races of the championships.
Unfortunately, the Norovirus struck, leading to the controversial decision of Makwala being quarantined and disallowed from running the 400m, denying the world of what would have been a final to remember. Van Niekerk successfully defended his title in 43.98s, and then went on to compete in the 200m a few days later. He was however beaten to the title by Turkey's Ramil Guliyev, while Van Niekerk settled for Silver in 20.11s.
Having successfully gone for the 200m/400m double in London, Van Niekerk was aspiring for a 100m/200m double at next year's Commonwealth Games. But his fans were stunned by the news that the WR holder would be unable to compete at the Games after seriously injuring his knee during a celebrity touch rugby match. He has since undergone surgery in the US.
However, getting married to his sweetheart of five years will serve as a form of consolation to the athlete and provide a perfect climax to his season. Van Niekerk is also one of the male finalists contending for the IAAF World Athlete for the Year. What more could an athlete ask for?
Do you know that Van Niekerk became the first South African athlete to win two individual sprint medals at a single meet?