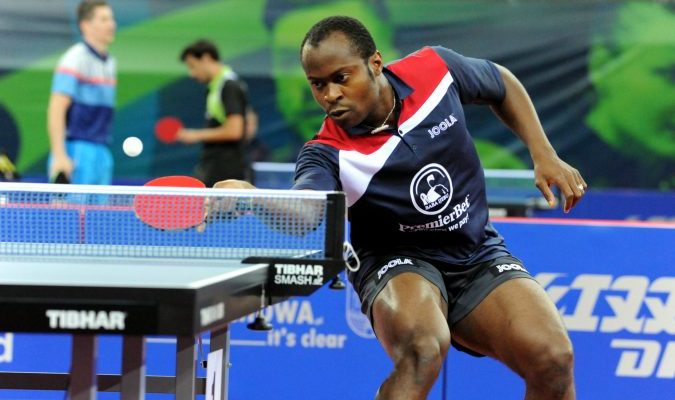 The support from Premier Lotto has started yielding positive results for Aruna Quadri as the 2017 Polish Open Champion moved from No.36 to No.27 in the November ITTF ranking released on Wednesday, November 1, by the world Table Tennis body.
As the first African to win an ITTF title outside the continent after claiming the men's singles at the Polish Open, Aruna Quadri gained more points from his Poland victory, as well as claimed some points from his qualification to the main draw at the ITTF World Cup in Liege, Belgium.
With 2434 points in October to be ranked 36th, Aruna Quadri gained 23 points from his performance in October to be rated 27th in November with 2457 points.
Despite a drop in his ranking points from 2528 to 2513, Egypt's Omar Assar holds on to the zenith in Africa as the Egyptian moved a step up from 21 to 20.
China's Ma Long remains the No.1 player in the world despite losing to Germany's Timo Boll in the semifinal of the ITTF World Cup, while winner of the 2017 ITTF World Cup, Germany's Dimitrij Ovtcharov achieved the biggest ranking in his career after moving a step up to occupy the 3rd spot in the latest ranking.
World Cup runners-up, Germany's Timo Boll moved to 4th place in the ranking, while France's Simon Gauzy continued his steady rise as the Frenchman moved from 13th to 8th place in the ranking to halt the dominance of Asians in the ranking. Among the Top 10 players ranked in the world, Europe has three players while Asia has seven.
In the women's ranking, China's Zhu Yuling tops the standings for the first time in her career, replacing compatriot – Ding Ning, the reigning Olympic and World champion whose name no long appears, owing to a recent absence from the international scene.
The effect is that there is a climb of one place for China's duo of Chen Meng and Liu Shiwen. Chen Meng is now at No.2, followed by Liu Shiwen. Similarly, it is one position higher for the next three names in the order of merit. Japan's Kasumi Ishikawa is now at No.4, followed by Japanese compatriots – Miu Hirano and Mima Ito.
Efforts of Egypt's Dina Meshref at the 2017 ITTF Women's World Cup were rewarded as the African Champion moved from No.103 to No.92.