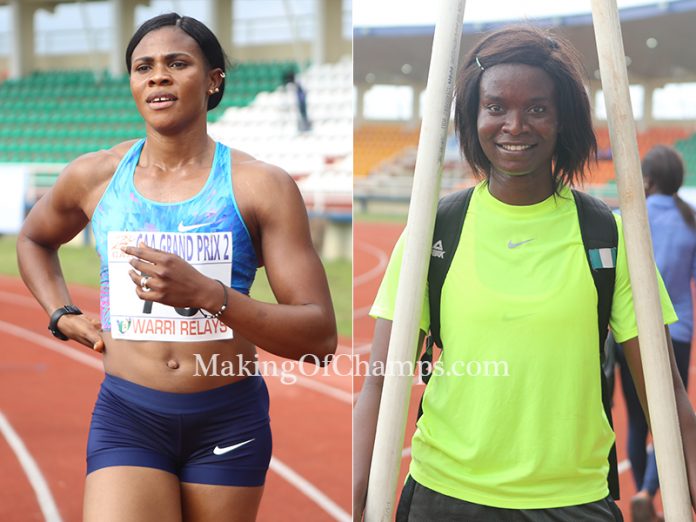 Competing on home soil for the first time since her last appearance in Sapele during the National Championships in 2016, Blessing Okagbare gave the crowd something to cheer about after anchoring Team Nigeria to victory in the women's 4x100m at the Warri Relays/CAA Grand Prix.
The competition which was held at the Federal Polytechnic Ozoro, Delta State saw the quartet of Aniekeme Alphonsus, Oluwatobi Amusan, Isoken Igbinosun and Okagbare teaming up to win with a time of 43.92s, and Team Customs anchored by Mercy Ntia Obong 2nd in 45.12s and Team Lagos 3rd in 46.22s.
With Nigeria still chasing qualification in the women's 4x100m, having missed out from the finals at the World Relays earlier this year, Okagbare had a chance of strengthening Nigeria's quest for qualification, however she eased down towards the line and didn't look like she was running for time.
Maybe the absence of other countries played a part, because such result can only be validated when at least four countries take part. Swaziland and Niger Did Not Start (DNS) having been named in the startlist.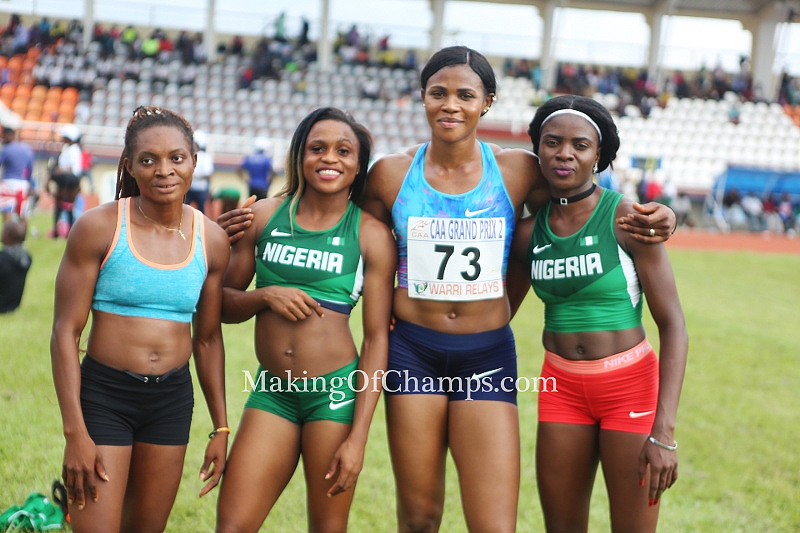 In the women's 100m Hurdles, Amusan made a winning return competing at home since she left for the United States in 2015, clocking a time of 12.97s to win. Amusan had an unassailable lead over her nearest challengers Grace Ayemoba who finished 2nd in 13.53s and Favour Efe 3rd in 13.63s.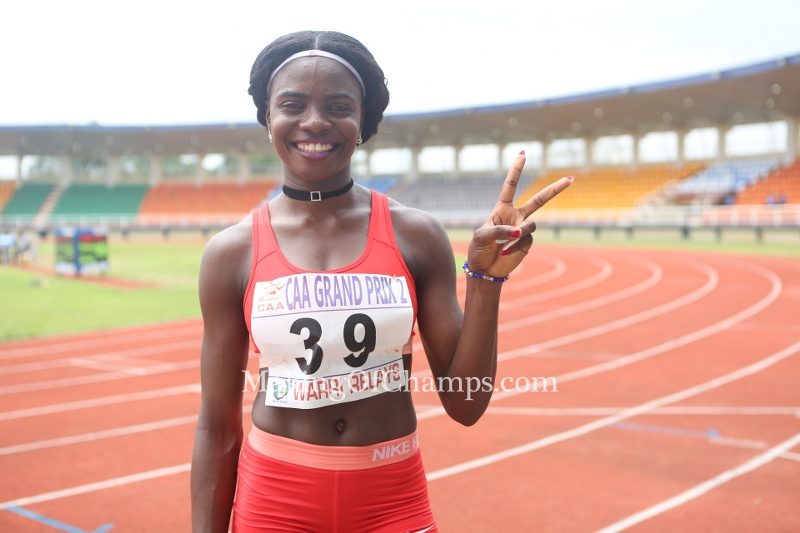 In the men's 110m Hurdles, Martins Ogieriakhi posted a Season's Best of 13.82s to win, with Oyeniyi Abejoye 2nd in 14.04s and Abdullahi Bashiru 3rd in 14.16s.
Having missed out on the podium at the National Trials in Abuja, Ogho-Oghene Egwero was back to winning ways as he claimed the 100m in 10.33s and Keene Motukisi 2nd in 10.41s while Harry Chukwudike finished 3rd in 10.47s.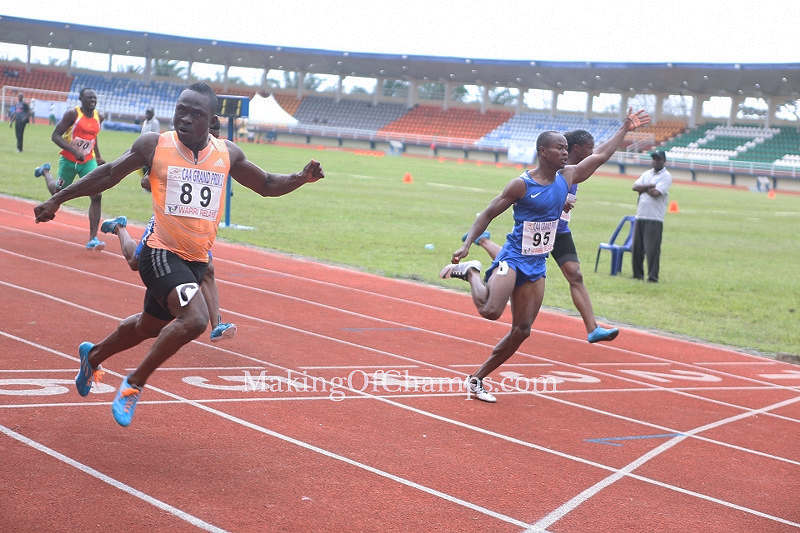 A resurgent Isoken Igbinosun out-dipped Aniekeme Alphonsus to win the women's 100m in 11.49s. The latter equalled her winning mark of 11.51s at the National Championships to finish 2nd while Mercy Ntia Obong was 3rd in 11.66s. MoC's Joy Udo Gabriel racing in her first Warri Grand Prix , came in 5th with a time of 11.72s.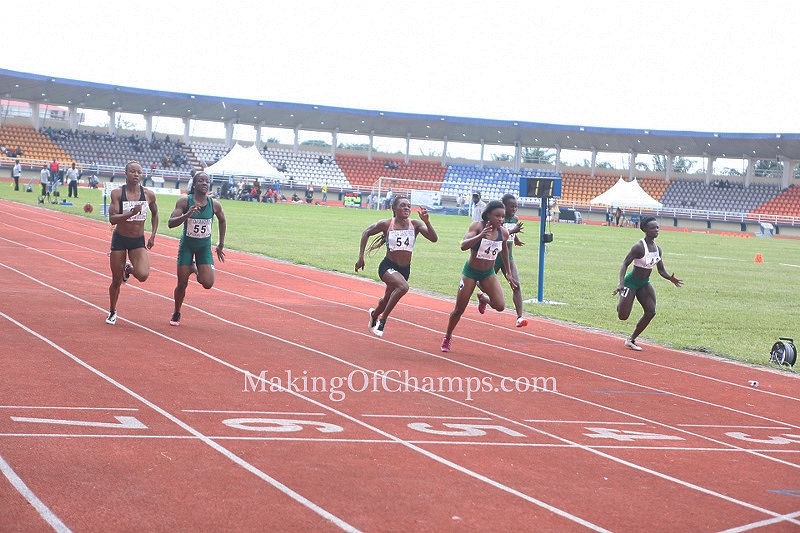 Meanwhile in women's 200m, Patience Okon George had to dig in deep to out-pace Maria Thompson and win in 23.49s. Okon George was at the verge of losing the race after Thompson who recently won the National title threatened to usurp her coming into the last 20m. Thompson finished 2nd in 23.52s, while Lounge Matlhaku was 3rd in 23.76s.
Yinka Ajayi ran a new Personal Best of 51.30s to win women's 400m. Meanwhile Botswana's Amantle Montsho Did Not Start (DNS) despite being listed for the event. Abike Egbeniyi ran another best of 52.03s to finish 2nd while Folashade Olotu was 3rd in 56.83s.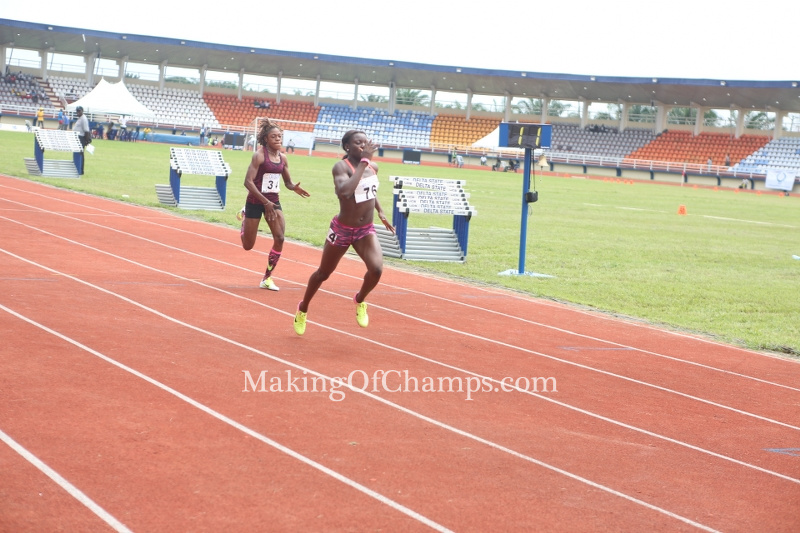 In the men's 400m, Samson Nathaniel took the win in 46.18s as Orukpe Erayokan placed 2nd in 46.78s and Prosper Ogbonna 3rd in 46.92s.
The men's 400m Hurdles was keenly contested between Henry Okorie and Timothy Emoghene, with the former winning in 52.09s and the latter 2nd in 52.17s. Prior Chibuzor was 3rd in 53.67s. In the women's category, Glory Nathaniel won in 58.10s, while Rita Ossai finished 2nd in 58.27s and Sarah Kadiri 3rd in 60.11s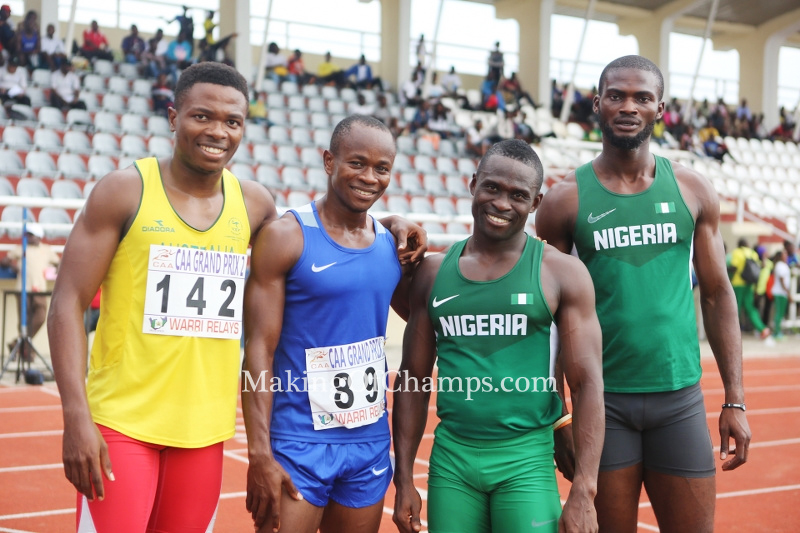 The quartet of Tega Odele, Itsekiri Usheoritse, Egwero and Chukwudike teamed up to help Team Nigeria win the men's 4x100m relays with a time of 40.17s. It was a close finish as Team Botswana anchored by Xholani Talane looked like they were on course to win it, only to be pipped by Nigeria and settle for 2nd in 40.21s. Team Customs finished 3rd in 40.60.
In the women's 4x400m, Team Nigeria anchored by Ajayi won in 3:38.80, while Team Civil Defence was 2nd in 3:45.72 and Team Police 3rd in 3:48.24
Field Events:
The standout performer of the Warri Relays has to be Kelechi Nwanaga who surpassed Sorochukwu Ihuefo's long standing women's Javelin record of 55.30m set in 2002. Nwanaga set a new mark throwing a distance of 58.15m to win the event.
Nwanaga a 2015 African Games champion, defeated Hannah Kemele who was 2nd throwing a mark of 46.12m while Priscillia Zever finished 3rd with a mark of 45.33m.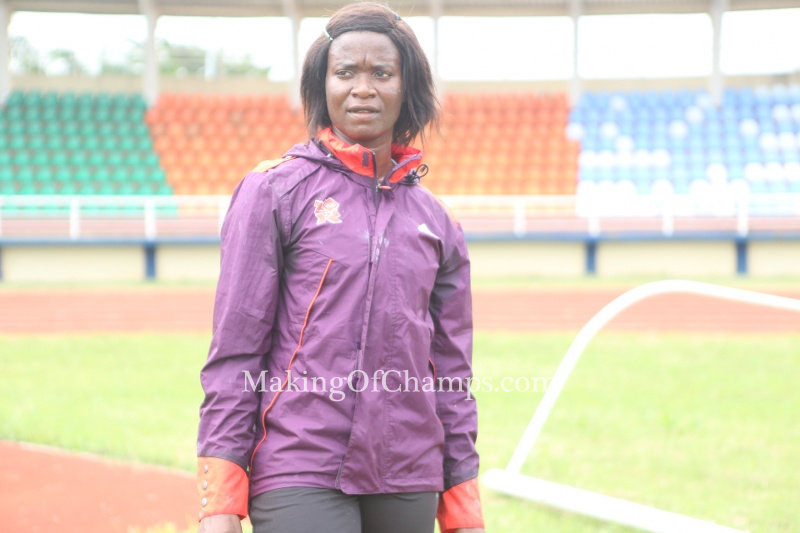 The new National Record is subject to ratification, and when it is done, Nwanaga will no doubt be happy with the progress she has made in her Athletics career.
In other field events, Ese Brume won the women's Long Jump with her best leap of 6.38m. Precious Okoronkwo finished 2nd with 5.81m and Kemi Francis 3rd jumping a distance of 5.75m
Obiorah Arinze won men's High Jump scaling a height of 2.05m, while Theddus Okpara was 2nd with 2.00m, same height as Cyprian Oyedele who placed 3rd.
For Nigerian athletes yet to qualify for the World Championships, they would have to do so in just a week, as the deadline for entries to London ends on July 23, 2017