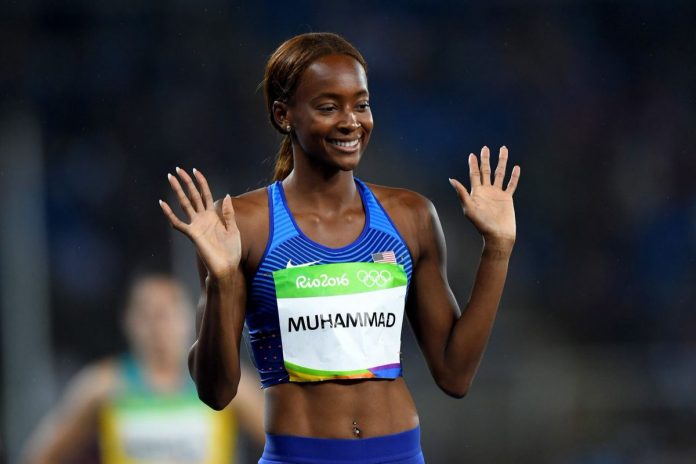 Olympic Champion Dalilah Muhammad led an onslaught in the final of the women's 400m Hurdles at the US Track and Field Championships on Sunday, as the Top 6 finishers in the race dipped inside 54s, with the first three running inside 53s, in what has been regarded as the fastest ever race in the event.
The first six athletes stormed to lifetime bests, whilst the times posted by the Top 5 finishers currently dominate the 2017 IAAF world rankings, unsurprisingly so.
Muhammad was unstoppable as she raced to a World Lead (WL) and Personal Best (PB) of 52.64s, propelling her to 6th place on the all-time list. Beijing 2015 surprise Silver medallist Shamier Little was 2nd with her PB of 52.75s, while Kori Carter finished 3rd with her lifetime best of 52.95s.
Former World Leader Ashley Spencer, who had initially topped the global standings with her then PB of 53.38s, lowered her time to 53.11s in 4th place, as Georganne Moline followed in 5th with 53.14               .
Despite setting a PB and World U-20 Record in the process, Sydney McLaughlin finished 6th (53.82s). Jaide Stepter (55.06s) and Anna Cockrell (55.14s) complete the lineup.
Eric Futch upstaged Olympic Champion Kerron Clement to claim the men's 400m Hurdles title in a PB of 48.18s, with Michael Stigler (48.26s) and TJ Holmes (48.44s) following with lifetime bests. Clement will be missing in London after finishing 7th with 48.91s, while Bershawn Jackson placed 8th with 49.51s.
Ameer Webb was the man to beat in the 200m final as he stormed to a PB of 20.09s to finish ahead of Christian Coleman (20.10s) who will be the only US male sprinter to compete in the 100m/200m in London, having finished 2nd behind Justin Gatlin in the 100m final at the Hornet Stadium. Elijah Hall-Thompson was 3rd with 20.21s.
One of the championship favourites Noah Lyles pulled out of the semis due to a slight muscle strain. Rio 2016 Bronze medallist in the 400m, LaShawn Merrit will not attempt the 200m/400m in London as he also pulled out of the 200m semis.
Deajah Stevens claimed her first US Outdoor title in the women's 200m where she stormed to victory in 22.30s, and will compete in the sprint double after finishing behind Tori Bowie in the 100m. So would Bowie who was 3rd in the 200m 22.60s. Kimberlyn Duncan finished 2nd (22.59s).
It will be recalled that Bowie won Bronze in the 100m in Beijing two years ago, and Silver and Bronze respectively in both sprints at the 2016 Rio Olympics. She will be hoping to get to the podium in both events in London.
Meanwhile, the most decorated female Olympian in Track and Field history, Allyson Felix will only compete in the 400m in London as she Did Not Start (DNS) in the 200m final despite winning her heat in the semis.
Aleec Harris (13.24s), World Record (WR) holder Aries Merritt (13.31s) and Devon Allen (13.34s) will represent the US in the 110 Hurdles at the forthcoming World Championships after emerging Top 3 at the US Track and Field Championships.
Olympic Champion Ryan Crouser recorded a monster throw, WL and PB of 22.65m, the best mark in the world since 2003, to win the men's Shot put ahead of Joe Kovacs who was 2nd with a distance of 22.35m. Ryan Whiting finished 3rd with 21.54m.
Jarrion Lawson leapt to the men's Long Jump title with a wind-aided mark of 8.49m to set up a mouthwatering clash with South Africa's Luvo Manyonga at the World Championships in August.
Marquis Dendy, who missed out on the Rio Olympic Games due to injury, would be delighted to make the team to London, having displaced Olympic Champion Jeff Henderson, to finish 2nd with a mark of 8.39m. Damarcus Simpson followed with 8.36m.
Bryan McBride won the Men's High Jump with a clearance of 2.30m, as Ricky Robertson Jr and Erik Kynard Jr booked their spots to the World Championships with 2.30m and 2.27m respectively.
The women's Pole vault was dominated by championship favourite Sandi Morris with a height of 4.80m. She was followed by Jenn Suhr (4.65m) and Morgann LeLeux (4.55m).