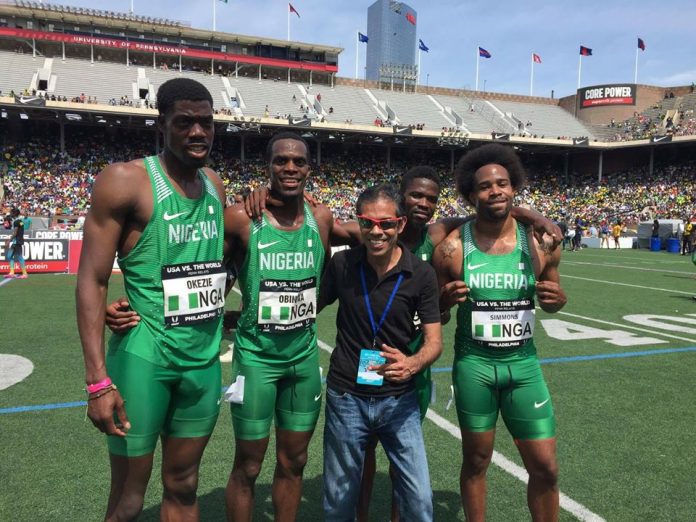 Nigeria presented two teams at the 2017 Penn Relays held in Philadelphia, USA from April 27 to 29, with one of the teams racing to 3rd position in the USA vs the World Men Sprint Relay Medley (200m, 200m, 400m, 800m) on Saturday.
The quartet of Orukpe Erayokan, Robert Simmons, Chidi Okezie and Sean Obinwa were in action at the Franklin Field and clocked a time of 3:16.27 to finish behind the USA Red squad comprising of Beejay Lee, Wallace Spearmon, Bryshon Nellum, Donovan Brazier (3:11.45) and USA Blue (3:13.12). Jamaica was 4th in 3:19.47.
The women's Sprint Medley event (100m, 100m, 200m, 400m) was won by USA Red (Morolake Akinosun, English Gardner, Dezerea Bryant and Miki Barber) in 1:35.59 as Jamaica and USA Blue followed in 1:36.67 and 1:37.22 respectively.
It was a championship to forget for the Nigerian 4x400m women's team as Patience Okon-George, Amaka Ogoegbunam, Ugonna Ndu and Margaret Bamgbose Did Not Finish (DNF) the race which was won by Jamaica's quartet of Stephanie-Ann McPherson, Shericka Jackson, Dawnalee Loney and Janieve Russell in 3:28.32. USA followed in 3:29.30.
Jamaica (Martin Manley, Leford Green, Jermain Gayle and Fitzroy Dunkley) won the battle of superiority in the men's 4x400m, taking the lead in a time of 3:03.14 to finish ahead of USA Red (Mike Berry, Brycen Spratling, Javon Hutchinson and Calvin Smith) in 3:03.25. The Bahamas was 3rd in 3:06.20.
Newly crowned World Relays 4x200m Champion Elaine Thompson anchored the Jamaican team comprising of Christania Williams, Kerron Stewart and Gayon Evans to victory in the 4x100m ahead of hosts USA Red (Dezerea Bryant, Kim Duncan, English Gardner, Morolake Akinosun) in a time of 42.25s.
USA Red returned a time of 42.42s as USA Blue clocked 42.90s in 3rd place. The British Virgin Islands was 4th in 44.99s.
USA Red (LeShon Collins, Wallace Spearmon, Beejay Lee and John Teeters) secured revenge over the Jamaican team in the men's event after storming to victory in a time of 38.87s. Jamaica (Kevaun Rattray, Oshane Bailey, Kavean Smith, Jevaughn Minzie) followed in 39.01s as Dominican Republic placed 3rd in 40.32s.