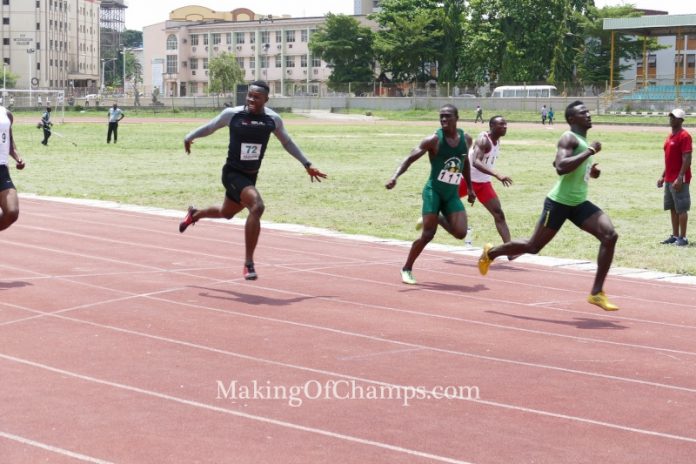 Several athletes posted commendable times at the first in-season Track and Field Coaches Association of Nigeria (TAFCAN) Trials held at the Yaba College of Technology in Lagos on Friday, and sprinter Emmanuel Arowolo clocked the overall fastest times to win the men's 100m and 200m.
The TAFCAN Trials has kept the athletes busy this season, and the Yaba Tech meeting, the third in the series this year, witnessed an encouraging turnout of athletes who needed to measure their fitness levels ahead of the outdoor season.
Other national athletes like Yinka Ajayi, Samson Nathaniel and Glory Nathaniel were also in attendance. The events competed in include the 100m, 200m, 400m, 800m, 5000m, Shot put, Long Jump, 4x200m (mixed) and 4x400m amongst others. Some of the events were divided into Junior and Senior categories.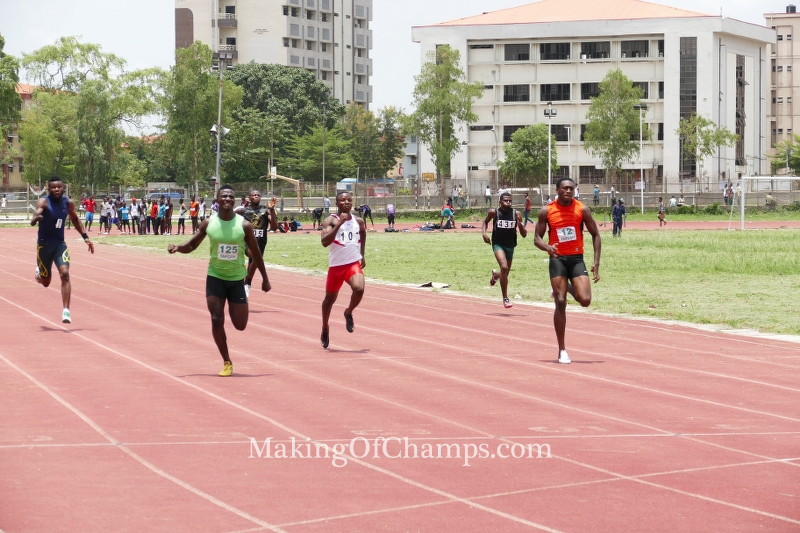 Arowolo dominated his heat earlier in the day before storming to victory in the men's 100m final in a time of 10.2s, as Bamiyo Obute and Making of Champions' (MoC) Peter Edwin followed in 10.4s respectively.
In-form Rashidat Lawal also won her 100m heat before racing to victory in the final to bring the title home for Eaglesight in 11.4s. Goodness Thomas was 2nd in 12.2s and Perpetual Dikeocha 3rd in a time of 12.3s.
In an interesting twist, the 1st and 2nd positions in the final of the Junior category (female) was faster that all other times in the senior category, apart from Lawal's winning time. Blessing Ogundiran took the race in a time of 11.5s, as Anita Taviore of Olapade Club followed in 11.7s. MoC's Glory Nyenke was 3rd in 12.0s.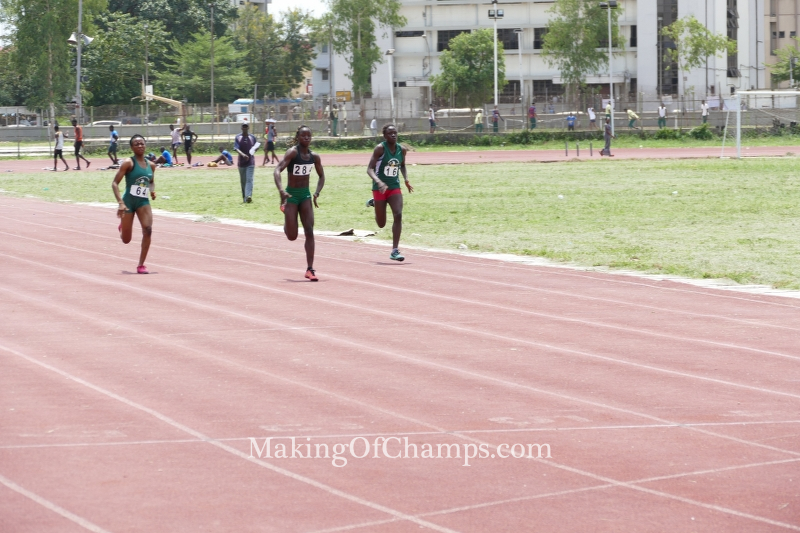 It wasn't the best of outings for MoC's Chiamaka Egbochinam who finished 4th in 12.2s after suffering from a muscle strain during the race. The 16-year old had earlier dominated her heat in a time of 11.9s and looked good for the title. Teammate Blessing Obarierhu who earlier won her heat in 12.5s, finished 5th in the final (13.0s).
Meanwhile Peter Chukwu returned a time of 10.7s to win the Junior category (Male). Chigozie Nweke (11.2s) and Emmanuel Ajibodu (11.3s) placed 2nd and 3rd respectively, as Ebuka Duru (11.6s) finished in 4th place.
The battle for superiority played out in the men's 200m which comprised of three heats. Heat 1 saw Peter Edwin go against Samson Nathaniel, with the latter taking the win in 21.3s. Edwin was 2nd in 21.7s.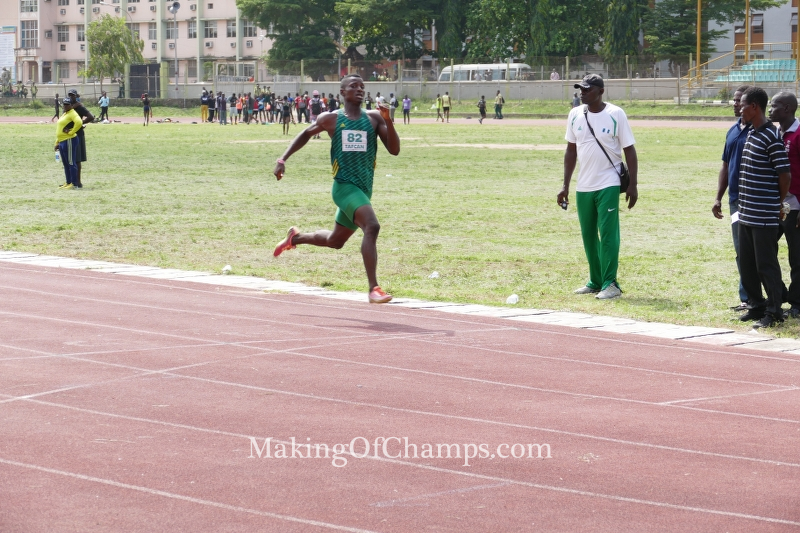 Funmilola Badewa (22.0s) was the man to beat in Heat 2, as Kingsley Mokelu (23.0s) followed. Emmanuel Arowolo clocked the overall fastest time of 21.0s to win Heat 3 and finish ahead of Anaeto Great (21.8s) and Hanson Dianabasi (21.9s).
The women's 200m was a stacked race but experience triumphed as Yinka Ajayi went past her rivals to win in 23.2s as Glory Nathaniel followed in 23.6s. Rashidat Lawal (23.9s) and Moyosore Badejo (24.4s) placed 3rd and 4th respectively.
In the Junior category of the women's 200m, MoC's Joy Udo-Gabriel set the pace by winning Heat 1 in 24.9s, finishing before Anita Taviore who posted 25.3s, as Esther Issa placed 3rd in 25.8s. Ruth Usoro dominated Heat 2 after crossing the finishing line in 24.9s as Victoria Chukwuma and Perpetual Dikeocha clocked 25.5s and 25.6s respectively.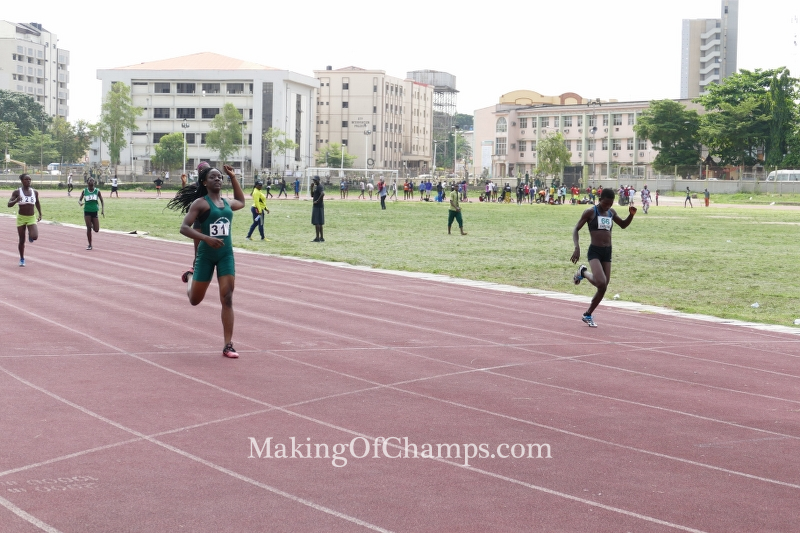 Oluwole Olutimehin won Heat 1 of the men's Junior category, crossing the finishing line in 22.5s. Olaoluwa Obashola (23.1s) and Emmanuel Ajibodu (23.7s) followed. Peter Chukwu (22.5s) dominated Heat 2, while Jeremiah Nathaniel continued in the Nathaniel family tradition by winning Heat 3 in 22.8s ahead of Fatola Adedoyin (23.1s). Tobi Onyide (23.4s) outclassed the rest of his opponents in Heat 4.
Samson Nathaniel took charge in the men's 400m, clocking the overall fastest time of 46.3s to win Heat 2 ahead of Oyeniyi Abejoye (50.9s). Emmanuel Akpan (50.8s) and Kingsley Mokelu (51.4s) were the Top2 finishers in Heat 1, while Adebisi Sodiq (49.7s), Jerry Enyinniah (50.2s) and Saheed Jimoh (50.8s) placed 1st, 2nd and 3rd in Heat 3. Atanda Akindele (47.8s) won Heat 4 ahead of MoC's Segun Akhigbe (50.1s).
Yinka Ajayi expectedly won the women's 400m, with Glory Nathaniel coming in 2nd, while Blessing Obarierhu inspired a 1-2 for MoC in the Junior category, winning in 57.8s as Nyenke clocked 58.5s. ATC's Yewande Johnson was 3rd in 60.8s.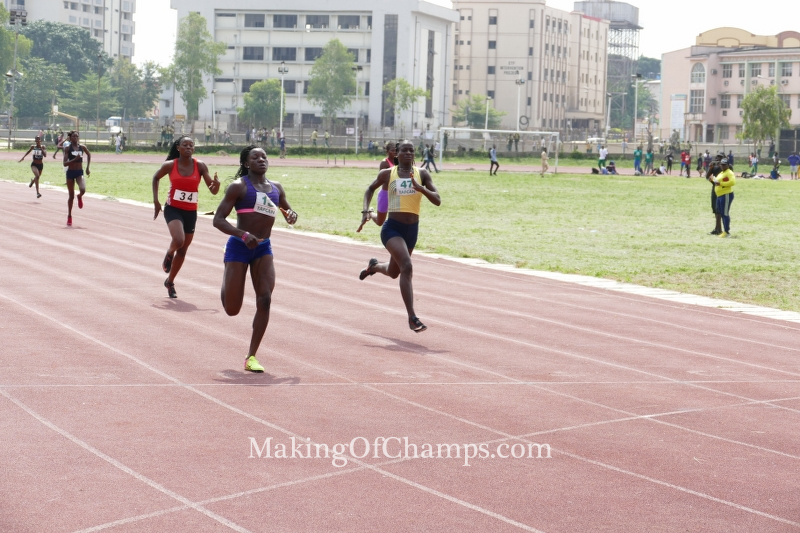 In the men's Junior Category, Segun Adenuga won Heat 1 in 52.4s ahead of Justin Nzeribe (53.3s). Olanrewaju Fahd took Heat 2 in 50.3s as Fatola Adedoyin followed in 50.5s. Jeremiah Nathaniel won the final heat in 50.4s, with Daniel Okoro coming 2nd in 54.8s.
Buka Tigers brought the baton home in 3.18:79 to win the men's 4x40m, with Team Blessed (3.19:77) and Eaglesight (3.21:85) placing 2nd and 3rd respectively. MoC was 4th in 3.27:18.
Blessing Ogundiran anchored Eaglesight to victory in the 4×200 mixed relay. The club returned a time of 1.33:18, as MoC's quartet of Joy Udo-Gabriel, Peter Edwin, Segun Akhigbe and Moyosore Badejo followed in 2nd position in 1.35:21, while Team Blessed placed 3rd in 1.35:59.
All results are hand-timed