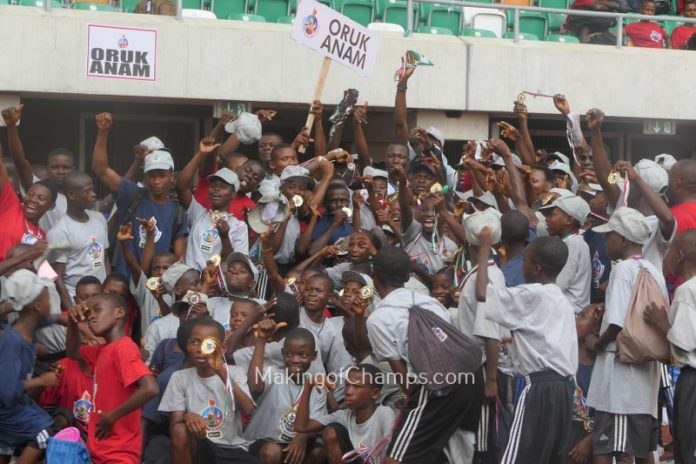 After four days of exciting performances by young aspiring athletes from all parts of Akwa Ibom state, Oruk Anam Local Government Area (LGA) on Sunday emerged winners of the first Youth Sports Festival held at the Godswill Akpabio International stadium.
For some of these athletes, a competition like this is the perfect launching pad they need to kick-off a career in any sport they can etch a name for themselves, be it in Athletics, Football, Table Tennis, Karate and many others.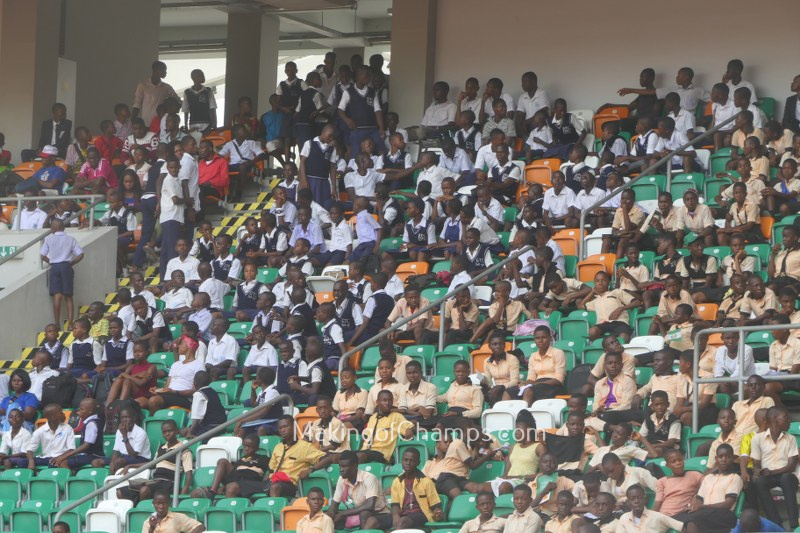 Oruk Anam was by far the standout region of the state, winning: 79 GOLD, 51 Silver and 25 Bronze to top the table with a total of 155 medals. While Itu finished 2nd with: 36 GOLD, 37 Silver and 36 Bronze to bring their haul to 109 medals, and Uyo LGA placing 3rd with 36 GOLD, 24 Silver and 9 Bronze to make it 69 medals.
On the last day of the Championships witnessed by the Deputy Governor, Moses Ekpo who came to declare the games closed, some of the best Athletics events were saved for the last.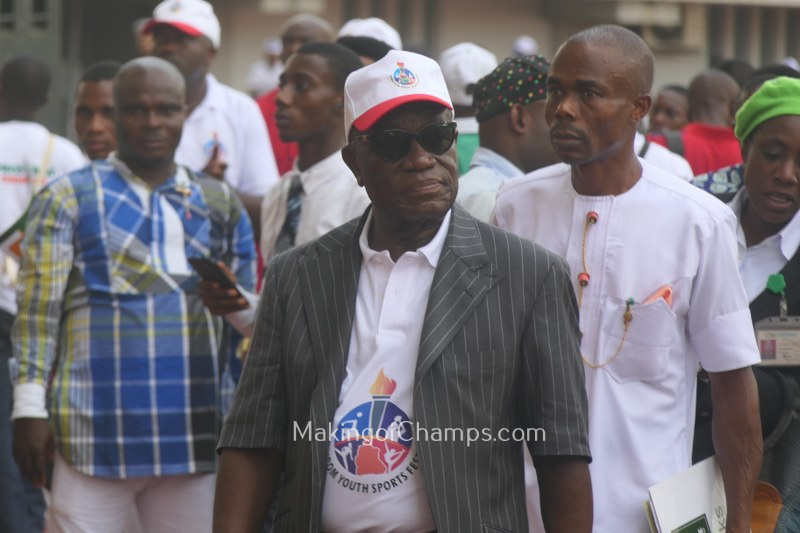 Having concluded all other finals before the last day, the 100m and Relay finals in the different categories were pushed back by the organisers for Sunday, despite initially scheduling it to take place on Friday and Saturday respectively.
It seemed to have paid off as the races provided a stiff contest, and also gave the spectators something to cheer and applaud to.
In the Primary school Boys' 100m which produced a thrilling photo finish, Bliss Gabriel Okon stormed to victory with a time of 13.0s, same time as John Uwem John whom he narrowly beat to 2nd. David Okoedi was not afar off as he finished 3rd in 13.1s.
The primary school girls 100m also produced similar margins, as Blessing Udeme Harry crossed the line first to win in 15.0s, same time as Idongesit Mfon Effiong who was 2nd and Blessing Emmanuel Okokon 3rd in 15.1s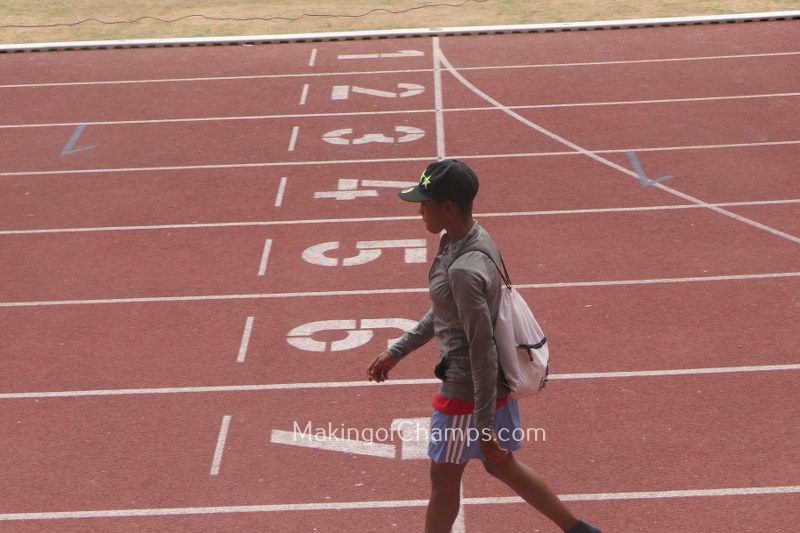 It got more exciting in the Secondary school categories. Esther Okon Peter raced to her second individual title, beating the field to win the Girls' 100m in 11.8s. Immaculate David finished 2nd with a time of 12.5s and Faith Friday Akpan 3rd in 12.7s.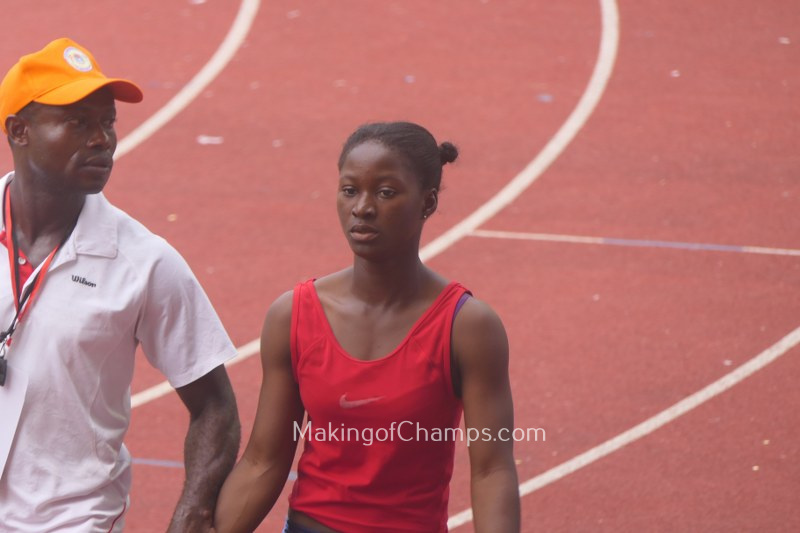 The Secondary school Boys reached fever pitch, with the athletes being called back twice for warnings by the umpire as the tensed atmosphere got to the boys. When they did start, there was no stopping Abang Edet Effiong who made it a double to add to his 200m title, crossing the line in 11.0s. To tell you how close the race was, Ekemini Friday Isaac finished 2nd in 11.1s, recording the same time as Ekpo Unyime Mfon who was 3rd.
The 100m races were ones befitting of a final day, and the relays did justice to bring down the curtains on the games.
In the primary school Boys 4x100m, Etinan LGA clinched victory clocking 56.2s, while Ikot Abasi came 2nd at 57.2s, and Eket 3rd also with 57.2s. While in the Primary school girls category, Ibesikpo won with a time of 58.1s and Ikot Abasi 2nd in 58.7s and Essien Udim 3rd in 58.9s.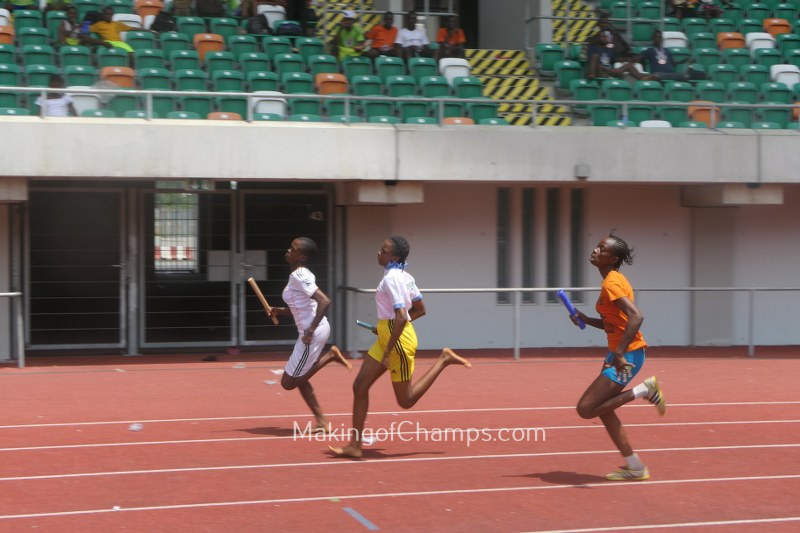 The Secondary school Girls 4x100m relay stepped things up. Ikot Ekpene won in 50.1s, while Etinan finished 2nd in 51.1s and Eket LGA 3rd in 51.2s. Oron clinched the Secondary school Boys 4x100m triumph in 44.2s, closely followed by Etinan who were 3rd in 44.3s and Ini 3rd in 44.4s.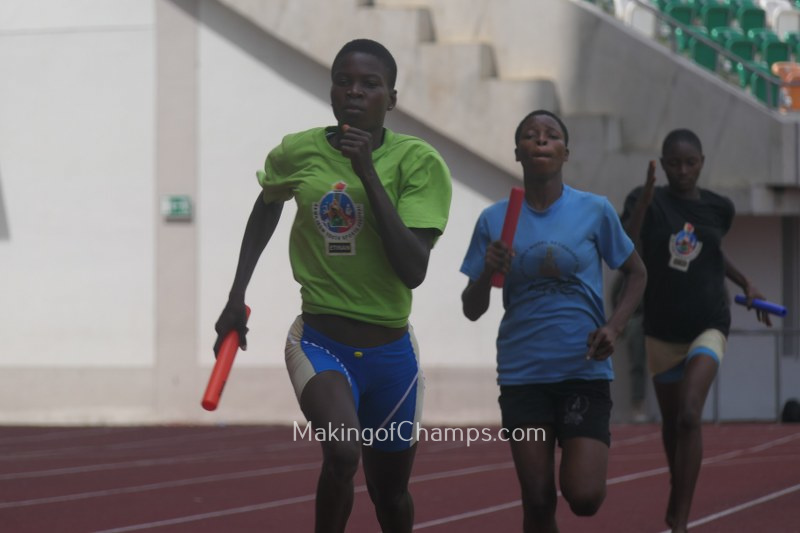 The Games ended with many aspirations birthed and hopes for a better tomorrow. With the state government announcing that they will be admitting the 8 finalists in the primary school 100m events into an academy, one can only hope that they are well nurtured and groomed to truly become future stars.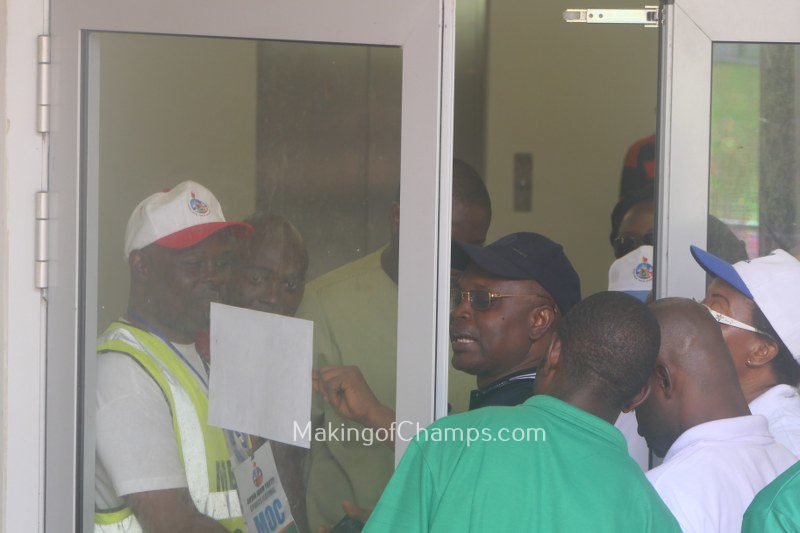 Note: All times in this story were hand-timed