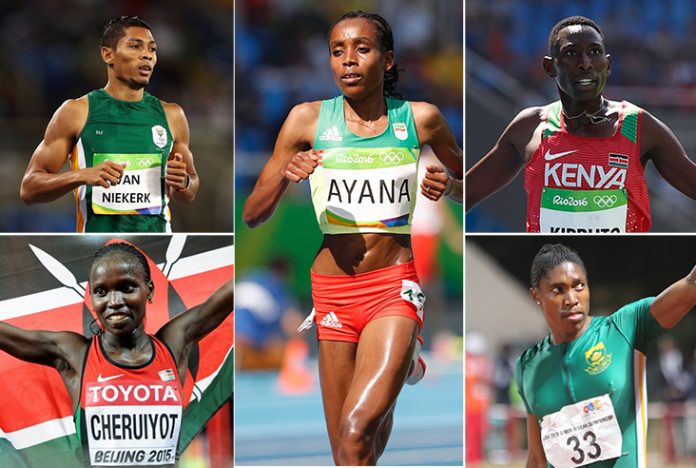 On Wednesday we started a countdown of our Top 10 African Athletes in 2016, presenting Part 1 which featured Nos. 10 to 6. Hope you agree with our ratings so far?
Today we will conclude the countdown and present the remaining athletes who make up the Top 10. As usual, in descending order, find out those who are ranked from 5 to 1.
                                                                       
                                                                               5) Vivian Cheruiyot
At No.5 and also making our Top 10 list for the first time is Kenya's long distance runner Vivian Cheruiyot. Multiple World champion, Cheruiyot this year got the one medal that has been missing in her impressive collection, and the one she so much craved for.
Let's just take a look at her CV. Cheruiyot, who competes in both the 5000m and the 10000m, has an intimidating haul at the World Championships where she has clinched several titles. In fact she has won four World titles dating back to Berlin 2009, Daegu 2011 and Beijing 2015.
Despite all that success, an Olympic GOLD was missing in her cabinet. Having won Silver in the 5000m and Bronze in the 10000m at the London 2012 Games, Cheruiyot knew that the Rio Olympics was her best shot at it. However, she needed to get past a dominant Almaz Ayana to get her wish.
While she had to settle for Silver in the 10000m with a National Record (NR) of 29:32.53 behind Ayana's World Record (WR) breaking feat, she got some measure of revenge running the best tactical race one could see to win GOLD in the 5000m. It was a performance that earned her a place in history, as she finally struck GOLD after four appearances at the Olympics.
Her time of 14:26.17 is an Olympic Record (OR), made possible by the fact that she timed her race to perfection, surging past Ayana with three laps to go as the Ethiopian ran out of steam towards the end of the race. She became the first Kenyan woman ever to win the 5000m at the Olympics.
Cheruiyot, having conquered the track, revealed that she is retiring and will now shift attention to road races in the near future. Who knows, she could go on to be as successful there too.