Fortune has smiled on 15-year old sprint prodigy, Chiamaka Egbochinam, who has been awarded a 2-year Secondary School Scholarship by Oil and Gas company, Shell Nigeria Exploration and Production Company Limited (SNEPCo).
The talented teenager, who is a member of Making of Champions' (MoC) Track Club, is the third beneficiary of MoC's Student-Athlete Scholarship scheme.  It will be recalled that earlier this year, two athletes, Joy Udo-Gabriel and Jeremiah Jakpa were awarded 4-year University Scholarships courtesy of another oil company, ARCO Group.
Just as it was for the duo, Egbochinam's scholarship covers her tuition, accommodation, nutrition, training and competition costs for the next two years towards the completion of her senior secondary school education. SNEPCo has relocated Egbochinam from Onitsha to study at a top private school in Lagos, while she trains with Olympic Medallist Deji Aliu, who is MoC's Head Coach in Lagos.
Reacting to the positive development, MoC Founder/CEO Bambo Akani said: "I think it's a historic moment in Nigerian Athletics – I don't think we've ever seen a secondary school athlete get a scholarship from a company like Shell, or any other corporate organization in Nigeria.
"It's really an indication of what potential she has to be a star for Nigeria in the future and also an indication of how much Shell wanted to help Chiamaka and give her a good education to help her realize her immense potential.
"We've known about her since last year when as a 14-year old she became the 100m Junior Champion at our inaugural Top Sprinter Finals in Lagos, ahead girls 3 or 4 years older than her. We've been amazed by her potential and talent since then.  We'd like to thank SNEPCo, NNPC and their other co-venturers for coming in and helping this wonderful talent realize her potential for Nigeria in the future."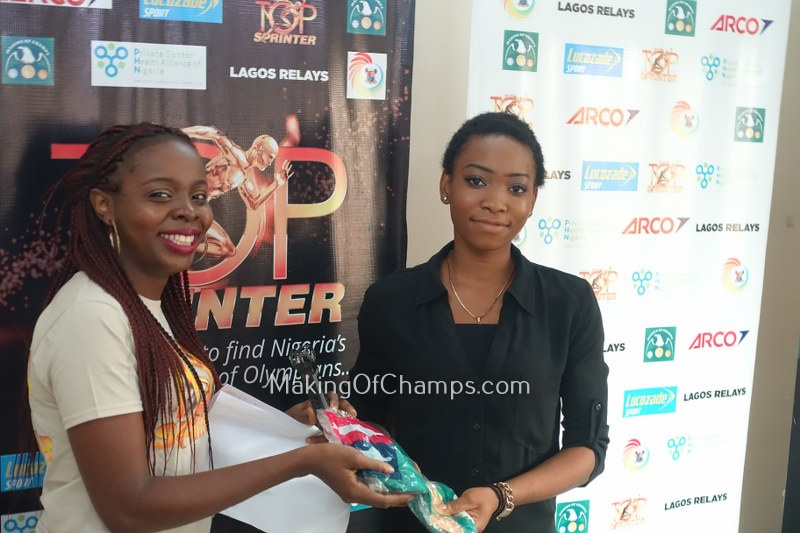 Egbochinam caught the eye of the Top Sprinter coaches at the 2015 Top Sprinter Auditions in Enugu and the Lagos Finals where she emerged the fastest girl in the 100m in a time of 12.62s, and placed 3rd in the 200m in 26.21s.
She represented Anambra state at the 2016 National Youth Games in Ilorin, clocking Personal Bests of 12.08s and 25.25s to win double Bronze medals in the 100m & 200m respectively.
With the support and care from SNEPCo, MoC and a little bit of luck, Egbochinam could well be in the frame to represent Nigeria at the final World Youth Championships that will ever be staged, in Kenya in July 2017. Her scholarship from Shell is bound to encourage budding secondary school athletes across Nigeria that it could pave the way for other Corporate Sponsors to come to their aid as well.
Meanwhile five new athletes were inducted into the MoC fold on Friday, 16th December in Lagos. They are Blessing Obarierhu, Blossom Akpedeye, Glory Nyenke, Saheed Jimoh and Segun Ahigbe.
Would your company like to partner with MoC to award Scholarships to any of our Athletes (just as Shell & ARCO Group have)? Please do reach out to us at [email protected] – we have up to 10 Athletes whom we are still seeking sponsors for, and many more Athletes on our shortlist to join the Club  – individuals wishing to support should also get in touch!