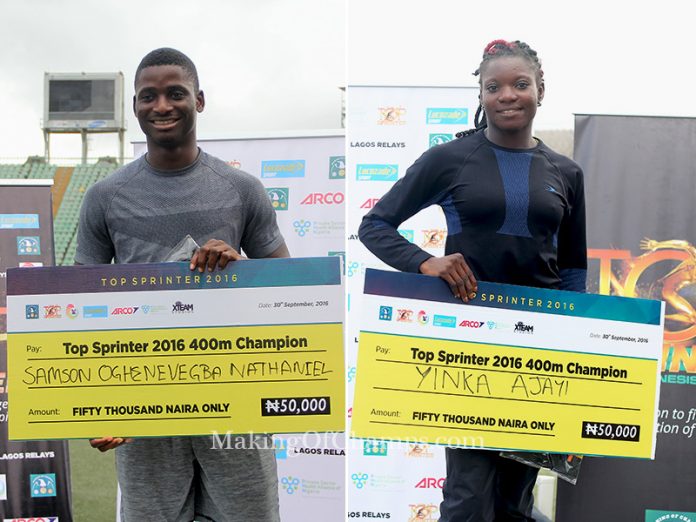 National athletes Samson Nathaniel and Yinka Ajayi ended the 2016 Athletics season in a memorable manner as they both raced to victory in the men and women's 400m final on Friday, September 30, at the Teslim Balogun Stadium in Lagos.
The men's 400m Final A was the most anticipated race on Day 2 of the ongoing Top Sprinter Lagos Relays 2016, and fans at the stadium were not disappointed. The 400m heats had been competed in the day before, with Nathaniel easily winning his heat.
He kicked off action on Friday with the men's 200m where he easily coasted to victory in Heat 1, before regrouping for the 400m final in the afternoon. From the moment the gun went off, there was no doubt as to whom would win the race, going by Nathaniel's performance the day before.
He sped off from the blocks and established the lead, before slowing down on the home straight with about 20m to go after observing that he was dominating the race. He crossed the line in 47.43s, while hard-fighting Sulaiman Badewa dipped on the line to follow with a time of 48.47s.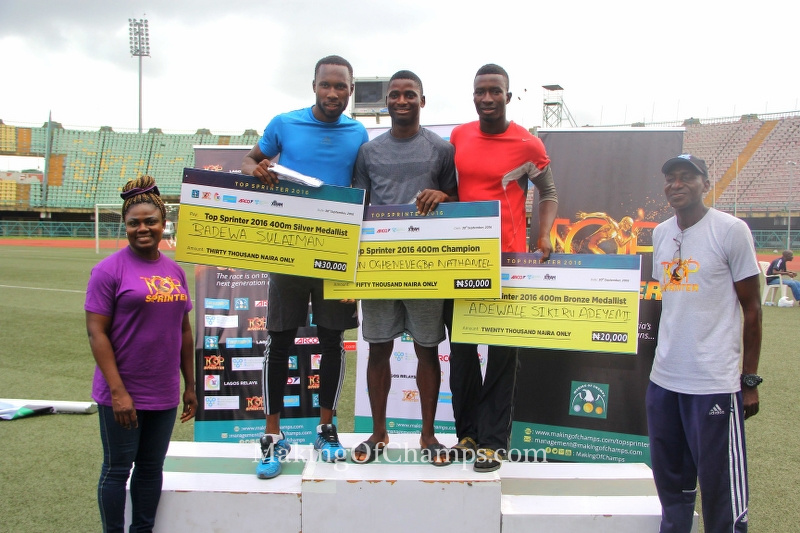 Another national athlete Sikiru Adeyemi placed 3rd in 48.59s, while Bamidele Emmanuel (48.59s) and Afeez Abdulrahman (48.83s) finished 4th and 5th respectively. The victory will be a confidence booster for Nathaniel who has had a lacklustre 2016 season since relocating to the US earlier this year.
The quartermiler has found it difficult to replicate the form that saw him clock his Personal Best (PB) of 45.80s at the 2015 African Games in Brazzaville, but seems to be making some progress since returning to Nigeria for the National Trials.
The 'B' final was taken by Segun Emmanuel in 50.26s, with Daniel Oyinloye (51.16s) and Rilwan Olowu (51.16s) placing 2nd and 3rd respectively.
Durban 2016 Silver medallist Yinka Ajayi gave her rivals no chance to control the women's 400m race, setting the pace to win the N50,000 cash prize at stake. She returned a time of 54.41s to finish ahead of Samson's sister, Glory Nathaniel (55.31s) and Charity Adegoke (55.58s) of Esteem Club.
Aminat Alabi (56.12s), Knowledge Omovoh (56.72s) and Deborah Adewale (56.86s) placed 4th, 5th and 6th respectively.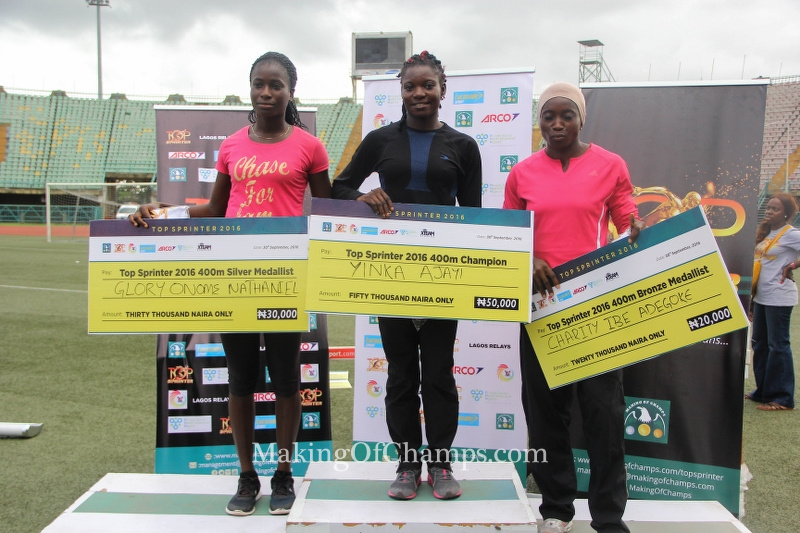 Nathaniel went on to win Heat 1 of the women's 200m in 24.67s, crossing the line ahead of Cecilia Francis (25.07s) and Maria Thompson (25.11s). 100m Champion Mercy Ntia-Obong dominated Heat 2 with a time of 24.43s, and was followed by Susan Akene (25.13s) and Adewale (25.72s).
Jare Folarin of Osheku Striders raced to victory in Heat 2 of the men's 200m in 21.9s as Nicholas Akinniyi finished 2nd with 22.47s. Heat 3 was taken by Ese Itsekiri (22.27s) who was followed by men's 100m Silver medallist Idjesa Uruemu (22.45s).
Badewa 22.07s), Abejoye Oyeniyi (22.14s) and Raymond Ekevwo (22.61s) were the Top 3 finishers in Heat 4 of the men's 200m. Thankgod Igube was the man to beat in Heat 5, clocking 22.09s, while Chukwudi Olisakwe (22.63s) and Peter Moreno (22.97s) placed 2nd and 3rd. Bello Damilola (22.9s) and Oluwatoyin Kolawole (22.54s) won Heats 6 and 7.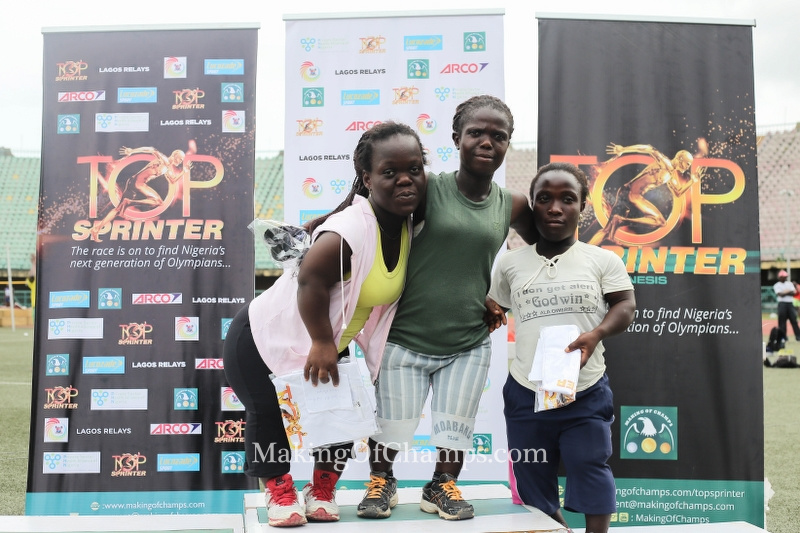 Meanwhile the Para-Athletics event kicked off with the women's F40 Shot put on Friday where Deborah Agege took the title with a distance of 6.22m. She was joined on the podium by Abigeal Menu (5.87m) and Bolanle Ojo (5.47m). Ganiya Ayanpeju (5.29m), Adebisi Adewunmi (4.66m) and Falilat Balogun (4.00m) complete the field.
Four Para-Athletics track events will hold on Saturday, October 1, including the women's 100m T54 wheelchair race which will feature Paralympian, Hannah Babalola. The 200m men and women's finals will also hold on Day 3 of competition, alongside the Lagos Relays, which will bring the event to a climax.