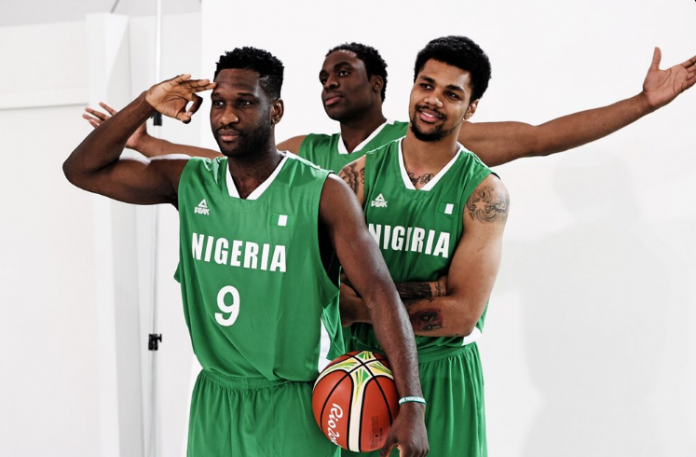 Nigeria's D'Tigers will be making its second Basketball appearance at the Olympics, with fans expecting that they would do better in Rio than their debut at the London 2012 Games.
Going to the Olympics as African champions, the team will hope to come through the group stages, which, if achieved, will see Nigeria become the first country on the continent to make the quarter-finals. Surprisingly, even Angola with its powerhouse status in Africa, has not been able to achieve this feat.
Four years ago the team finished 10th among 12 teams, beating Tunisia to win one in five games in their group, scoring a total of 338 points, conceding 456 points, with a point difference of -118.
Having played some tune-up games at the FIBA (International Basketball Federation) Stankovic Continental Champions' Cup, the team will have some belief this time around as they hope to come out of their group.
In their last warm-up game before arriving Brazil, D'Tigers were defeated by the indomitable USA 110-66 points. There's hardly anybody who expects them to beat a US team boasting of NBA greats: Kevin Durant, Klay Thompson, Deandre Jordan and many others .
Group:
D'Tigers are in Group B, having been drawn alongside hosts Brazil, Spain, Lithuania, Croatia and Argentina. A very tough group for the Nigerians.
Games Schedule:
Somehow, it's good D'Tigers will play their first game against Argentina, coming up on Monday (2.30am Nigerian time). They beat the South Americans once at the Stankovic Cup, although Argentina got some measure of
revenge in the second game.
The 12-man team:
Do you the players? They are – Ike Diogu, Alade Aminu, Ebi Ere, Shane Lawal, Stan Okoye, Ekene Ibekwe, Michael Gbinije, Josh Akognon, Chamberlain Oguchi, Ben Uzoh, Andy Ogide and Michael Umeh.
Absentees:
Although Al-Farouq Aminu was initially listed in the official team list to Rio, there are reports that he's missing the tournament over insurance issues, same reason as Festus Ezeli who recently signed a contract with NBA franchise
Portland Trailblazers.
While the older Aminu is in the team, Al-Farouq and Ezeli backed out as they could not reach an agreement with the Nigerian Basketball Federation (NBBF) should they get injured while on national duty.
Coach: Will Voigt
Voigt took the reins in 2015 and the transformation he is gradually bringing has been quite evident. He oversaw Nigeria's triumph at the Afrobasket in Tunisia, thereby gaining an automatic Olympic qualification, the first time D'Tigers will be winning the tournament.
An interesting fact about Voigt is that he was once a football player before he delved into Basketball coaching. He got the Nigerian job on the recommendation of former Nigerian player and now Toronto Raptors General Manager, Masai Ujiri.
Voigt who has had different roles at some NBA clubs, will be coaching at the biggest stage in his young career when he selects the first five to jump off in Nigeria's first game against Argentina.
Key Players:
*Ike Diogu: So much will be resting on the shoulders of Team Captain, Diogu. He has been a mainstay in the team for over four years. No doubt the team will be relying on his expertise to help convert offensive rebounds into points.
*Ben Uzoh: From last year's Afrobasket in Tunisia, Uzoh has shown he can help out his team with steals and turnovers, and equally be a threat offensively, as was seen when he went up to make a one-handed dunk  that took Nigeria to 10 -11 against USA on Monday.
*Chamberlain Oguchi: If Oguchi consistently makes those 3-points and hit double figures like the 21 he made against USA, then D'Tigers might just be able to come out of the group.
Olympic History:
Prior to Rio, Nigeria had only qualified for the Olympics in 2012 when the team played in the qualifying series in Venezuela, finishing in 3rd place to get the last ticket.
Sadly, Nigeria's debut is fondly remembered for the 156-73 trouncing by USA, which made history as the highest number of points scored by a winning team at the Olympics. If it's any consolation, the points Nigeria made could have been enough to win any other game.
Prediction:
If D'Tigers can win two games, then they could make the knockout stages, but it seems like a tall order. However, I will try and be patriotic and tip them to reach the last eight, although my head is telling me otherwise.
Photo Credit: @NigeriaBasket