Elvira Herman emerged the surprise winner of the women's 100m Hurdles on Day 6 of the IAAF World U20 Championships in Poland, clinching the GOLD medal in style as she stormed to a Personal Best (PB) and Championship Record (CR) of 12.85s to upstage some of the big names in the event.
The Belarusian, who won a Silver medal at the 2014 Youth Olympic Games in Nanjing, had maintained an unbeaten record in Bydgoszcz, improving in each race and lowering her times in the process. Herman won Heat 4 in her preliminary race, clocking a time of 13.13s to set the pace in her heat.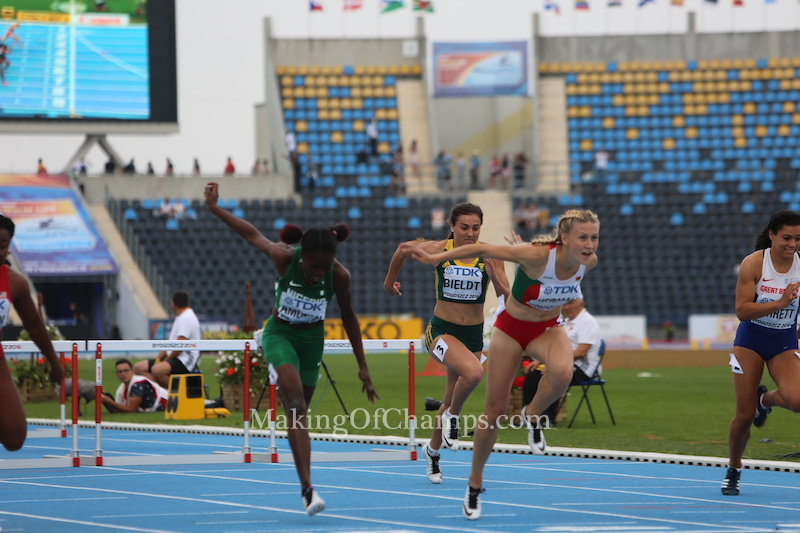 She then broke 13s for the first time, setting a National U20 Record of 12.97s to win Heat 3 in the semis, which incidentally, was the fastest time overall  on Saturday. World Leader Oluwatobiloba  Amusan won Heat 1 of the semis in a time of 12.99s, while World Junior Record (WJR) holder, Tia Jones of the USA won Heat 2 in 13.09s.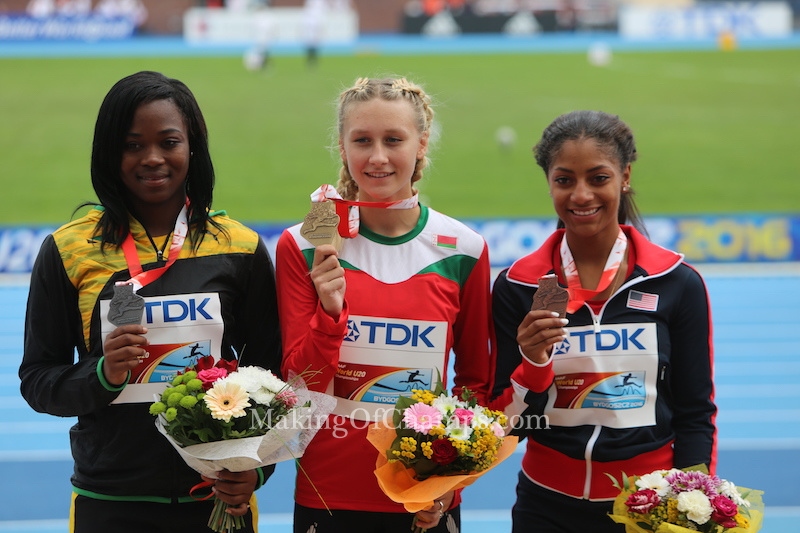 In the final, Herman shrugged off the charged atmosphere caused by a false start, taking off at the sound of the gun to establish a lead in the race. Jamaica's Rushelle Burton, who was on the outside lane, followed closely, taking Silver in an U20 NR of 12.87s. Jones was 3rd in 12.89s while teammate Alexis Duncan placed 4th with a PB of 12.93s.
Amusan was 5th in 12.95s, with Great Britain's Alicia Barrett finishing 6th with a lifetime best of 13.15s.  South Africa's Taylon Bieldt (13.37s) and Laura Valette (13.42s) of France placed 7th and 8th respectively.