World Leader in the women's 800m Caster Semenya was without doubt the standout performer of the 20th African Senior Athletics Championships as she was the only athlete to strike GOLD thrice at the competition held at the Kings Park Stadium in Durban from June 22 to 26.
The London 2012 Silver medallist capped off her exquisite performance by anchoring the South African 4x400m women's team to a historic GOLD medal with a National and Championship Record of 3:28.49, which is also the second fastest time in the world this year.
The Nigerian team had already maintained the lead set by Omolara Omotosho in the first leg. However, Semenya received the baton in 3rd place, but overtook Patience Okon-George with almost 200m to go and got the home crowd screaming until she crossed the finishing line.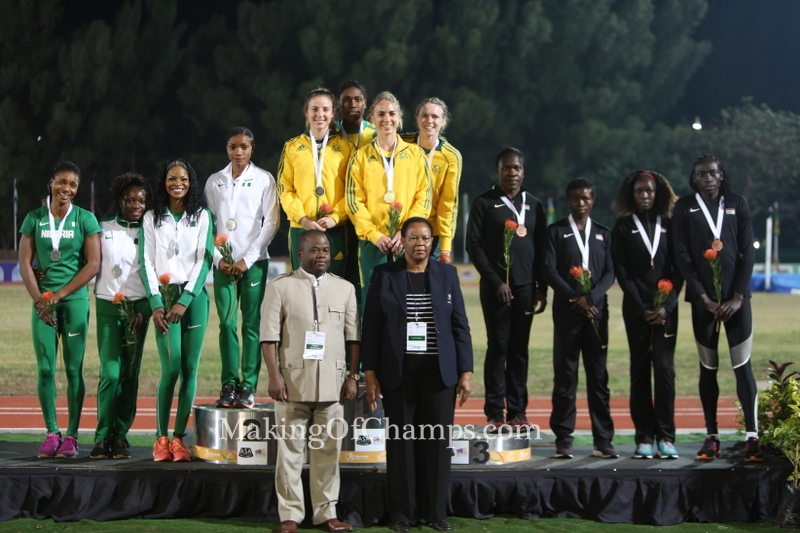 Nigeria settled for Silver in 3:29.94 as Kenya followed in 3rd place with their time of 3:30.21, and Botswana 4th in 3:31.54. It was a fitting end for the hosts who had earlier claimed GOLD in the men and women's 4x100m relays.
Semenya won her first GOLD in the women's 1500m a few days before, and then added another to her tally an hour before the relays, winning the 800m with a time of 1:58.20. Morocco's Malika Akkouiu came in 2nd in 2:00.24 as Emily Cherotich finished 3rd after clocking 2:00.70.
The Berlin 2009 World Champion is yet to lose a race this season and her incredible form will no doubt send shivers down the spines of her rivals ahead of the Olympics Games in August.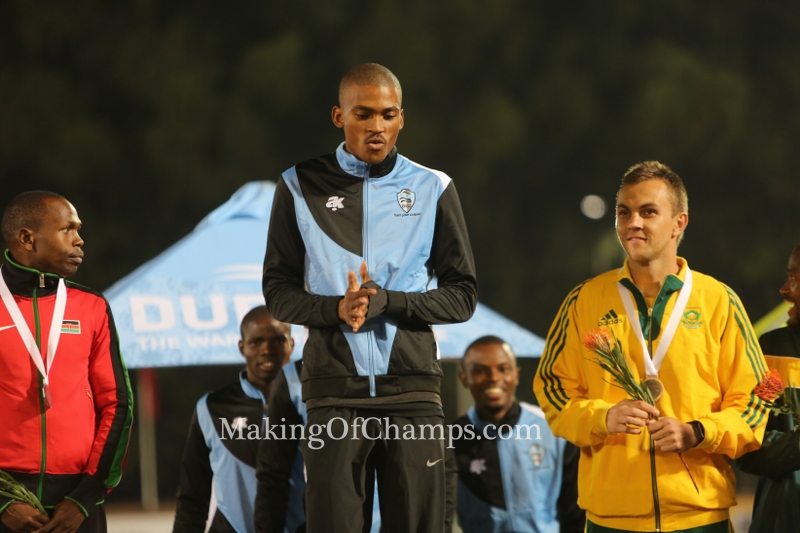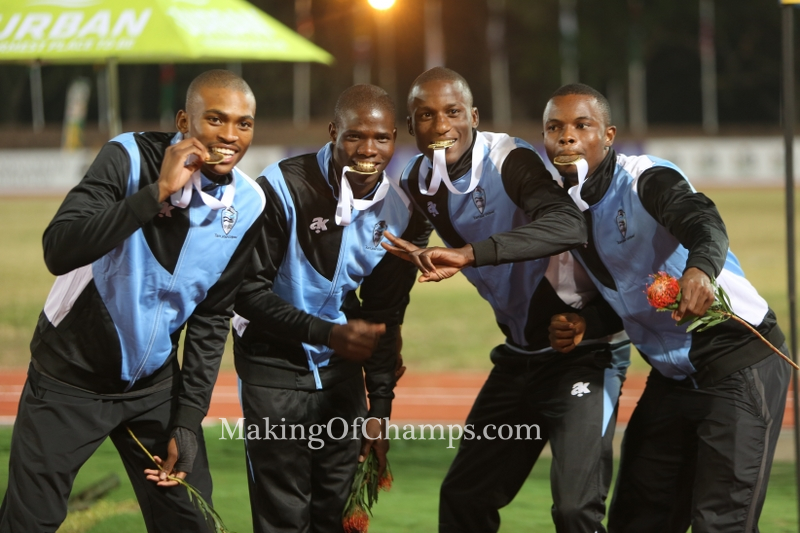 Botswana also ended the championship on a high after putting up a spectacular display to win the men's 4x400m in a time of 3:02.20. Their victory was underlined by the fact that the young team won the GOLD medal without the assistance of their older colleagues Isaac Makwala and Nijel Amos.
Silver medallist in the 400m, 18-year old Karabo Sibanda who took the first leg, established an unassailable lead for the rest of his teammates Baboloki Thebe, Onkabetse Nkobolo and Leaname Maotoan to build on. Kenya was 2nd in 3:04.25 and South Africa 3rd in a time of 3:04.73.
Wayde Van Niekerk won his first individual continental title after racing to victory in the men's 200m in a time of 20.02s. He had earlier helped the South African 4x100m team win GOLD on Day 3 of the championship. The 400m World Champion had aimed to go below 20s but it was not to be in Durban.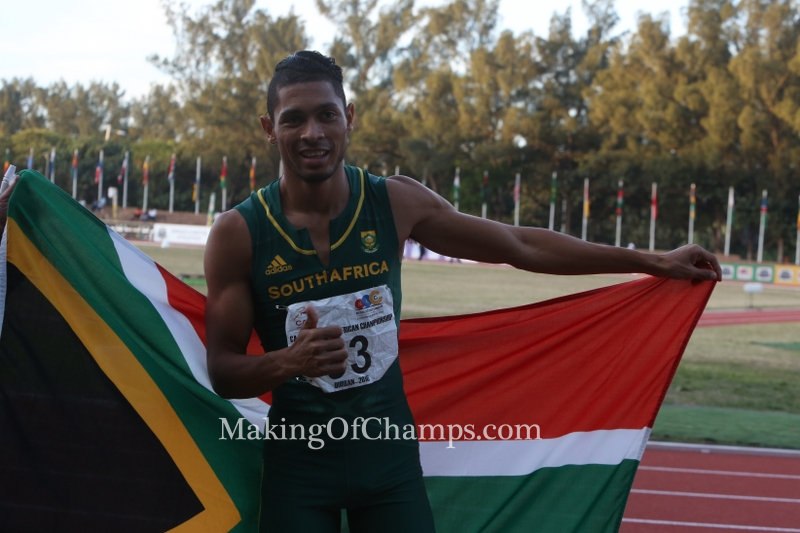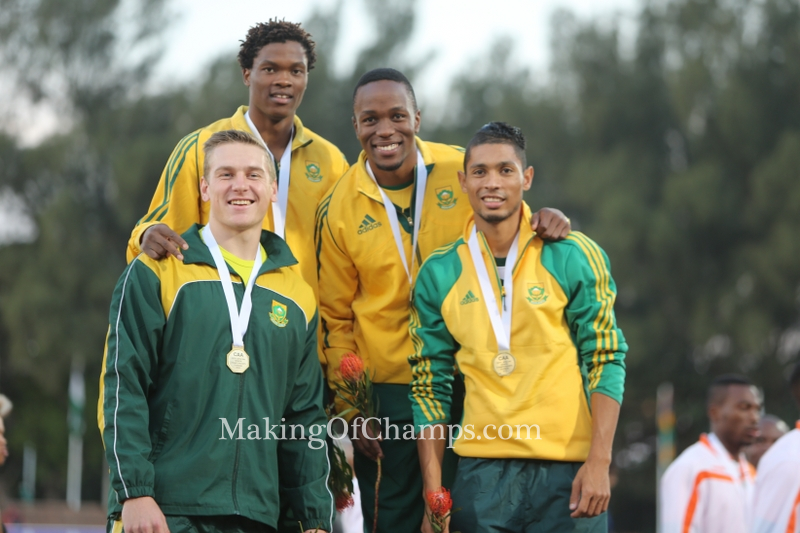 He was followed by Gambia's Adama Jammeh in 20.45s, while Emmanuel Matadi claimed the Bronze medal in his first outing for Liberia, clocking 20.55s. Defending Champion Hua Wilfried Koffi was unable to replicate the form that saw him win double GOLD in Marrakech two years ago.
The Ivoirian struggled to qualify from the semis, and eventually finished 6th in the final in 20.92s. Nigeria's Divine Oduduru withdrew from the race after sustaining an injury in the semis.
African Games double sprint champion Marie Josee Ta Lou won her first GOLD medal of the competition after winning the women's 200m in 22.81s. The petite sprinter had earlier claimed Bronze medals in the 100m and 4x100m respectively.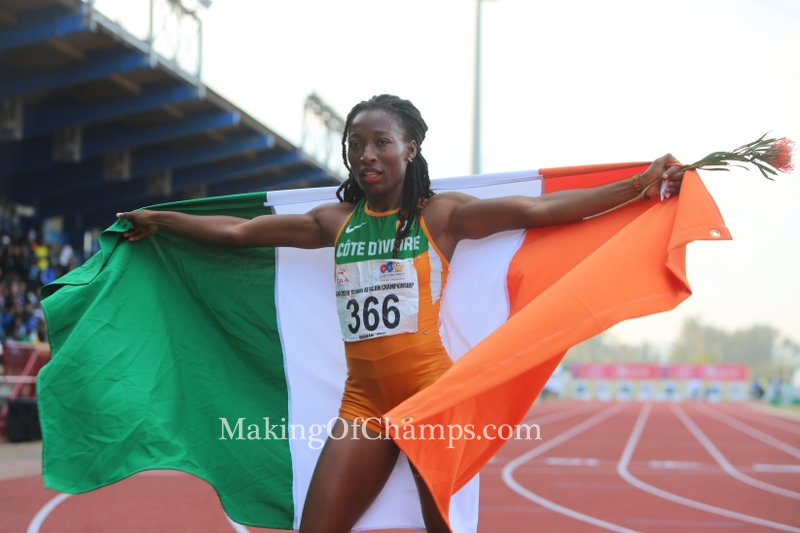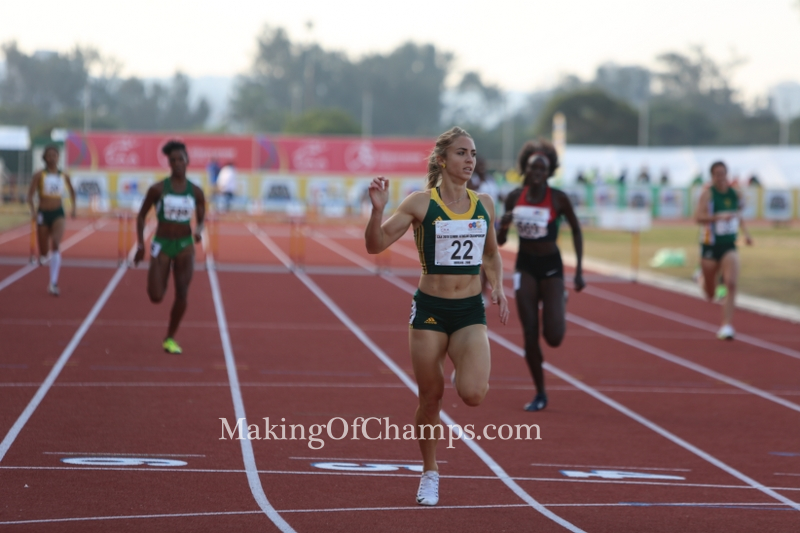 The South African pair of Alyssa Conley and Justine Palframan finished 2nd and 4th respectively, clocking 22.84s and 23.22s, while Gambia's Gina Brass won Bronze in 22.92s.
Home girl Wenda Theron Nel successfully defended her title in the 400m Hurdles, racing to victory in 54.86s to finish ahead of Kenya's Maureen Jelegat (56.12s) and Tameka Jameson (57.17s) of Nigeria.
Morocco's Fouad Kaam was the man to beat in the 1500m as he outraced his rivals to take the African title in a time of 3:39.49. The Kenyan duo of Timothy Cheroiyet (3:39.71) and Vincent Letting (3:40.78) settled for Silver and Bronze respectively.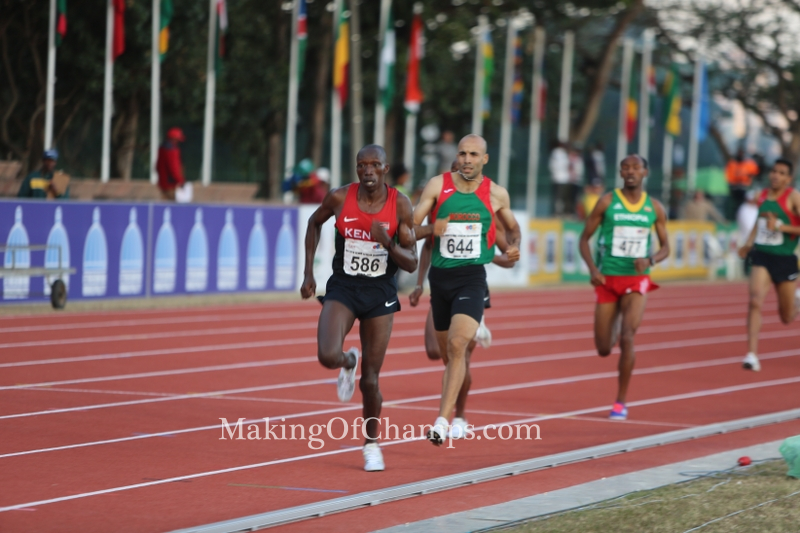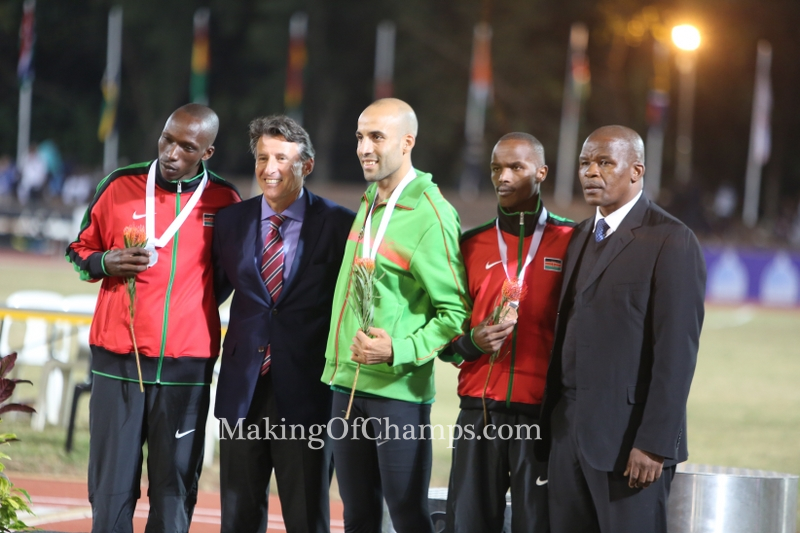 The men's 5000m title was claimed by Kenya's Douglas Kipserem who crossed the finishing line in 13:13.35, inspiring a 1-3 for his country as compatriot Mangata Ndiwa clocked 13:16.85, with South Africa's Elroy Gelant taking the Silver with 13:15.13.
Norah Jeruto set a Championship Record (CR) of 9:25.07 to win the 3000m Steeplechase ahead of teammate Agnes Chesang (9:27.22). Ethiopia's Ansa Weyneshet Weldetsadik (09:39.89) finished 3rd.
Kenya's Grace Wanjiru set an African and Championship Record of 1:30:43 to win the women's 20km walk, as her fellow country man Samuel Gathimba did same in the men's event, clocking 1:19.24.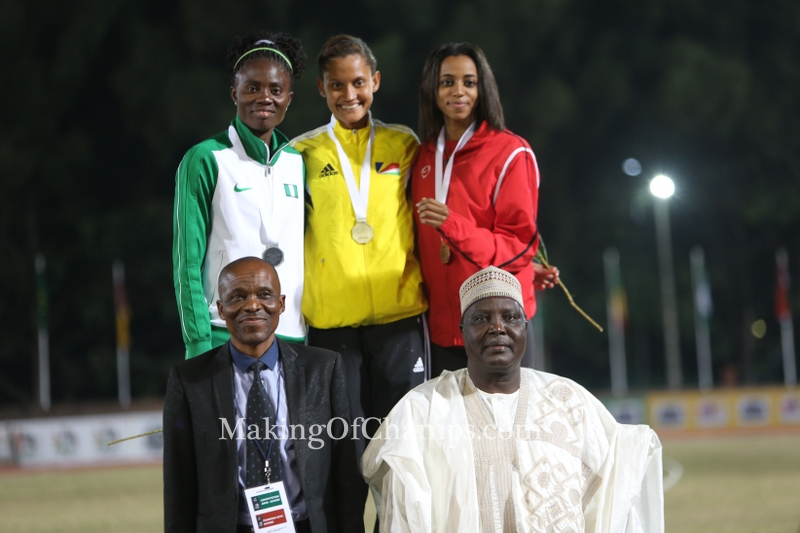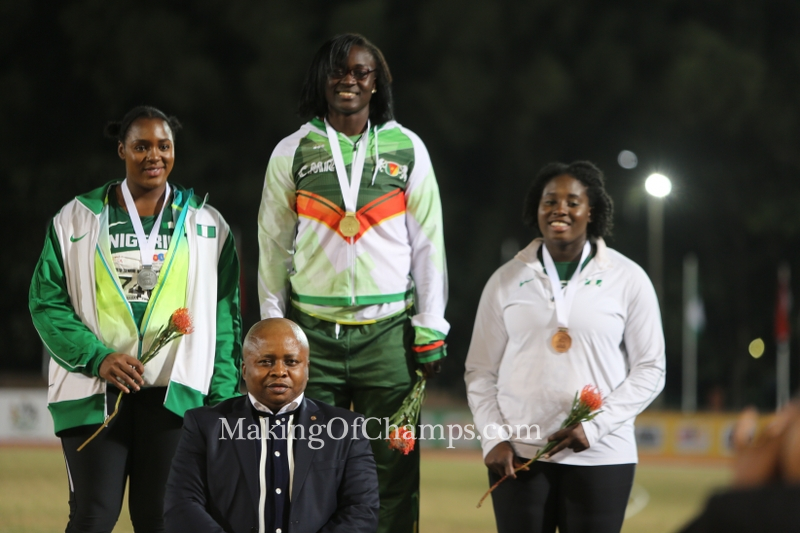 Seychelles' Lissa Labiche ensured that her country's national anthem was played at the Kings Park Stadium after upstaging Nigeria's Doreen Amata (1.82m) to win the women's High Jump, clearing a height of 1.85m.
Ghana's John Ampomah was beaten to the men's Javelin title by South Africa's Philmar Van Rensburg whose best mark of 76.04m was adequate to secure a win. Ampomah's best throw of 75.22m got him the Silver medal as Alex Kiprotich of Kenya finished 3rd in 74.08m.
Ghanaian National Record (NR) holder Nadia Eke took the Triple Jump title with a leap of 13.37m, while Cameroon's Auriol Dongmo set a CR to take the GOLD medal in the women's Shot put. Nwanneka Okwelogu was 2nd in 17.07m, and Chioma Onyekwere 3rd in 15.71m.
The next edition of the championships will be hosted in Lagos State, Nigeria.