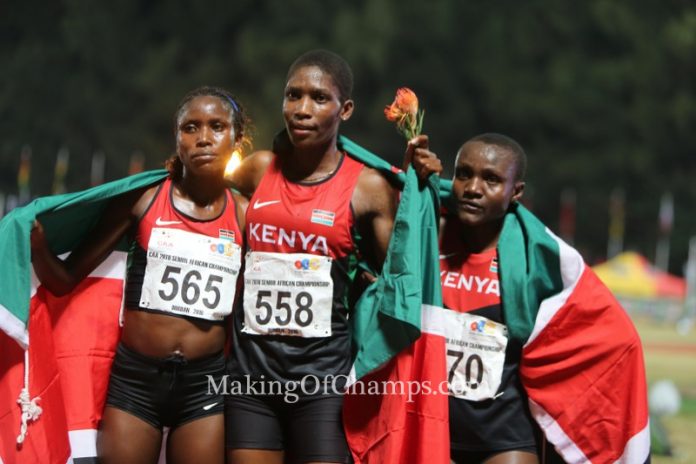 Kenya toed the path of 'Big Brother' Nigeria on Day 4 of the ongoing African Senior Athletics Championships in Durban after Alice Aprot inspired a clean sweep of all the medals in contention in the women's 10000m.
The 22-year old stormed to a Personal Best (PB), World Lead (WL) and Championship Record (CR) of 30:26.94, becoming the only athlete to have set a WL since the 20th edition of the competition kicked off on Wednesday.
It will be recalled that Nigeria had also done a 1-2-3 in the women's Discus throw just a day earlier. Fans at the Kings Park Stadium lent their support to Aprot as she powered down the home straight after a grueling race.
Teammates Jackine Chepngeno and Joyline Jepkosgei followed in 31:27.73 and 31:28.28 respectively. 22-year old Aprot has certainly thrown down the gauntlet ahead of next week's Kenyan Championships and the Rio Olympic Games in August, and will be one to watch out for.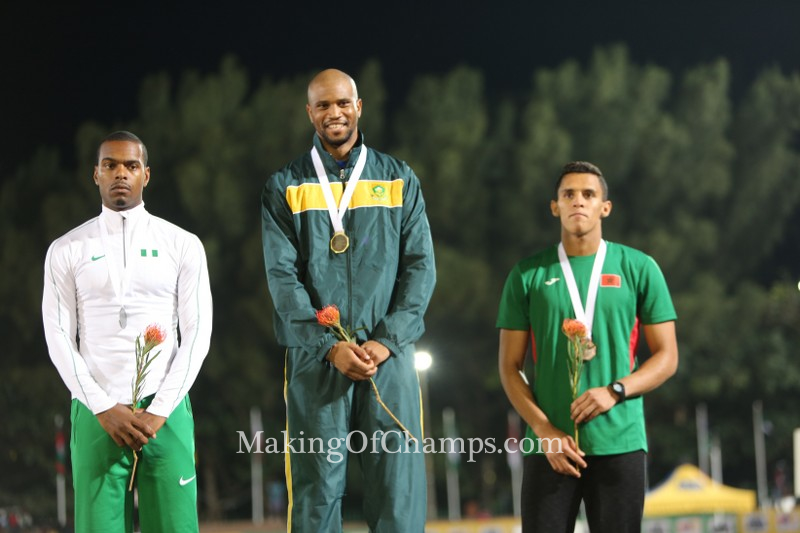 World No.9 in the 110 Hurdles, South Africa's Antonio Alkana came into the championship as the favourite to win the title, and he kept to the plan, taking victory with a CR of 13.43s to finish ahead of defending champion, Nigeria's Tyron Akins (13.74s) and Mohamed Koussi (13.94s).
Nigeria's Uhunoma Osazuwa was the third athlete to set a CR on Saturday as she won the African title in the Heptathlon with a National and Championship Record of 6153. It was a bitter-sweet moment for the multi-events athlete who was aiming to garner the Olympic qualifying mark of 6200 points.
Marthe Yasmine Koala of Burkina Faso was 2nd with 5952 points while Ghana's Elizabeth Dadzie finished 3rd after amassing a total of 5730 points.
World No.4 Sunette Viljoen claimed her fifth continental title in the women's Javelin throw with a mark of 64.08m, as compatriot Jo-ane Van Dyk followed in 56.22m, while Pacaline Adanhoegbe of the Republic of Benin settled for Bronze with a mark of 54.88.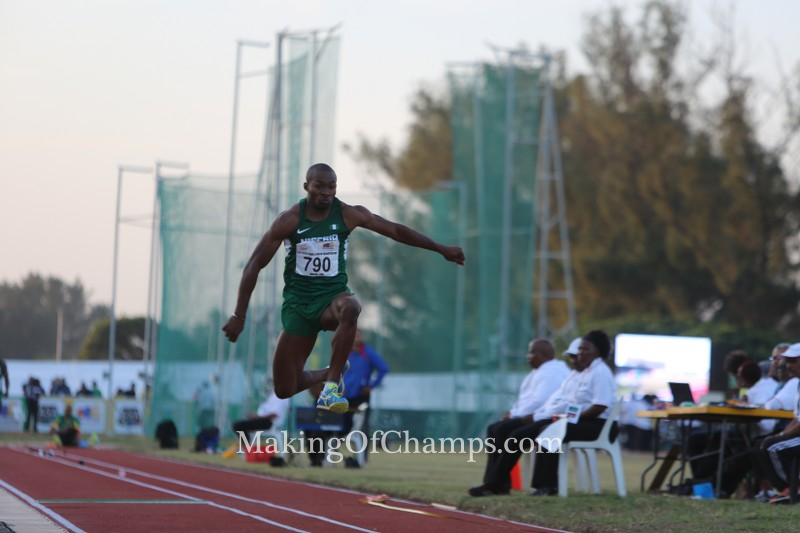 Tosin Oke exerted revenge from South Africa's Khotso Mokoena on home soil. The Commonwealth Champion stripped the Nigerian of his continental title in 2014, but Oke reclaimed his crown with a Season's Best (SB) of 17.13s.
Burkina Faso's Fabrice Zango (16.81m) and Mokoena (16.77m) settled for Silver and Bronze respectively. Olu Olamigoke was 5th with a jump of 16.53m.
Algeria's Hichem Cherabi emerged winner in the men's Pole vault with a clearance of 5.30m, with Amine Mohamed Romdhana and Ghana's Jordan Yamoah following with 5.20m and 5.00m respectively. Egypt's Eslam Taha Ibrahim dominated the men's Hammer throw.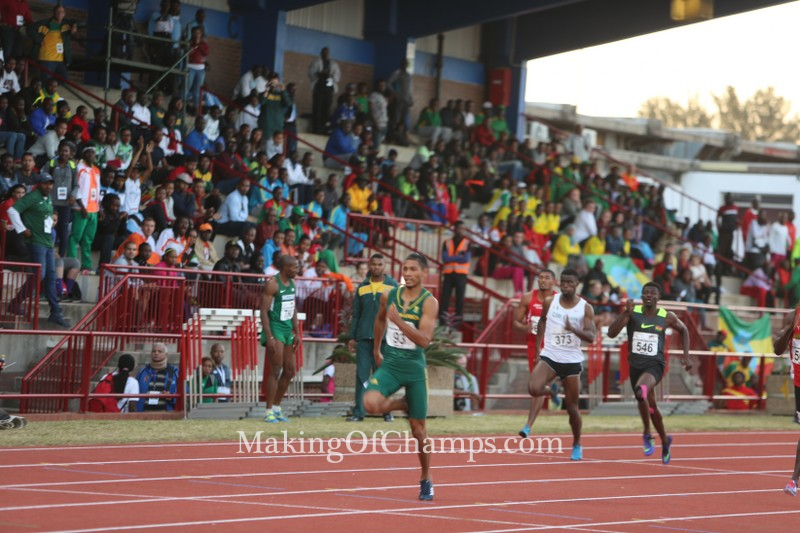 The heats and semis of the men and women's 200m were held on Saturday and 400m World Champion Wayde Van Niekerk was the man to watch out for. He went on to win his heat in 20.34s and semis with an impressive time of 20.03s.
The 23-year old revealed that he would be pleased to break the South African Record in the 200m: "All of us are chasing to better ourselves, and if in that process the National Record comes, I will be grateful for that moment and opportunity. I'm just trying to find some good form and improve my momentum for the year."
Liberia's Emmanuel Matadi won Heat 2 of the semis in 20.51s, while Nigeria's Divine Oduduru posted the second fastest time overall to win Heat 3 in 20.48s, just a few seconds shy of his PB. Defending champion Hua Wilfried Koffi didn't seem to be in good form and picked the last slot as one of the fastest losers qualifying for the final.
Home girl Alyssa Conley won Heat 1 of the 200m semis, clocking 23.02s. African Games double sprint champion Marie Josee Ta Lou clocked the fastest time overall (22.29s) to win Heat 2S, while another South African, Justine Palframan dominated Heat 3 with a time of 23.37s.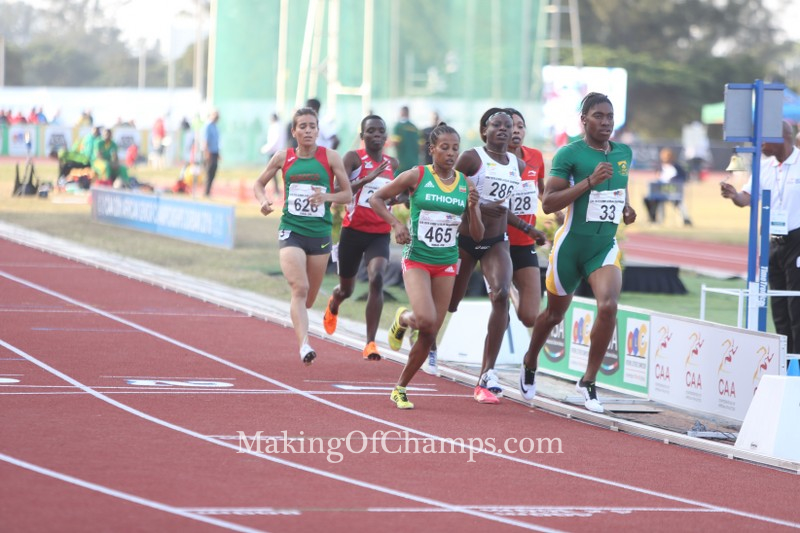 Having won the 1500m a day before, Caster Semenya channeled all of her energies towards her main event, the 800m. The rest of the field was no match for her as she won Heat 1 in 2:02.01 ahead of Rabab Arafi and Amna Barsham. Silvia Chesebe of Kenya won Heat 2 in 2:03.96, while Emily Cherotich (2:03.35) was the woman to beat in Heat 3.
Morocco's Fouad Kaam won Heat 1 of the men's 1500m, returning a time of 3:46.68, as Kenya's Vincent Letting and Sorsa Birhanu of Ethiopia followed in 3:47.80 and 03:48.43 respectively. Heat 2 was taken by Timothy Cheroiyet (3:44.44) who finished ahead of Tolosa Bekuma (3:44.58) and Eric Kiptanui (3:44.66).
Marrakech 2014 champion in the women's 400m Hurdles Wenda Theron Nel began her title defence with a win in Heat 1 where she clocked 55.33s and was followed by Naibe Aisha Wey (58.55s) and Jane Chege (59.44s).
Kenya's Maureen Jelegat outclassed the rest of the field to finish 1st in Heat 2 of the 400m Hurdles, with Tameka Jameson coming in 2nd in 58.17s, while Gezelle Magerman settled for 3rd with her time of 58.50s.