The men and women's 4x100m relay finals provided the perfect climax for Day 3 of the ongoing African Senior Championships in Durban as the home teams dominated the event, sending fans and visitors alike into a frenzy.
The South African men and women's teams were at the top of their game, stunning championship favourites Cote d'Ivoire to stamp their mark of authority as the team to beat following Nigeria's absence in both events.
In the women's race, the host team anchored by 100m Silver medallist Carina Horn, enjoyed a flawless baton exchange, which gave them the much needed edge as Horn powered down the home straight to clock a winning time of 43.66s.
The Ghanaian team was 2nd in 44.05s, while Cote d'Ivoire came in 3rd in 44.29s, with African Champion Murielle Ahoure running the anchor leg for the team, which suffered an imperfect exchange. The 3rd place finish dashed the Ivoirians' hopes of qualifying for the forthcoming Rio Olympics.
If the women's race was captivating, that of the men turned out to be an electrifying event. The defining moment of the race was Wayde Van Niekerk's scorching second leg run, with Akani Simbine completing the job by anchoring the team to a Championship Record (CR) of 38.84s.
The Ivoirian team anchored by newly crowned African Champion Ben Youssef Meite followed in 2nd place in a time of 38.98s, while Zambia finished 3rd in 39.77s.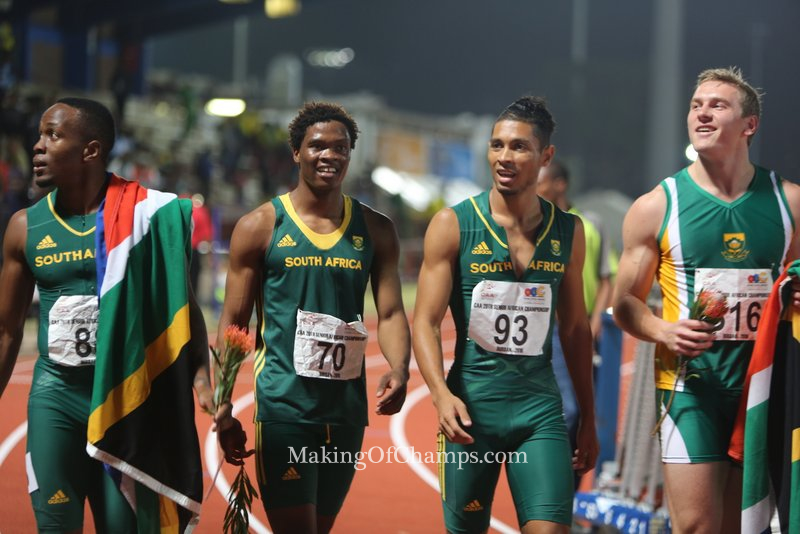 Day 3 of the Championship was indeed full of surprises with Botswana's junior athlete Baboloki Thebe throwing up one of the surprises of the day. The 19-year old upstaged his more experienced teammate and two-time African champion Isaac Makwala, putting paid the latter's dream of securing a third consecutive title.
Interestingly, Baboloki arrived the championships as No.3 on the 2016 world rankings courtesy of his Personal Best (PB) of 44.22s set last month in Gaborone, which is quicker than Makwala's Season's Best (SB) of 44.87s. In fact only World Leader Kirani James (44.08s) and Van Niekerk (44.11s) have gone faster this year.
Baboloki inspired a 1-2 for Botswana, taking the win in Durban with a time of 44.69s, while 18-year old Karabo Sibanda followed in 45.42s. The pair will be looking forward to finishing on the podium at next month's IAAF World Junior Championships in Poland.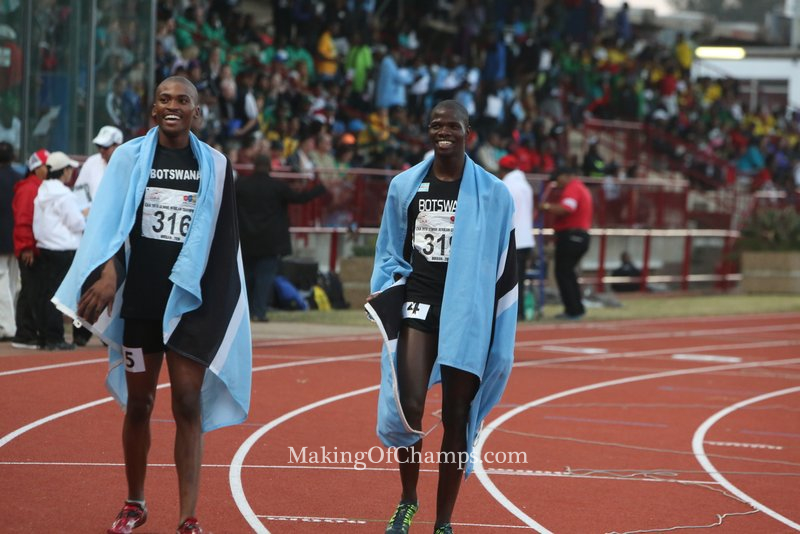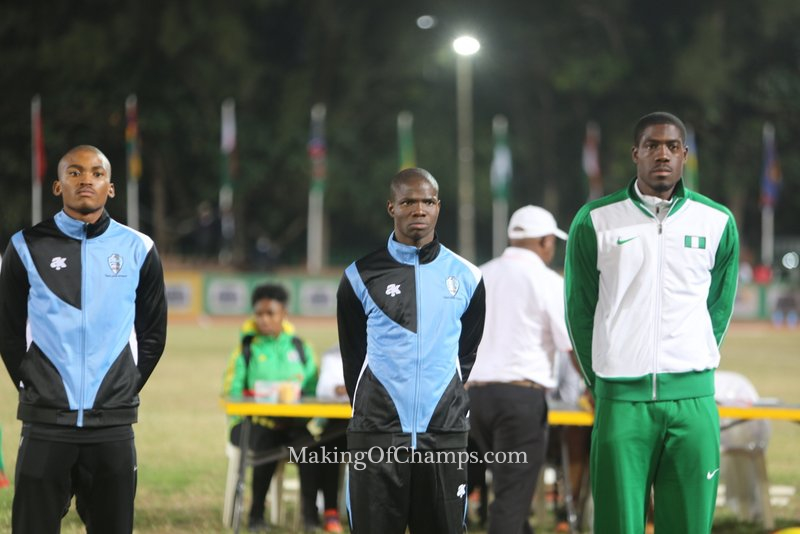 In what was his maiden outing for Nigeria, Chidi Okezie took the Bronze medal in 45.76s as Makwala finished 4th in 46.58s.
Zambia's Kabange Mupopo upgraded to GOLD from the Silver she picked in Marrakech two years ago, clocking 51.56s to finish ahead of Kenya's Margaret Nyairera (52.24s) and Patience Okon-George (52.33s) of Nigeria. Regina George placed 7th after returning a time of 53.45.
Beijing 2015 finalist Boniface Mucheru claimed his first continental title after dominating the field in the men's 400m Hurdles, posting 49.20s to finish ahead of Senegal's Amadou Ndiaye 49.41s and compatriot Aron Koech (49.41s) who happens to be the younger brother of reigning World Champion Nicholas Bett.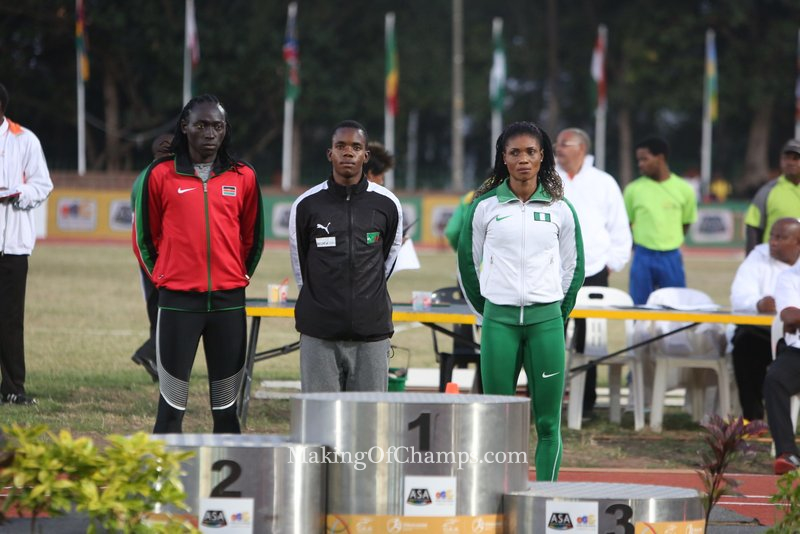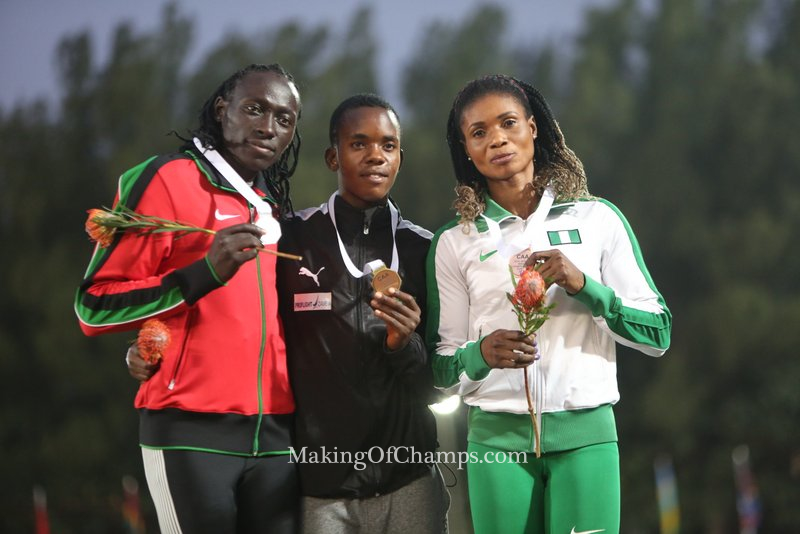 Daegu 2011 Bronze medallist LJ Van Zyl narrowly missed a place on the podium after finishing 4th in 49.46s, while reigning Commonwealth Champion Cornel Fredericks is still a shadow of himself, placing 6th in 49.82s. Nigerian Champion Miles Ukaoma was disqualified for a violation.
Nijel Amos left it late to win the men's 800m as he was almost upstaged by South Africa's Jacob Rozani who came in 2nd in 1:45.38. The London 2012 Silver medallist won with 1:45.11, as another South African Rynhardt Van Rensburg finished 3rd.
Caster Semenya continued her unbeaten streak as she stormed to GOLD in the women's 1500m where she claimed a CR of 04:01.99. Morocco's Rabab Arafi was 2nd in 04:03.95, and Anbesa Feyisa of Ethiopia 3rd in 04:05.22.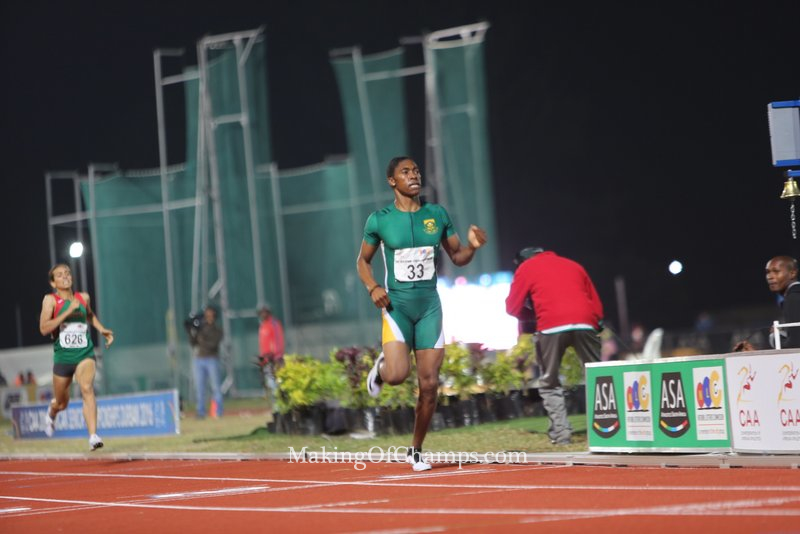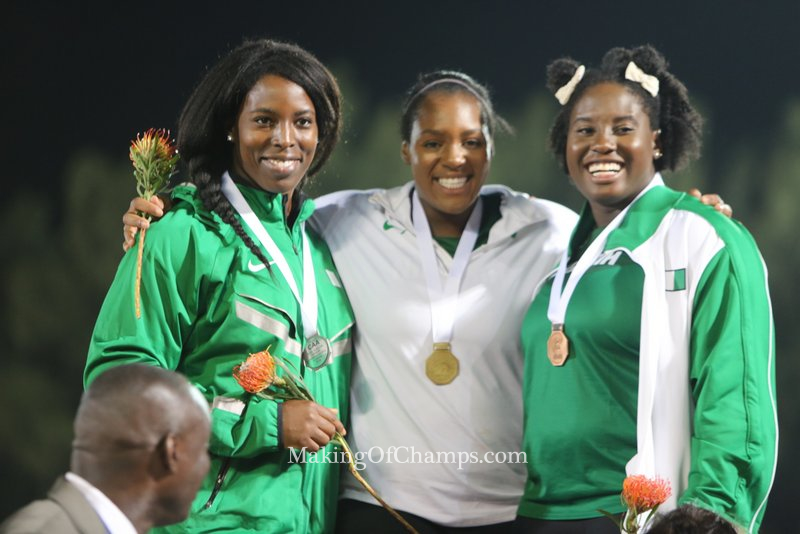 It was a 1-2-3 for Nigeria in the women's Discus throw as Nwanneka Okwelogu won the women's title with a PB of 56.75m. Chinwe Okoro who won the African Shot put title two years ago, finished 2nd in 55.67m, while Chioma Onyekwere (53.91s) won Bronze in her debut outing for Nigeria.
Commonwealth Champion Ese Brume retained her title with a leap of 6.57m, with the Cameroonian pair of Joelle Sandrine Mbumi and Sarah Marlyne Ngongoa joining her at the podium with their marks of 6.39m and 6.34m respectively.
Matthew Sawe struck GOLD for Kenya in the men's High Jump, clearing a height of 2.21m. Defending Champion Kabelo Kgosiemang finished 4th with 2.10m, with Keagan Fourie (2.18m) and Fernand Djoumessi (2.15m) placing 2nd and 3rd respectively.