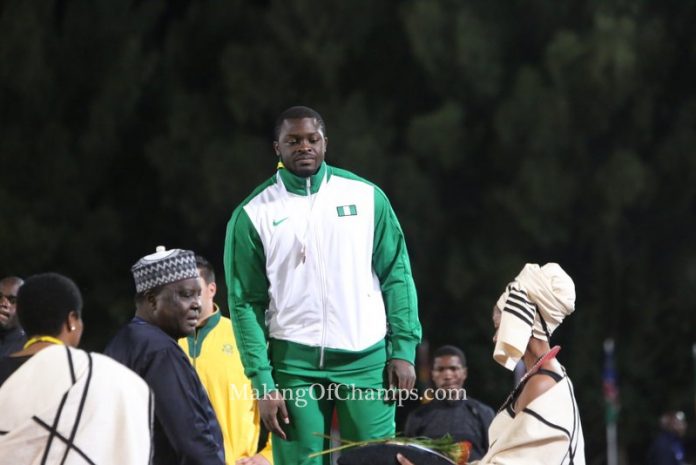 Team Nigeria was in the mix on Day One of the 2016 African Athletics Championships in Durban, with Stephen Mozia winning Bronze in the men's Shot Put to record the country's first medal of the competition.
After the uncertainty that shrouded Nigeria's participation following the late departure of the team to South Africa, the Nigerian contingent eventually made the trip and competed in both sessions on Wednesday.
Mozia who was making his second appearance at the African Championships having won Bronze two years ago, has now added another Bronze to increase his medals' haul to two. The indoor and outdoor National record holder threw a distance of 19.84m to finish third just marginally behind the top two finishers above him.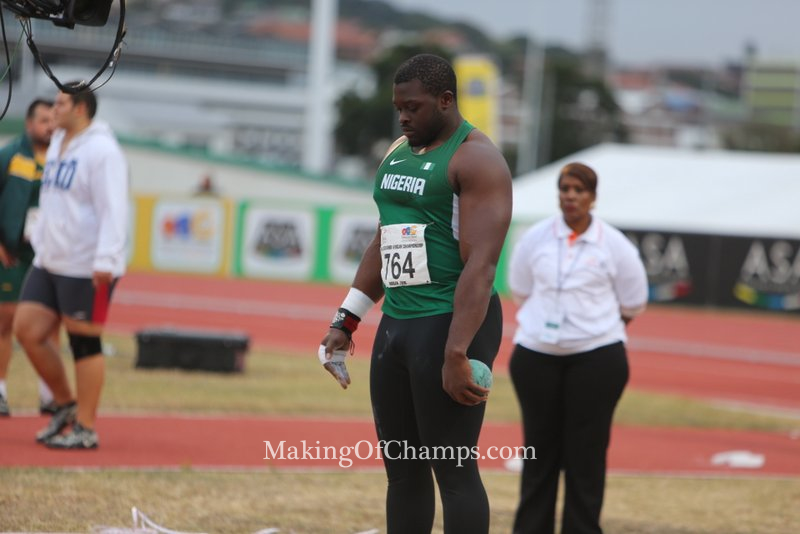 In fact, South Africa's Jaco Engelbrecht left it to his very last attempt to record the winning throw of 20.00m. 2015 African Games champion Franck Owaka Elemba finished 2nd with a throw of 19.89m. Another Nigerian, Ogheneakpobo Efekoro finished 4th with a mark of 19.57m, in a Shot Put event that was closely contested.
"It makes me happy to see our flag go up for the first time, I hope that flag goes up a lot more, and I think that it will (on Thursday)" a delighted Mozia told Making of Champions after receiving his medal. Mozia intends to move up from the Bronze he won in Discus, two years ago at the Marrakech Championships in 2014: "Of course Gold, everything I do. It's not going to be easy but I think I can do it" he added.
Meanwhile, there was no Nigerian athlete in the men's 100m with both Obinna Metu and Ogho-oghene Egwero not making the trip to Durban, having made the initial list.
While in the women's 100m the duo of Agnes Osazuwa and Gloria Asumnu progressed through the heats and made the semifinals. Asumnu made the finals after finishing 2nd in heat 3 of the semi finals with a time of 11.51s, with South Africa's Carina Horn winning the race in 11.14s. Nazie Adeline Guoenon finished 3rd with a time of 11.68s.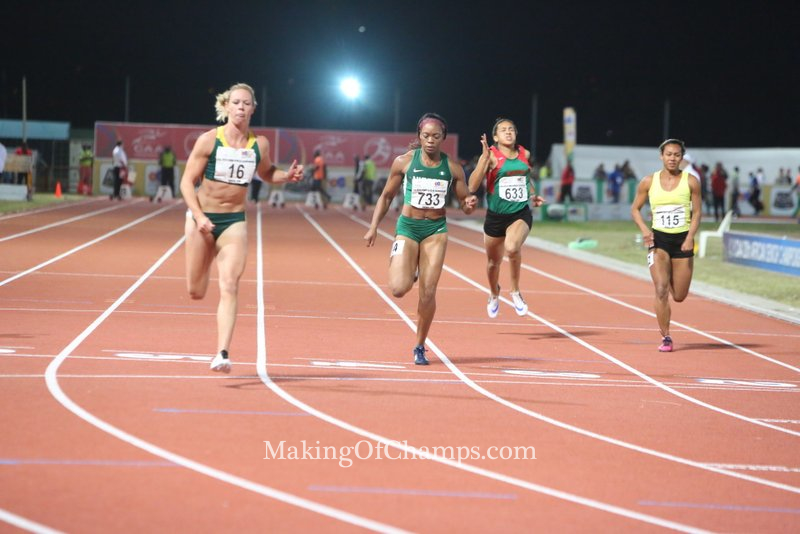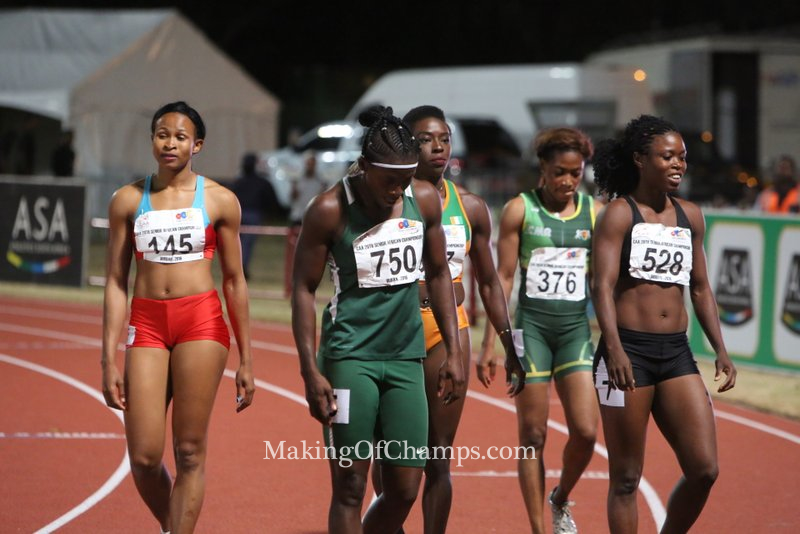 There was a bit of controversy in Osazuwa's race with the athlete believing she had placed 3rd rather than the 5th from the official result in heat 2 running a time of 11.59s.
In the 400m, Nigeria had a good representation especially in the women's 400m where Patience Okon George and Regina George dominated heat 2, having a 1-2 finish in the race. Okon George who ran a Season's Best of 51.06s coming to the Championships, ran another sub 52s, taking the heat in 51.84s with her compatriot placing 2nd in 52.67s. Goitseone Seleka finished 3rd in 53.84s.
Yinka Ajayi who competed in heat 3 finished 3rd in 53.32s with Margaret Nyairera winning the race in 52.27s and Christine Botlogetswe finishing 3rd in 53.16s.
While in the men's category, Chidi Okezie finished 2nd in heat 2 with a time of 46.30s behind Botswana's Baboloki Thebe who won in 46.70s. Raymond Kibet finished 3rd in 46.78s.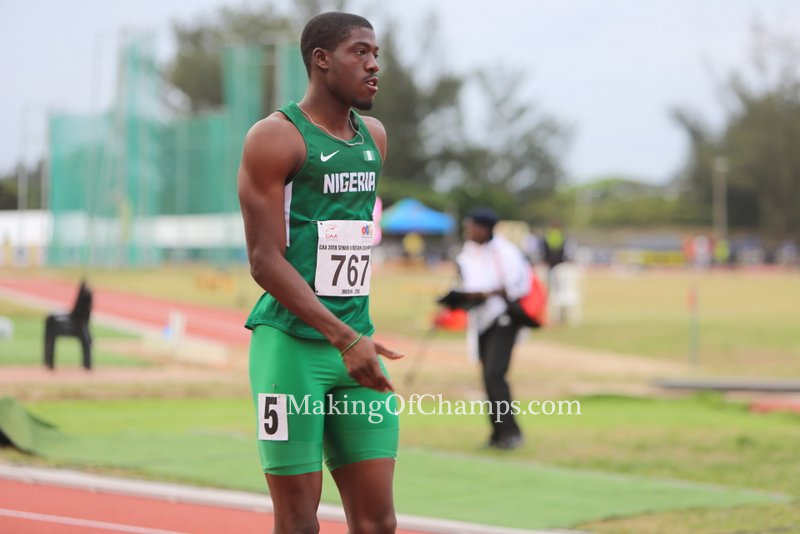 In heat 3 of the 400m, there was a new entrant for team Nigeria in Tubotein Taylor who competed for the country for the first time. Taylor finished 4th with a time of 46.93s, with Orukpe Erayokan finishing 5th clocking 48.10s.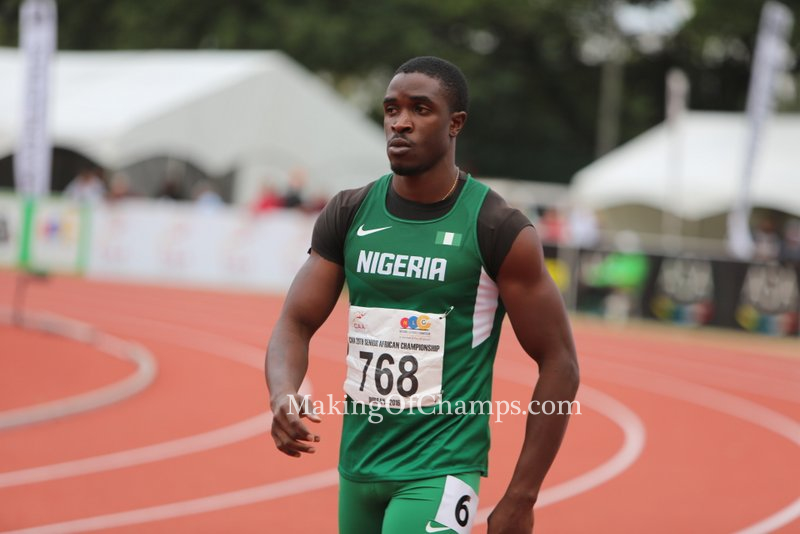 Making her comeback to the national team after a long break, 2007 Africa Games champion Toyin Augustus didn't quite get the comeback she would have wished for in the women's 100m Hurdles. Augustus didn't calculate her race very well, looking over her shoulders as she attempted to scale the 6th barrier and stumbling before finishing 5th with a time of 14.10s.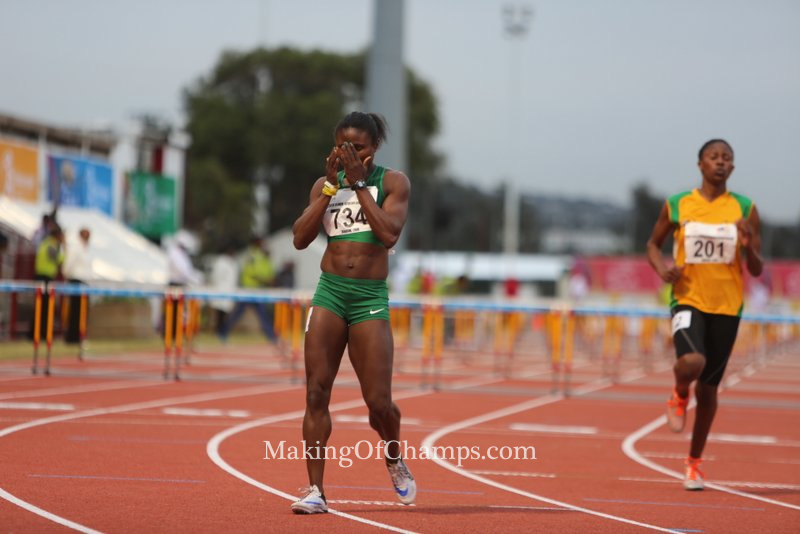 Team Nigeria will now hope to add more medals to their tally on Day two of the competition on Thursday.