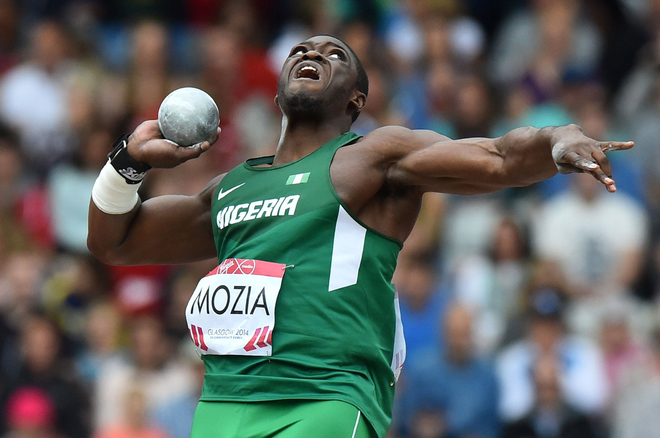 Stephen Mozia is getting better by the day! He further improved on his Shot put outdoor National Record (NR) by winning his event at the Kentucky Relays last weekend with a throw of 20.73m.
Incidentally, he holds both the indoor and former outdoor records, and would be delighted at raising the bar a notch higher, surpassing his previous record of 20.55m, which he achieved as recently as April, 2016 at the Georgia Invitational in USA.
Mozia fouled in his first two attempts, but got his first valid throw at his third try, which was 15.88m. He fouled in his fourth attempt and threw a distance of 19.56m in his fifth, leaving it till his very last throw to land the historic mark.
Nikolas Huffman, who only got one valid mark with his first throw, finished 2nd with a distance of 17.67m, and subsequently fouled in his last five attempts. Andrew Vollet finished 3rd with a mark of 16.91m.
Mozia also competed in the Discus and finished 2nd with 57.31m behind Tavis Bailey who won with 59.70m. Macklin Tudor was 3rd with a throw of 57.13m.
If all goes according to plan for Mozia, he could be Nigeria's main medal challenger this year, or maybe we could even see him erase his own Shot put record again.