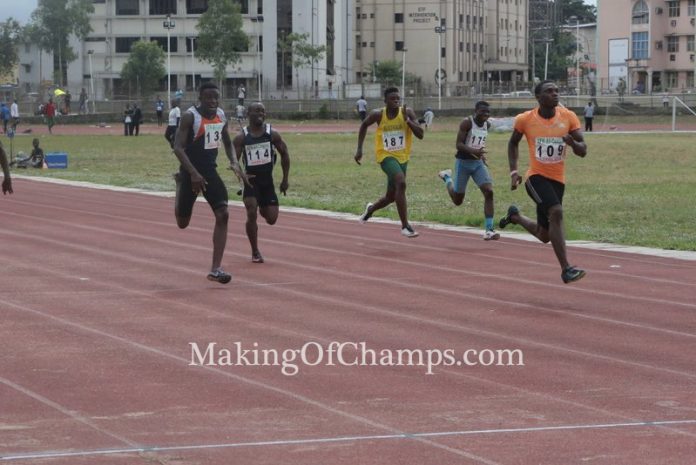 The Sports Complex of the Yaba College of Technology Lagos was a beehive of activities as athletes thronged the venue for the first national outdoor competition of the season, the Athletics Federation of Nigeria (AFN) All-Comers Meet, which was held on Wednesday, May 4.
With the 2016 season set to begin in earnest, the athletes were keen on gauging their level of preparedness ahead of the four legs of the AFN Golden League set to kick off next weekend.
Considering that this is an Olympic year, a good number of them also sought to make the most of the opportunity presented, to hit the qualifying standard of the Games. Though the times and distances recorded could be better, it is expected that the athletes would improve as the season progresses.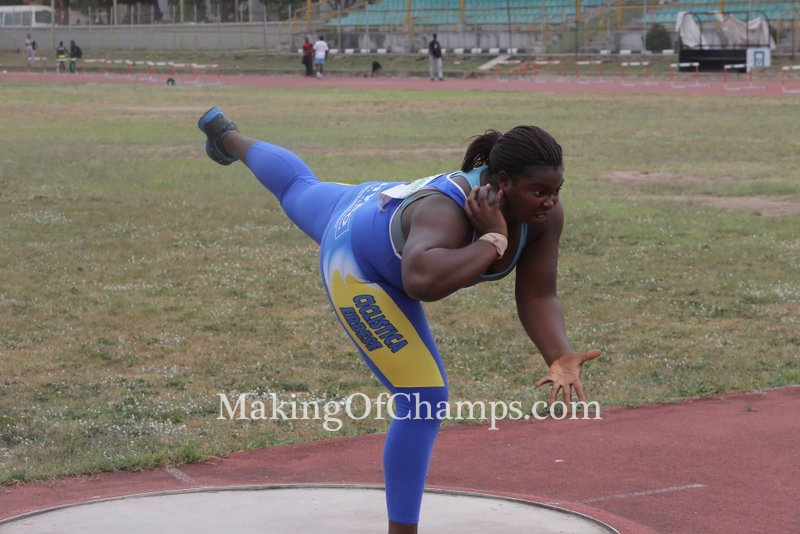 Some of the events that held were the men and women's 100m, 200m, 400m, 1500m, 100m/110m Hurdles and 400m Hurdles. The Field events include the men and women's Triple Jump, Long Jump, Javelin throw, Shot put and a host of others.
Divine Oduduru won his heat in the 100m, before dominating the final in 10.36s. He also won his heat in the 200m but wasn't impressed by his time in the 100m. He said, "Everybody was expecting a good time from me; this tartan is a fast track but all that came out was a 10.3.
"I'm not really happy with it. I think I'm going to run much faster by the time the Golden League begins. I am working very hard with my coach so that I can do very well at the Olympics, and even though I've gotten the qualifying standard in the 200m, I'm still waiting for that of the 100m."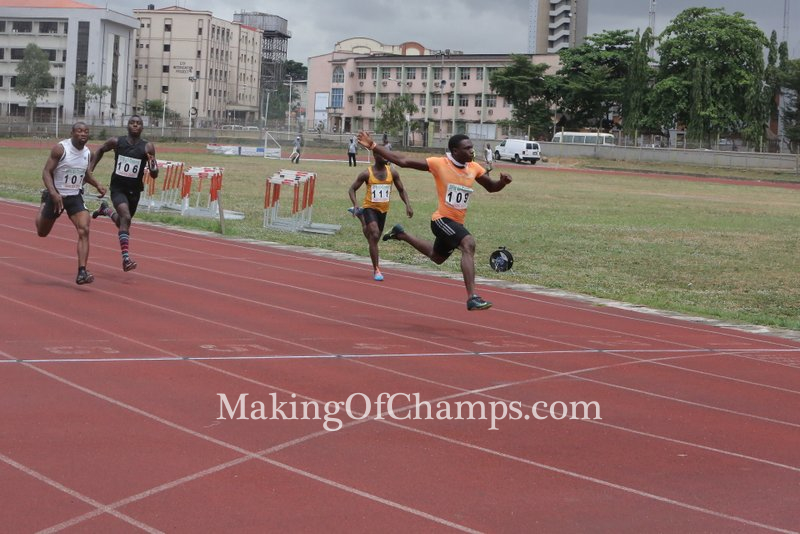 Abiola Soyemi finished 2nd behind Oduduru in the 100m and believes that he will get faster while competing in the Golden League: "This is my first outing this year. I've been on a low key because I didn't want to come out and perform badly.
"I'm satisfied with my performance since this is the first race of the season, but I came here looking for a lower time. Every athlete's target is to run the qualifying time for the Olympics, so I'm looking forward to that. This is my first time of getting to the final of a national event in Nigeria so I feel satisfied", he said.
The women's 100m final was a close event as the Top 3 athletes previously won their heats without much ado. Junior athlete Aniekeme Alphonsus was impressive in her heat, running the fastest time of 11.3s to top the overall standings.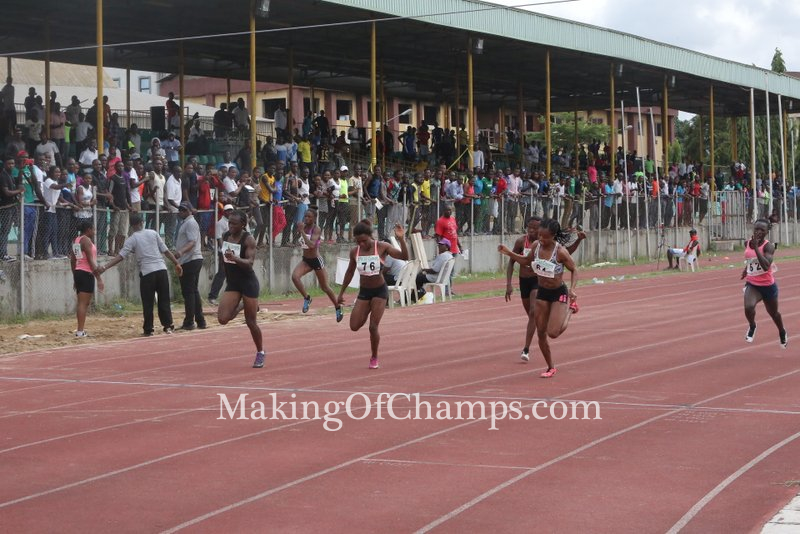 However, Agnes Osazuwa finished 1st in the final in 11.51s, while Peace Uko and Alphonsus clocked 11.54s and 11.58s respectively to place 2nd and 3rd. Uko, who is the only other sprinter apart from Blessing Okagbare to have hit the Olympic qualifying standard in the women's 100m, blamed fatigue for her performance.
"I usually run the 100m and 200m, but I only ran the 100m here because I got to Lagos very late, so I was stressed out. I didn't have enough time to rest and recover. I just did what I needed to do because this is not my best", she said.
Alphonsus who was very pleased with her races said: "I am very happy to have won my heat. I wasn't scared of running with my seniors because they are human beings like me. I'm training hard so that I can make the Olympic standard. I'm also preparing for the World Juniors."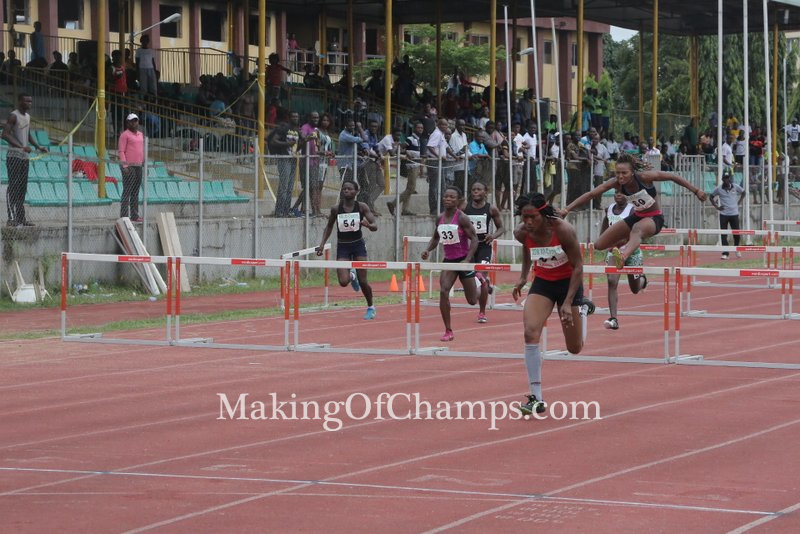 Isoken Igbinosun recorded the fastest time overall in the women's 200m after clocking 23.80s, and was followed in the overall rankings by Maria Thompson (24.30s), Cecilia Francis (24.58s), Rashidat Lawal (24.83s), Ofuma Eze-Echesi (25.20s) and Blessing Ogundiran (25.80s).
Several heats were competed in in the men's 200m and some winners from the various heats include Divine Oduduru, Abiola Soyemi, Peter Edwin, Toluwani Adebakin and Emmanuel Arowolo who set a Personal Best (PB) of 21.5s.
Grace Ayemoba (14.06s), Sarah Kadiri (15.30s) and Efe Favour (15.41s) placed 1st, 2nd and 3rd respectively in the 100m Hurdles, while Martins Ogieriakhi (14.10s) raced to victory in the 110 Hurdles ahead of Abojoye Oyeniyi (14.14s) and Bashiru Abdullahi (14.36s).
Adeyemi Kazeem continued his dominance in the 10km Walk Race, finishing in 21:34.93, with Felix Alade (21.35.74) and Yinusa Hussein (22:27.91) placing 2nd and 3rd respectively. Fadekemi Olude won the women's 5km Walk Race in 24:00.62 ahead of Faustina Ogu (25:01.23) and Joy Davies (26:01.47).
Blessing Ibrahim jumped to a Season's Best (SB) of 14.08m to win the women's Triple Jump as Grace Anigbata followed with 12.81m. Adams Samuel recorded a distance of 68.72m to win the men's Javelin throw, while Kingsley Igbinosun and Friday Osayande placed 2nd and 3rd with 60.24m and 59.92m respectively.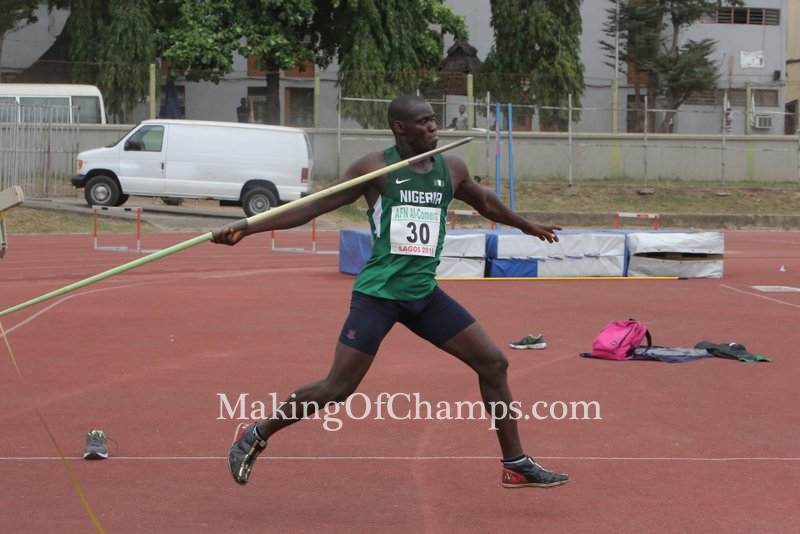 African Games champion Kelechi Nwanaga won the women's event with 50.98m, but aims to throw further subsequently: "The competition went okay since it's my first outing this year.
"I'm expecting to hit the Olympic standard in my subsequent competitions. I expected to hit it here, but the implement was nothing to write home about. I laid a complaint and its being taken care of", she said.
*More results to follow