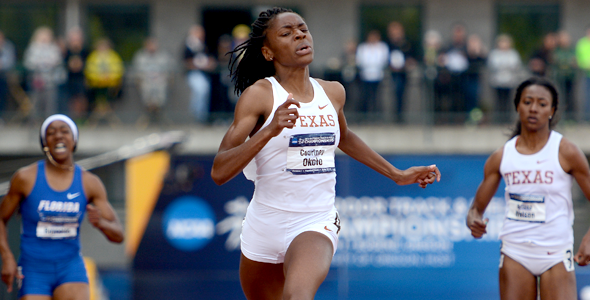 The faster Courtney Okolo runs, the more heartbreak she causes her Nigerian fans. And Saturday was no different as Team USA's  Okolo won the women's 400m at the 2016 Louisiana State University (LSU) Alumni Gold Meet at the Bernie Moore Track Stadium, running a groundbreaking Collegiate Record of 49.71s to win GOLD, breaking her NCAA record of 50.03s in the process.
Okolo has been an athlete who has caught the eye, right from our 2015 story of US-born athletes eligible to represent Nigeria, and she has progressed since then, even running a fantastic third leg that helped USA win GOLD in the 4x400m at the 2016 World Indoor Championships in Portland.
Now, she has started her outdoor season in style, winning Heat 2 of the 400m on Saturday with the fastest time of the two heats to take the win. It was a very fast race as both Chrisann Gordon and Felecia Majors who were 2nd and 3rd in 51.03s and 52.19s respectively, also finished in that order in the overall placements.
With her feat, Okolo now accounts for three of the Top 6 all-time collegiate times, and has bettered LaTarsha Stroman's LSU's 1997 record of 50.60s.
Only one athlete has run faster than Okolo over the one lap this season, Bahamian Shaunae Miller who last week ran a World Leading (WL) time of 49.69s to win at the Chris Brown Bahamas Invitational in Nassau.
Another athlete who could have repped Nigeria, Morolake Akinosun won the women's 100m in 10.97s (+3.5) to lead the NCAA this season. In fact, it was a new Personal Best (PB) for the American athlete who surpassed her previous time of 11.04s set in 2014. Phylicia George finished 2nd in  11.14s (+3.5), with Mikiah Brisco 3rd in 11.17s  (+3.5).
Nigerians can only look at how well both athletes are performing, and wonder what could have been, as the pair was also part of the quartet that helped the University of Texas win the women's 4x400m relay in 3:27.29.
Photo Credit: ustfccca.org