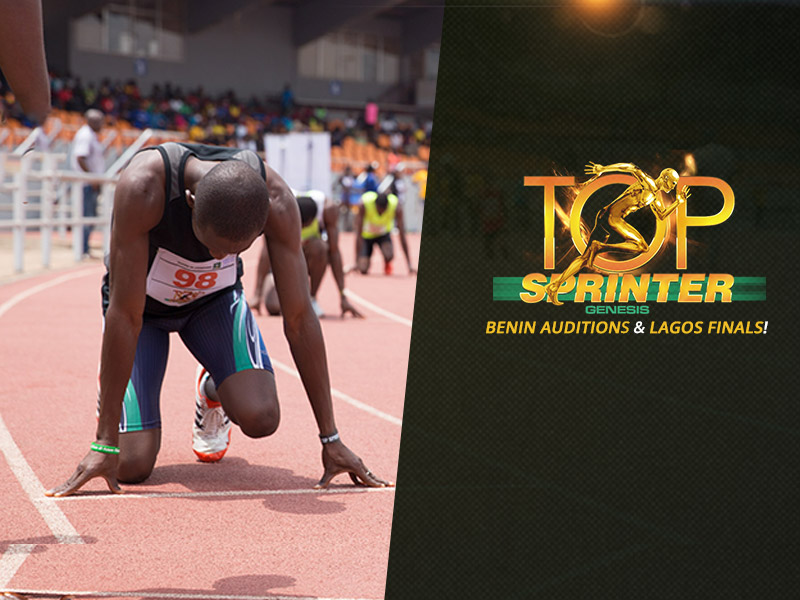 It's been long awaited, but the final Auditions for Top Sprinter Genesis are finally here! After groundbreaking Auditions in Lagos, Ibadan and Enugu earlier this year, Making of Champions can exclusively reveal that our final Auditions will take place at the Uniben Sports Complex, on September Friday 25th and Saturday 26th, 2015!
At the Benin Auditions, Top Sprinter's Celebrity Panel of Judges will select the FINAL Athletes that will be part of their Lagos Bootcamps from Sept 28th – 30th, culminating in the Top Sprinter Final Showdown for 2015, at Teslim Balogun Stadium in Lagos from Thursday October 1st to Saturday 3rd!
At these Lagos Finals, the 4 Celebrity Judges will face off against other, where only ONE of their teams can be crowned 2015 Top Sprinter Champions!!! Whose team will you be on? Whose team will WIN? Only one of Team Aliu, Team Alozie, Team Emedolu and Team Obikwelu can carry the day in Lagos, so the stage is set for an epic showdown!!
Top Sprinter T-Shirts and other fantastic prizes will be on offer for the podium place athletes in Benin and Lagos! Making of Champions will also fully sponsor over 200 Athletes (paying for their transportation, accommodation and feeding) to the Benin Auditions or Lagos Bootcamp and Lagos Finals!!
100 Athletes from the previous auditions held in Ibadan and Enugu will be sponsored. Athletes in this category can confirm their positions in one of the following links:
List of 50 Athletes who have received Bootcamp tickets in Ibadan or Enugu, and qualify for full sponsorship to the Lagos Bootcamp & Finals
List of Athletes who made the Ibadan Top 50 OR Enugu Top 50 but did not get Bootcamp tickets, and will be fully sponsored to the Benin Auditions
In addition to the pre-selected athletes above, the first 100 Athletes that REGISTER for the Benin Auditions that have never competed at any Top Sprinter Audition yet (and do not live in Benin) will be sponsored for the Benin Auditions, to arrive on Thursday Sept 24th and to leave by Sunday Sept 27th
What's more, the BEST Athletes at the Lagos Finals will be shortlisted for entry to Making of Champions' FULL-TIME Professional Track Club from 2016 onwards!!!
For all Athletes who wish to compete at the Benin Auditions (Sept 25/26th) or the Lagos Finals (Oct 1st-3rd), there will be THREE categories of competition – Secondary School, Home-Based and Elite. See rules for which category you fall into in the RULES AND INSTRUCTIONS FOR ENTERING THE BENIN AUDITIONS AND LAGOS FINALS.
Please read the RULES in the above link carefully to avoid any confusion. Once you have read the rules, please REGISTER ONLINE NOW – every single athlete competing must fill the online form, otherwise you will not be added to the startlist for Benin or Lagos – BEST OF LUCK!
You must register before the deadlines for each city to be part of that competition. For Benin Auditions the Registration Deadline is Monday Sept 21st, while the Lagos FINALS Registration Deadline is Sunday Sept 27th!