The hope of every country at the World Championships is to produce athletes that can make podium finishes ahead of their competitors. Botswana has enjoyed this status in the past, having produced just one athlete of this calibre in the person of 2011 World Champion in the women's 400m, Amantle Montsho.
However with the absence of Montsho at the forthcoming World Championships in Beijing due to a two-year ban, the hopes of the country from the southern part of Africa now rests on the shoulders of its biggest Athletics star, Nijel Amos.
Amos first came into global reckoning in 2012, when he won the men's 800m with a National Record (NR) of 1:43.11 in Mannheim, Germany at just 18 years of age. He then went on to become the 2012 World Junior Champion with a new Championship Record (CR) of 1:43.79.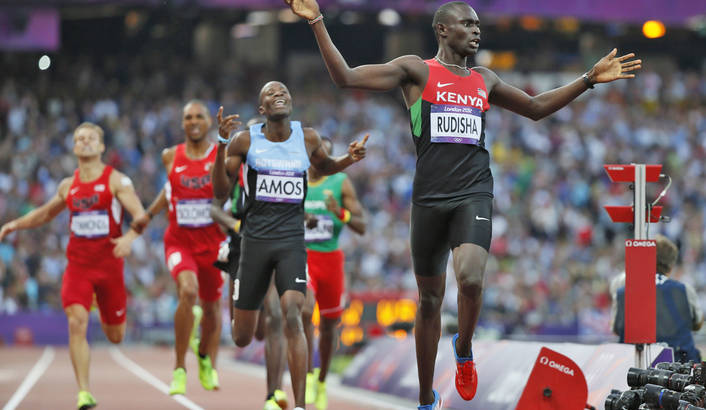 As an underdog at the London 2012 Olympic Games, Amos proved that  he would be a force to be reckoned with in years to come, taking the Silver medal behind Olympic Champion and World Record (WR) holder David Rudisha, thereby becoming his country's first ever Olympic medalist.
His time of 1:41.73 wasn't just a new NR and Personal Best (PB); it also became the World Junior Record and tied him as the 3rd fastest 800m runner ever! An injury-plagued 2013 stopped him from being at the IAAF World Championships in Russia, but in 2014, Amos proved that his Silver medal in London was no fluke by metamorphosing into a full-fledged star.
He won seven of his ten races including the Commonwealth Games GOLD medal in Glasgow and the African Championships in Marrakech. He also emerged the Diamond League trophy winner in his debut outing in the series and struck GOLD at the IAAF Continental Cup in Morocco.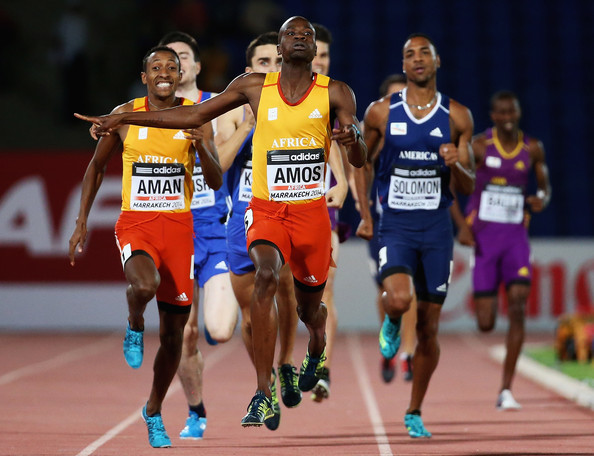 Amos ended the year as the world leader with a time of 1:42.45, and these outstanding achievements got him a nomination as the 2014 IAAF Athlete of the Year. The African Champion has also extended his outstanding form to the 2015 season. He looks set to defend his trophy as he currently leads the Diamond League standings with 12 points while Rudisha follows with just six points.
Amos sits as No. 2 on the 2015 IAAF world list with his Season's Best (SB) of 1:42.66 set in Monaco, where he finished 2nd  behind surprise winner and world leader, Amel Tuka (1:42.51) of Bosnia. Interestingly, Rudisha occupies a distant 8th position in the rankings with an SB of 1:43.58.
At only 21, the Commonwealth Champion has overtaken his perennial rival as flag bearer of the men's 800m event in recent years, having handed the WR holder six defeats in their subsequent encounters after the London 2012 Olympic Games.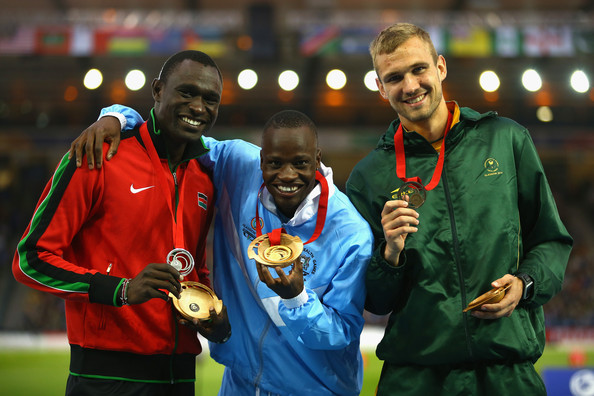 Speaking after his recent victory against Rudisha at the Sainsbury Anniversary Games in London, Amos described racing and beating his idol as a dream: "I used to watch his videos as a youth so now it's a dream come true" he said.
In the meantime, if subsequent defeats to Amos hurt, the Glasgow 2014 Silver medallist has done a good job of not letting it show. He said, "I know him as a friend and we usually meet in these meets, and he's a nice, young guy. And in this world everything is competition.
"He's better because of what he's been doing, training. I know he's been working hard for that. In my case, it's a little bit different as I'm coming from disappointment and building up. I know I really want to get back there this year so we're going to look for good competition together."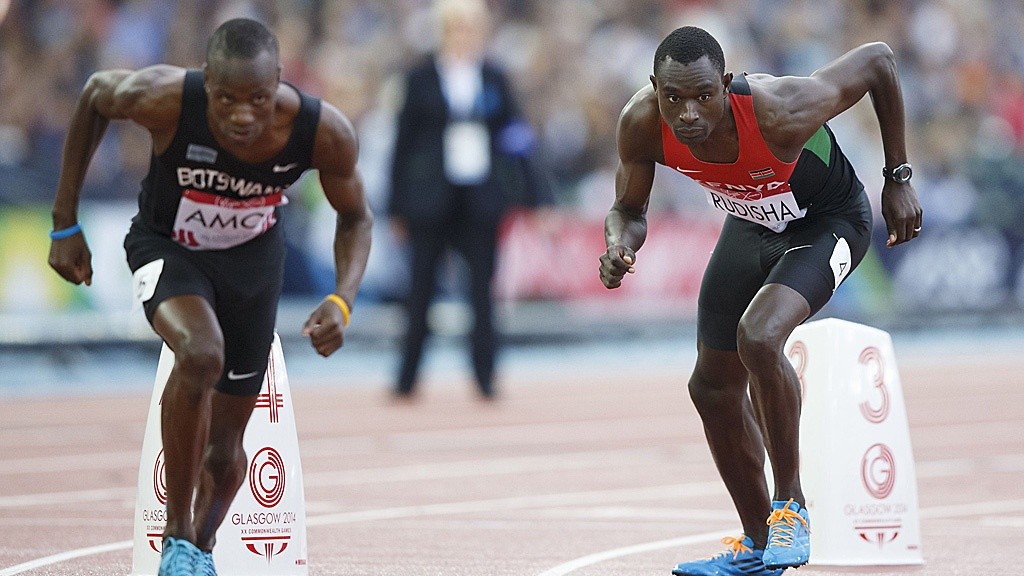 Amos however believes there will be many more battles in the years ahead, which will ultimately lead to a lowering of the WR. "I'd like for us to help each other to break the World Record. I don't care who does it, but I want us both to run fast", he said after his victory at the Commonwealth Games.
With the World Championships just around the corner, the question on the lips of fans and pundits alike is, will Rudisha's improvement come quickly enough to make a difference when the pair meets in Beijing, or would Amos become Botswana's first 800m World Champion?
To fulfill both his and Botswana's fantasy of berthing another world champion, Amos has to look beyond his reliance on Rudisha as his pacemaker. He would need to factor in the threats posed by Tuka and Rotich Ferguson Cheruiyot, who in late July, handed Rudisha his first home defeat in recent years at the Kenyan Trials. Combined with the strength of his finishing speed in the last 100m, Amos can get his hands on the GOLD medal in Beijing.