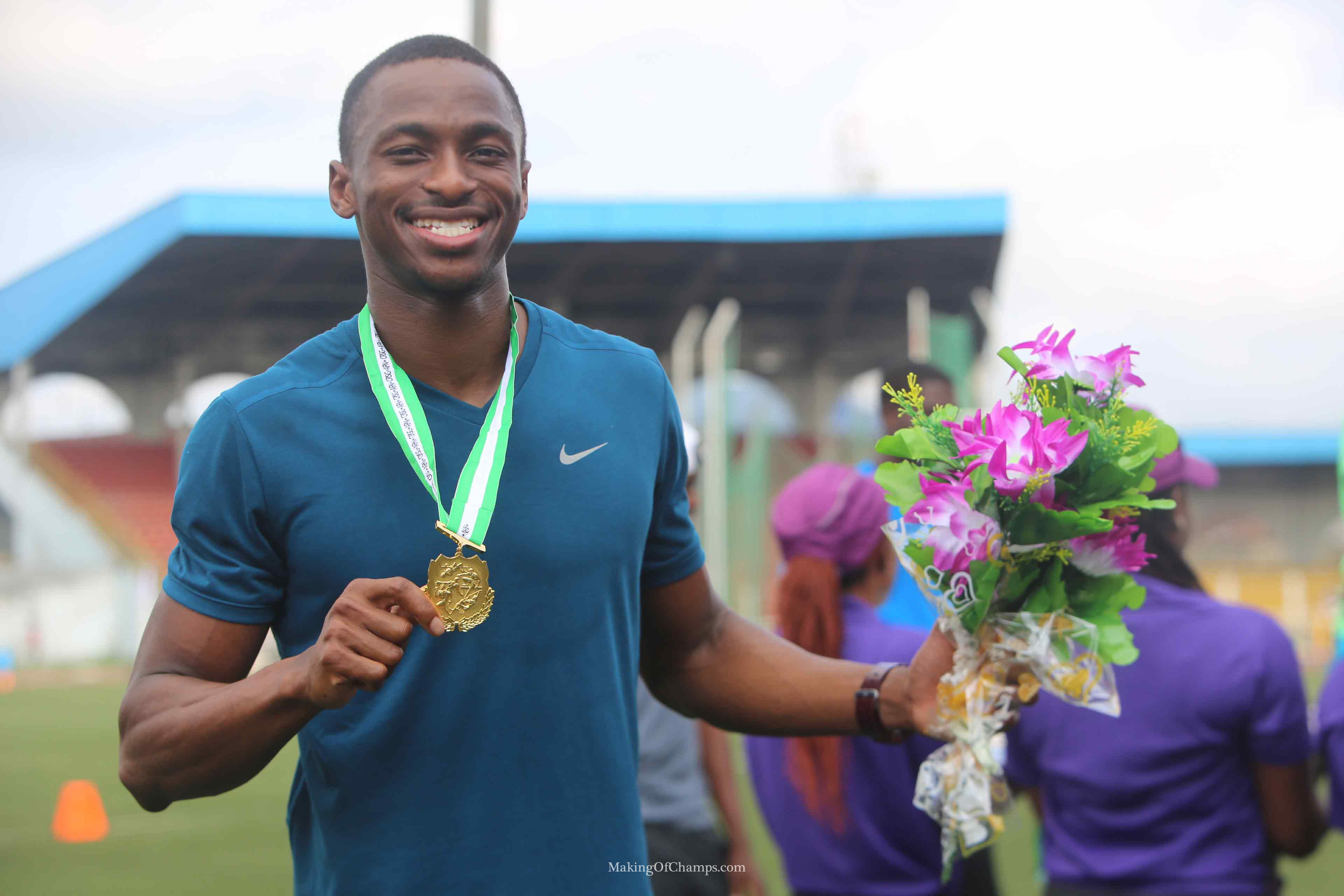 A new champion is born! Seye Ogunlewe stunned a strong field in the men's 100m final at the National Championships in Warri, racing to his first national title with a time of 10.19s, which equaled his Season's Best (SB) set in Loughborough almost two weeks ago.
The men's 100m final was expected to be tight, following the absence of defending champion, Mark Jelks. Favoured to win the race was Ogho-Oghene Egwero who finished 3rd last year. Egwero has clocked the fastest time by a Nigerian in the event this year, having posted 10.15s in Rheinau-Freistett.
He will no doubt rue his lost opportunities after following Ogunlewe in 2nd place with 10.21, while Jonathan Nmaju,  who has the 3rd fastest time by a Nigerian this season, took 3rd in 10.33s. Former champion Obinna Metu (10.35s), Nicholas Imhoaperamhe (10.37s),  Tega Odele (10.40s), and Patrick Ike Chinedu (10.42s) complete the field. Last year's Silver medallist, Monzavous Edward was disqualified for beating the gun.
Ogunlewe finished 4th in the finals last year, but the 23-year old has always shown great promise, and demonstrated that he meant business this time around, winning his heat in 10.35s. He went ahead to dominate his semifinal in 10.28s, before his victory in the final.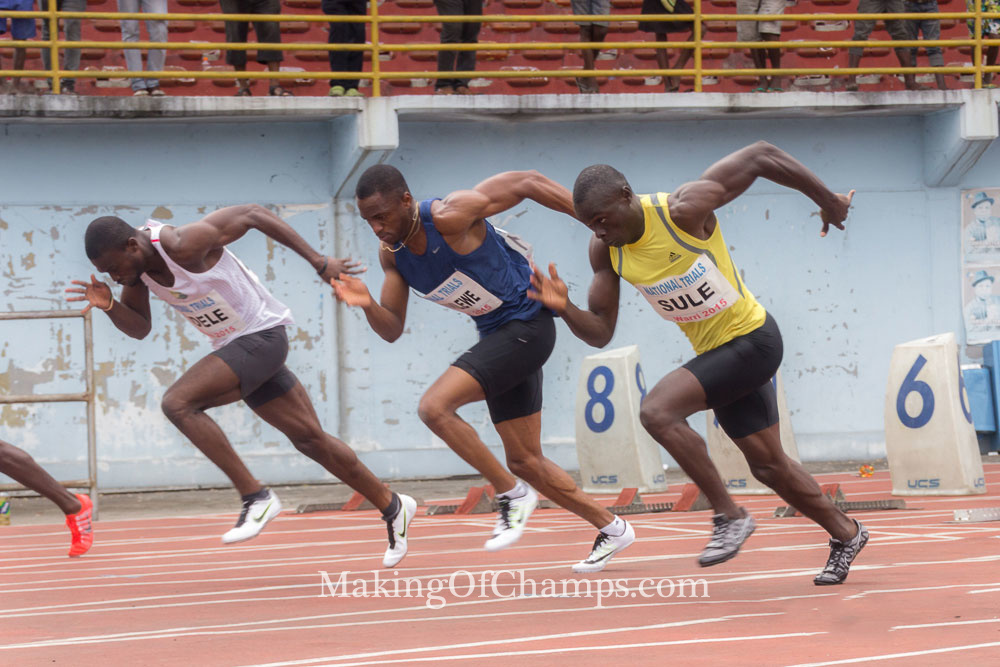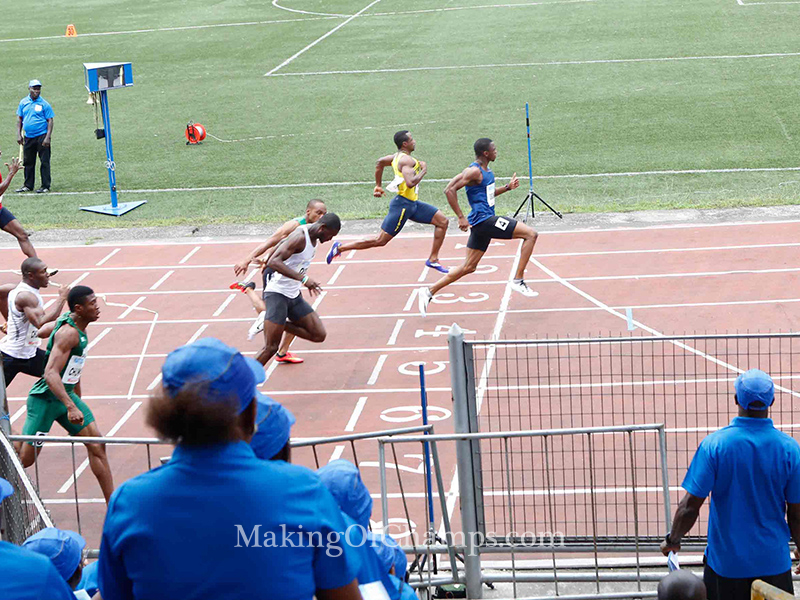 He said, "Words cannot express how I feel right now. I've been working hard, even if my coach says I've not done anything, but I'm always working. I put 110 percent into it and I just want to thank my family, coach, training partners and team. The season has been good but my coach always says there is no point running too fast too soon.
"My training is geared towards championships like these . I've not run a lot of races this year, so I'm just grateful to God. I just needed to be with the guys within the first 40m of the race and I would be okay. I look up to Egwero, Metu and the other guys, but hopefully they will start taking me seriously now."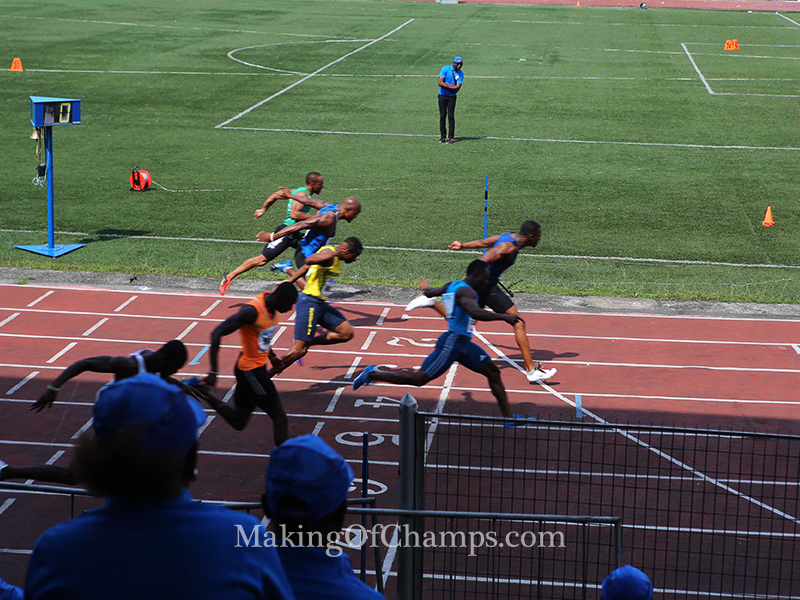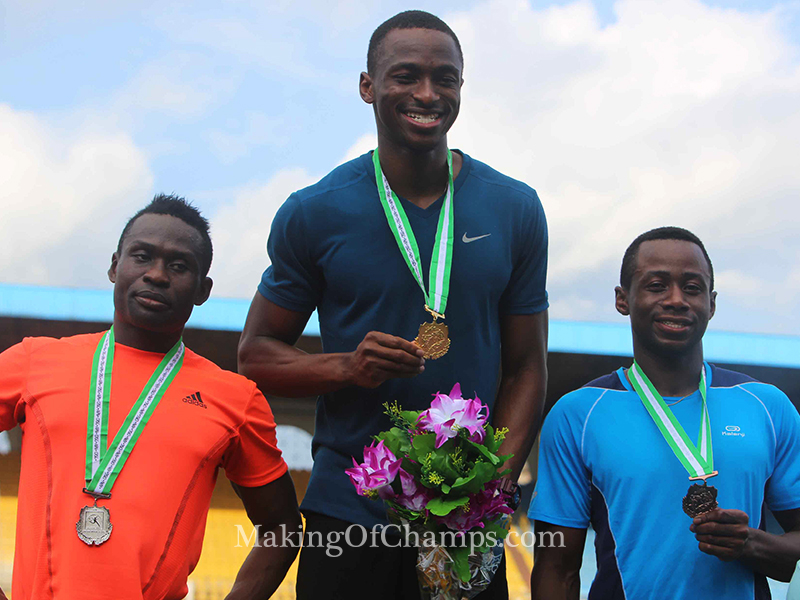 Ogunlewe says he's in no hurry to hit really fast times, but would prefer to get to his peak at the right time: "It's all about making progress; you can't just come one year and go boom! You have to progress over the years, and that's what I'm doing. I have stuck to my craft because I know that I have the talent; I believed in myself, my coach, parents and friends believe in me, so I just kept working every year."
In other events Deborah Pam added the women's 10,000m title to her 5000m crown which was won on the first day of competition, finishing ahead of the rest of the field with 36:27.04. Onan Saleh of Plateau came second (36:59.08) as Aderonke Olumudi finished in 3rd place. In the men's race, Emmanuel Grang took the upper hand with 30:13.07 while Kefas Williams and Godfrey Monday returned 30:38.20 and 30:53.03 respectively.
Ibrahim Baba of the Nigeria Security and Civil Defence (47.49m) won the men's Hammer throw ahead of Olatunji Olawale (45.45sm) and Ojesebholo Charles (41.65m). Theddus Okpara won the men's High Jump with 2.10m, as Arinze Obiora followed in 2.05m while Ashipa Abayomi also recorded the same jump.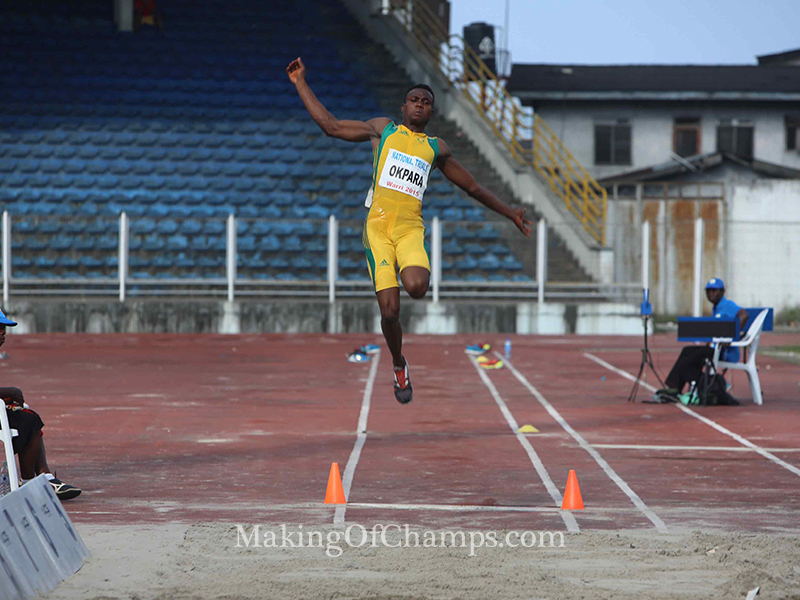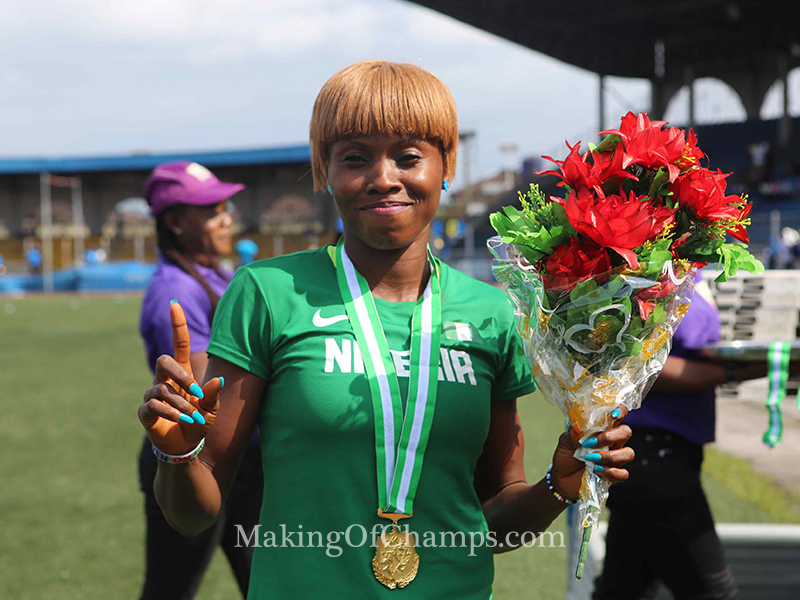 Blessing Ibrahim retained her Triple Jump crown with a leap of 13.32m; Hope Idhe (13.11m) and Uche Brown (12.42m) followed in 2nd and 3rd positions. National record holder in the women's High Jump, Doreen Amata won her event with 1.85m ahead of Grace Anigbata. Samson Idiata (7.89m), Ezekiel Ewulo (7.85m) and Oladimeji Oluwatoyin (7.81m) occupied the Top 3 positions in the men's Long Jump event.
The men's Pole Vault was won by Melody Bassey with 4.20m, as Toma Japo followed in 2nd with 4.00m while Emmanuel Edwin placed 3rd with 3.60m. The men's 20km walk race was dominated as usual by Kazeem Adeyemi,  while Faustina Oguh took the women's category.
Kelechi Nwanaga was the woman to beat in the Javelin throw, recording a mark of 47.32m ahead of Priscilla Priscilla (40.62m) and Obiagheli Mbadugha (36.74m). The two-day championship ended on Friday, July 31 at the Warri Township Stadium in Delta State.