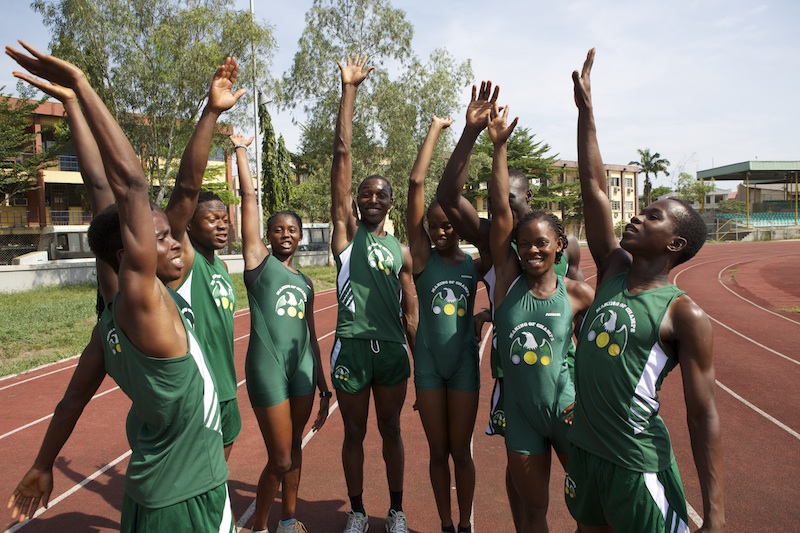 You didn't have to wait long – the Day 1 Results for our #DiamondRaceContest are OUT!!  Funmi (ffameso's team) is our league leader with 142 points, with Ayo's Fast & Furious team following closely in 2nd place with 141 points, and Afi's team is 3rd with 136 points!
If you have not joined the League yet, see all the instructions you need to join here. The sooner the better, as the deadline to play for Day 2 for the Shanghai Diamond League is Sunday May 17th by 9am Naija time!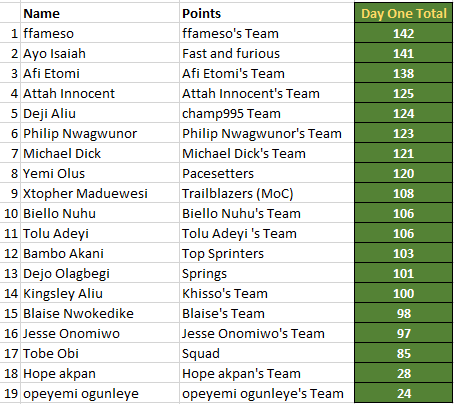 Funmi is leading because she picked TWO athletes who set Meet Records (Jackson & Pichardo), one of whom was her team captain. She also picked one other winner, two 2nd place and two 3rd place finishers – good points across most of her 9 athletes.
Ayo came out of the blocks  fast & furious as he actually picked THREE athletes who got Meet Records (Pichardo as captain, Gatlin & Felix), but eventually ran out of steam, as the rest of his picks apart from 2nd placed Mo Farah fell way short.
Afi had strong picks all round – two Meet Records, two other winners and three 2nd place athletes, but is only 3rd in our league as his Team Captain Richards-Ross only managed 2nd in the 400m.
The overall leader across the whole world after Day 1 is www.tandfunlimited.com on 195 points, with three Meet Records one of which was Captain Gatlin, three other 1st place finishers, and three 2nd place finishers!
The first 3 in the MoC League this week are all MoC Staff – Funmi is our Junior Sports Writer, while Ayo is our Webmaster and Afi is one of our Project Managers at MoC. Nearly all the 10 MoC Staff teams ranked highly in the 31 teams in the MoC League, but there were actually 12 players who scored zero points on Day 1, as they failed to pick any athletes for their teams before the deadline for Doha on Friday!
AIRTIME WINNERS for #DiamondRaceContest DAY 1
There will be ₦3,000 Airtime available to the public each Diamond League Day, so who were the Top 3 finishers on Day 1 in the MoC League who are not MoC staff, and how will the Airtime be shared?
1st – Attah Innocent's Team – 125 points (2 Meet Records – Captain Gatlin & Pichardo, one other winner and one 2nd place)
2nd – Michael Dick's Team – 124 points (2 Meet Records, two other winners, two 2nd place athletes, but Captain Pearson who finished 4th let him down!)
3rd – Philip Nwagunor's Team – 123 points (2 Meet Records – Captain Gatlin & Felix, one 2nd place, one 3rd place and a patriotic choice in 6th placed Tosin Oke in the Triple Jump!)
 
The prizes for the Top 3 are ₦1500, ₦1000 & ₦500 Airtime respectively, to a phone number of your choice within Nigeria. To redeem your Airtime, please email [email protected] with your name, team name, phone number and network to send the Airtime, and also your facebook, twitter and instagram names so that we can tag you whenever we announce the results and you've won!
Right! Now it's time to play for Shanghai, and Blessing Okagbare is on the start-list of the 100m tomorrow! How many in this league will make the patriotic choice and even make her their Team Captain? You need to make your team transfers before 9am tomorrow for Shanghai – don't miss out on doing this, else you will fall behind in the league!  
For those who missed picking the 9 athletes on their team for Doha, now is the time to do it for Shanghai! There are 14 Diamond League Days altogether, so there is still plenty of time to catch up and WIN the fantastic merchandise on offer to the public at the end of the Diamond League if you can claw your way back and finish among the Top 3 players by September!
Good luck all, and may the best players win!