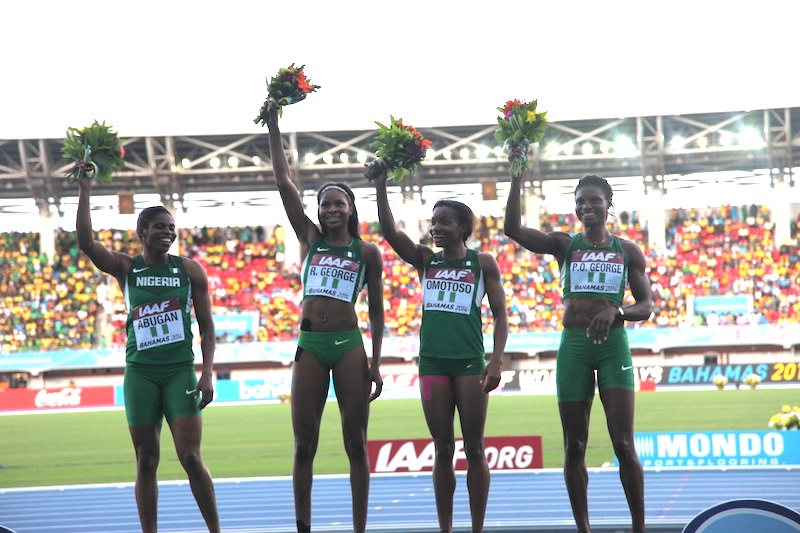 World Long Jump Silver and 200m Bronze medallist, Blessing Okagbare has been confirmed in the Nigerian team for the 2nd IAAF World Relays taking centre stage in the Bahamas this weekend and will be leading 23 other athletes in the quest for a good show in Nassau. No doubt that with her in the team, Nigeria stands a good chance of winning a medal. She is expected to team up with Peace Uko, Gloria Asumnu, Florence Uwakwe and Isoken Igbinosun in the 4x100m relay event.
Okagbare also leads the Nigerian female team in the 4x200m event, where she will joined by Christy Udoh, Dominique Duncan, Patience Okon George and Regina George.
Regina George who ran an astonishing race at the World Relays last year, helping Nigeria win its only medal at the competition, will be hoping to reignite such performance in the 4x400m race again. George will be teaming up with Rita Ossai, Florence Uwakwe, Ibukun Mayungbe, Tosin Adeloye and Margaret Bamgbose.
With Okagbare and George in the team, it's possible that Nigeria might be able to nick an automatic spot for next year's Olympics, as they should be able to power their teammates through to secure qualification both in the women's 4x100m and 4x400m events.
African Junior champion Divine Oduduru will be competing in the men's 4x100m and 4x200m events. He will be teaming up with National Champion, Mark Jelks, Nicholas Imhoaperamhe, Okeudo Jonathan Nmaju and Tega Odele. Robert Simmons joins in the 4x200m, alongside Abiola Onakoya, with Oduduru, Jelks and Odele completing the team.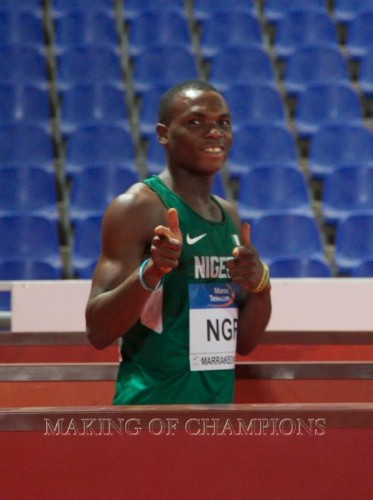 One surprising omission from the two sprint relay teams is Seye Ogunlewe, one of Nigeria's most consistent sprinters in the last 3 years, who is currently training in Florida, just a short boat ride from the Bahamas. Having finished 2nd, 2nd, and 4th at the last three editions of the Nigerian 100m trials respectively, one must wonder what he needs to do to get picked for the Relays – he also missed out last year, though he did represent Nigeria in the 200m at the Commonwealth Games last year.
2012 National Sports Festival Champion Orukpe Erayokan leads the 4x400m men's team for Nigeria, along with Robert Simmons. Tobi Ogunmola and Adekunle Fasasi are also slated to represent Nigeria in the men's 4x400m event, after competing for their respective clubs at the Lagos Relays held at the Teslim Balogun stadium last weekend.
It is interesting to note that Nigeria has always made an impact in Relay events, and ranked up there amongst the top nations in it. In fact out of the 13 medals Nigeria has ever won at the Olympics, 8 have come from relays. With only one relay medal for Nigeria at Beijing 2008, and none at London 2012, the nation is in dire need of a renaissance in the relays, which is why it was great to see the inaugural Lagos Relays take place last weekend. Even the Top Sprinter auditions held in some cities across Nigeria this year place a special emphasis on the sprint relays.
Going by Nigeria's recent form in the Relays in the last couple of years, and our lacklustre performance at the Penn Relays last week, Team Nigeria will do well to improve upon the one Bronze medal we won at the inaugural World Relays last year, with the most likely medallists being the Okagbare–led women's 4x100m (who missed out on Bronze by 100th of a second last year), and the 4x400m, albeit a much changed team from the Bronze medal winners last year.
Also watch out for a possible 4x200m National Record, if Okagbare anchors the team in that event too. Last year's team in finishing 7th at last year's event set a modest national record of 1:33.71s, by virtue of Nigeria never having contested the event at an IAAF event before then. Our men will certainly set a 4x200m National Record if they get the baton round and post any time, after having failed to finish the event last year.
What we can all hope for is that all four of Nigeria's 4x100m and 4x400m make the finals of their races, as this will automatically qualify them for the Rio Olympics next year!
STOP PRESS!
Information just reaching us confirms that AT LEAST FOUR of the home-based athletes initially listed for the World Relays were unable to travel to the Bahamas for the competition, as a result of the late processing of  their US visas. They include Tega Odele, Rilwan Fasasi, Tosin Adeloye and Isoken Igbinosun.
Unfortunately, late preparation for competitions has been the bane of Nigerian sports for decades, and it's a real shame that we're yet to get simple things like this right in 2015. That notwithstanding, we're wishing the rest of the team the best of luck despite the absence of these athletes!