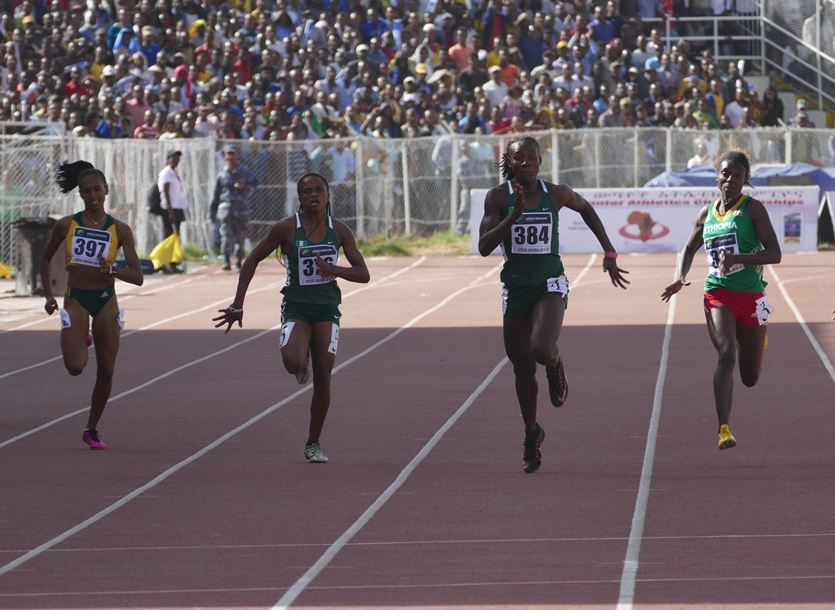 The Athletics Federation of Nigeria (AFN) has selected 27 athletes to execute Team Nigeria's campaign at the African Youth Championships holding next week in Mauritius, as well as the World Youth Championships in Colombia in July.
The team, comprising of 15 Boys and 12 Girls incidentally has the quartet of Praise Idamadudu, Aniekeme Alphonsus, Abolaji Omotayo and Blessing Adiakerenwa who were medallists at last month's African Junior Championships in Ethiopia.
Idamadudu is the reigning African Junior Champion in the 200m/4x400m while Alphonsus picked Silver and Bronze in the 100m and 200m respectively, and GOLD in the 4x100m alongside Omotayo, Adiakerenwa and Ese Brume. The pair of Uche Brown (Triple Jump) and Sikiru Adewale (400m) were also in action in Addis Ababa but didn't make it to the podium.
Owing to the fact that some of the selected athletes are still in school, the Technical Committee has also directed the athletes to continue training at their locations until 20th April 2015 when they would be called up to assemble for the trip to Mauritius. As such, they won't be invited for closed camping.
However lack of adequate funding has put Nigeria's participation in dire straits as it is not yet certain if the contingent will make it to the continental championship which commences on April 23rd in Mauritius.
Ironically, Nigeria hosted and won the last edition of the Championship, which took place at the Warri Township Stadium in Delta State where the likes of World Juniors Silver medallist, Divine Oduduru and a host of others came into international reckoning.
GIRLS
100meters
Aniekeme Alphonsus (Akwa-Ibom)
Abolaji Omotayo Oluwaseun (Kwara)
200meters
Idamadudu Praise (Delta)
Aniekeme Alphonsus (Akwa-Ibom)
400meters
Idamadudu Praise (Delta)
Adiakerenwa Blessing (Delta)
100m Hurdles
Vivian Nnena Akunna (Lagos)
Okorhi Mary (Delta)
400m Hurdles
Clifford Fegor (Delta)
Abu Joy (Kwara)
Long Jump
Nwaelehia Peace (Rivers)
Okolosi Oghenekome (Delta)
Triple Jump
Uche Brown (Abia)
Race Walk
Olude Fadakemi Florence (Ogun)
BOYS
100meters
Idjesa Uruemu (Global)
Nwokocha Tobechukwu (Delta)
200meters
Itsekiri Usheoritse (Delta)
Igube ThankGod (Delta)
400meters
Adewale Sikiru Adewale (Kwara )
Afeez Abdulramon (Kwara)
800meters
Okeke Chidi (Anambra)
110m Hurdles
Ojeikere Omon (Edo)
Ayebide Kingsley (Delta)
400m Hurdles
Prior Ochonogor (Edo)
Airen Williams (Lagos)
Javelin
Ezekiel Nyong (Cross-Rivers)
High Jump
Ayebide Kingsley (Delta )
Triple Jump
Pius Nsube Ihezue (Delta)
Emmanuel Effiom (Delta)
Long Jump
Nwokocha Tobechukwu (Delta)
Pius Nsube Ihezue (Delta)
Decathlon
Ayebide Kingsley (Delta)
COACHES
Saheed Akinpelu (Middle Distance)
Mrs Emily Osakwe (Horizontal Jumps)
Abiodun Johnson (Long Sprints)
Endurance Ojokolo (Short Sprints)
Chima Osuagwu (Hurdles)
Oluwole Odunuga (Race Walk)
Olalekan Soetan (Vertical Jumps)
George Obiano (Horizontal Jumps)