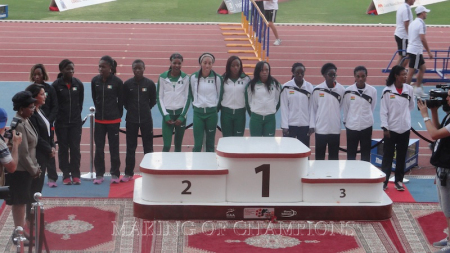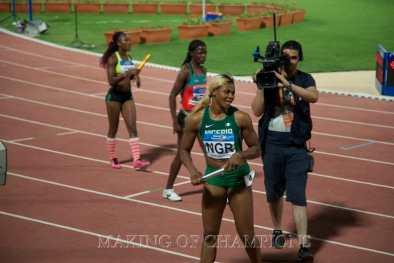 Team Nigeria dominated the women's 4x100m at the African Championships in Marrakech last month after Blessing Okagbare led the team to a fourth consecutive title in 43.56s, ahead of Cote d'Ivoire (43.99s) and Ghana (44.06s).
However it is a mixed grill that will make an appearance at the forthcoming IAAF Continental Cup, comprising of two Nigerians, an Ivoirian and a South African. Nigeria's Gloria Asumnu (No.36 with 11.15s) and Dominique Duncan would be in action for Team Africa in what has been an eventful season. The pair picked silver at the Commonwealth Games in Glasgow with the 4x100m team, and then struck gold in Marrakech last month. They will be joined by African Championship Silver Medallist in the 100m, 200m and 4x100m, Marie J Ta Lou Gonezie (No. 43 with 11.20s) of Cote d'Ivoire and South Africa's Justine Palframan.
Unfortunately, the absence of the continent's top two athletes, Blessing Okagbare (No. 2 with 10.85s) and Murielle Ahouré (No. 6 with 10.97s) at the Continental Cup will be sorely felt by friends and foes alike, as their presence would have raised the bar in terms of the level of competition, and bridged the gap between the hosts and their opponents.  
The star-studded Americas team will be led by world No. 2 (held jointly with Okagbare), Michelle Lee-Ahye of Trinidad and Tobago (10.85s) and has Diamond League trophy winner and Commonwealth silver medallist, Veronica Campbell-Brown (No. 4 with 10.86s), Tianna Bartoletta (No. 5 with 10.92s), Samantha Henry-Robinson (No. 7 with 11.00s) and Joanna Atkins (No. 11 with 11.02s) in tow. They would no doubt be the side to watch out for at the event.
Just like their male counterparts, European champions Great Britain will be representing their continent in the relay. The team is No. 3 on the IAAF 2014 Rankings, just behind Jamaica and the USA with a time of 42.21s. They won the 4x100m race at the European Championship in Zurich with a National Record (NR) of 42.25s, which eclipses the time of 42.43s set at the 1980 Moscow Olympics. Competing for Team Europe are Desiree Henry (No. 50 with 11.21s), Ashleigh Nelson (No. 41 with 11.19s), Anyika Onuora and Asha Philip (No. 40 with 11.18s) No.3 with 42.21s
Asian champions Japan occupy the 33rd  spot on the world rankings with 43.74s and Yuki Jimbo, Yuki Miyazawa, Mizuki Nakamura, Maho Takamori and Tomoka Tsuchihashi make up the Asian-Pacific team.
The IAAF Continental Cup will be taking place in Marrakech, Morocco THIS WEEKEND (Sept 13th & 14th), and Gloria Asumnu (NGR), Dominique Duncan (NGR), Marie J Ta Lou Gonezie (CIV) and Justine Palframan (RSA) will be representing Team Africa in the women's 4x100m on Saturday Sept 13th at 9.40pm!
Day 1 is LIVE on SuperSport 2 from 6.20-10.10pm. Day 2 is LIVE on SuperSport 6 from 5.20-9.10pm!
(Regina George stood in for Blessing Okagbare at the 4x100m award ceremony, as Blessing had already left Marrakech on the day of the ceremony!)