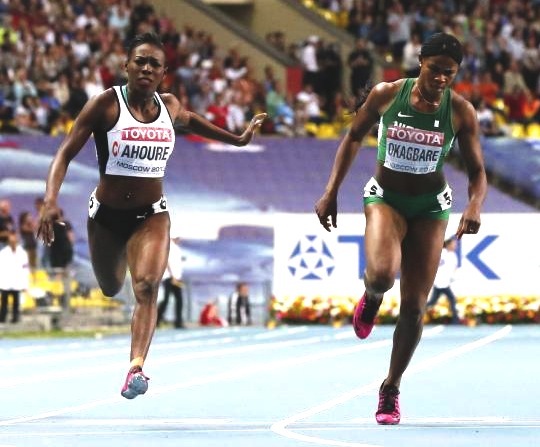 Fresh from winning the sprint double at the recently concluded Commonwealth Games in Glasgow, Nigeria's Blessing Okagbare will be looking to win both the 100m and 200m titles when the 19th African Senior Championships get underway in Marrakech, Morocco from August 10 to 14.
However this will be no ride in the park as she renews her rivalry with Cote d'Ivoire's Murielle Ahouré, who would also be aiming for the same, as she comes to the championship as the World Silver Medallist over the 100m and 200m, a feat she achieved by getting the better of Okagbare over both distances (Blessing finished 6th and 3rd respectively). The Ivorian became the first African woman to win a medal in the sprints at the World Championships, while Okagbare was the second to do so, with her bronze medal in the 200m in Moscow last year.
All that said, based on current form and barring any injuries, Okagbare is the favourite to clinch both medals, following her impressive outing in Glasgow where she won the 100m with a Commonwealth Games record of 10.85s, her fastest this year, and the 200m in 22.25s. Ahouré is directly behind Okagbare in the continental rankings this season, with her times of 10.97s over 100m and 22.61s in the 200m. The pair have met once over the 200m this season, at the Eugene leg of the Diamond League, where the Nigerian finished 2nd with a PB of 22.23s, and Ahouré was 4th, in a race that proved to be the break out race for USA's Tori Bowie, who is the fastest woman over the 100m and 200m this year. 
The duo have also gone head to head twice in the 100m in the Diamond League this season. In Lausanne, Okagbare slipped and did not complete the race, while Ahouré finished 2nd in 10.98s. The final meeting between the pair was in the 100m in Monaco last month, where Ahouré got the edge over her Nigerian rival as she finished in 3rd with her SB of 10.97s, while Okagbare followed closely with the same time in 4th.
After winning a Silver two years ago in the 100m, Blessing will be hoping to go one better at both distances this time around, although not if Ahouré has anything to say about it! The defending 100m Champion, Gabon's Ruddy Zang Milama is only 6th fastest in Africa this year in 11.24s, so it would be a surprise if she were able to beat Okagbare this time around! 
Also watch out for defending 200m African Champion and 100m Bronze Medallist from 2012, Gloria Asumnu. She looks like a good bet for Bronze in the 100m as she is Africa's No. 3 this year, though if she does compete in the 200m this time around, she will likely have to improve her SB of 23.28s to dip below 23 seconds and be in contention for a 200m medal!
Women's 100m Schedule: Aug 10th – Round 1 @ 9.30am, Semis @ 8.35pm; Aug 11th – FINAL @ 6pm
Women's 200m Schedule: Aug 13th – Round 1 @ 9.30am, Semis @ 6.40pm; Aug 14th – FINAL @ 8.45pm
(NB: This program is liable to change according to the number of participants and the local conditions)