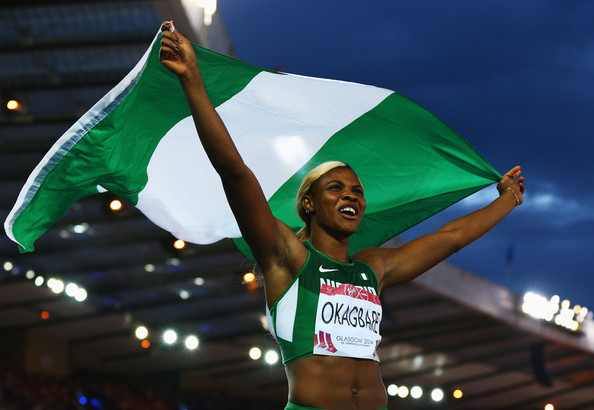 Blessing Okagbare fans could well be in for a treat and a complete spectacle in the women's 200m at the Commonwealth Games, as the newly crowned 100m Commonwealth Champion is the red hot favourite to complete the sprint double with the 200 metre crown on Thursday night! Such is Blessing's class beyond the rest of the Commonwealth field in the 200m, that it may simply be Blessing versus the clock. She took Debbie Ferguson's 100m Commonwealth Games Record on Monday night, and may just take the same woman's 200m Games Record (22.20s) on Thursday. The big question is: does Blessing just want the GOLD, or does she want to lay down a marker for years to come, by attacking Mary Onyali's 18-year-old 200m African Record of 22.07 seconds?
Okagbare has been imperious form in the 200m this year, having made it her event of focus recently, despite starting out as a long jumper and then a 100m sprinter. She is 2nd fastest in the world this year with a PB of 22.23s, behind USA's Tori Bowie (22.18s), she holds FOUR of the 10 fastest times this season and is leading the 200m Diamond Race. Her closest Commonwealth  competitor is Anthonique Strachan, the 2012 Double World Junior Champion and 9th fastest in the world this year with 22.50s, but she has inexplicably not been entered for the 200m – one imagines it could only be due to injury:
That leaves her main threat once again most likely to come from the Jamaicans – McLaughlin, Henry-Robinson and Calvert, who are 6th, 11th and 13th respectively in the Commonwealth this season, but ALL half a second slower than Okagbare. England's Jodie Williams is the fastest Commonwealth athlete after Blessing competing in the 200m, after setting a PB of 22.60s this season, and while Williams will be a home nations favourite for a medal, she will almost certainly be fighting with the Jamaicans for Silver and Bronze!
An interesting sub-plot is Dominique Duncan's first outing in an individual event for Nigeria, after switching from Team USA and coming within a hundredth of second to 4x100m Bronze at the World Relays with Team Nigeria! She's No. 10 in the Commonwealth this year with a PB of 22.82s in April, and if she can replicate that she could also be in amongst the medals. That said, she only ran 23.91s in placing 3rd at the Nigerian Trials in June, so it will be interesting to see what kind of form she is coming into the Games with!
Some Okagbare fans will be disappointed to learn that she opted NOT to compete in the Long Jump at these Games – her compatriot Ese Brume competed in the Heats for that event on Wednesday morning, qualifying for the finals which will take place on Thursday evening, in between the women's 200 metres semis and finals! From a scheduling point of view, it would have been virtually impossible for Okagbare to attempt TWO 200m races and SIX jumps in the Long Jump on the same night! She has taken the wisest decision, as the sprint double will be the far more widely recognised feat than the 100m and Long Jump combination!
One might recall that last year, Blessing failed to win a 100m medal in the World Championship final because she had taken 6 jumps the night before to win Long Jump Silver, and didn't have enough time to recover to successfully execute two rounds of the 100m the next day. Clearly, the 'scheduling gods' are not working in her favour – global meet organisers will have to accord her the same privilege that they once showed to the likes of Carl Lewis and Michael Johnson, arranging their schedules around these superstars, if we're ever going to see her attempt to go for THREE individual medals at major competitions!
Blessing is already Africa's fastest woman ever in the 100m after smashing Glory Alozie's 14-year-old record last year. The big question on Thursday will be, does she want a 'Double Portion' and take the 200m African Record as well? With her 10.85 second 100-metre speed in awesome display on Monday, something tells us that if Blessing decides she wants to re-write the 200 metre history books on Thursday night, she just might!
MoC PREDICTION: Barring injury, Nigeria's favourite daughter Blessing Okagbare will WIN 200m GOLD on Thursday night, and could get the Commonwealth Games Record of 22.20s, but she might not yet be ready to break Mary Onyali's African Record (22.07s). Even if she doesn't get the record, we may  be about to witness the BIGGEST EVER winning margin in a global 200m final, since a certain Usain Bolt, ofcourse!
Dominique Duncan should make the final of the 200 metres, and getting a medal would be a huge boost for the 24-year-old. But can she put three rounds of 200 metres together in two days and run fast enough in the final to be in medal contention? The honest truth is that we have not seen enough of her to make a firm prediction on that just yet!
Round 1 of the Commonwealth Games 200 metres kicks off TONIGHT (Wednesday), with Blessing Okagbare in Heat 1 at 9.15pm and Dominique Duncan in Heat 6 at 9.45pm – DON'T MISS IT!
The semi-finals start at 6.07pm on Thursday, with the Final shortly after at 8.45pm!