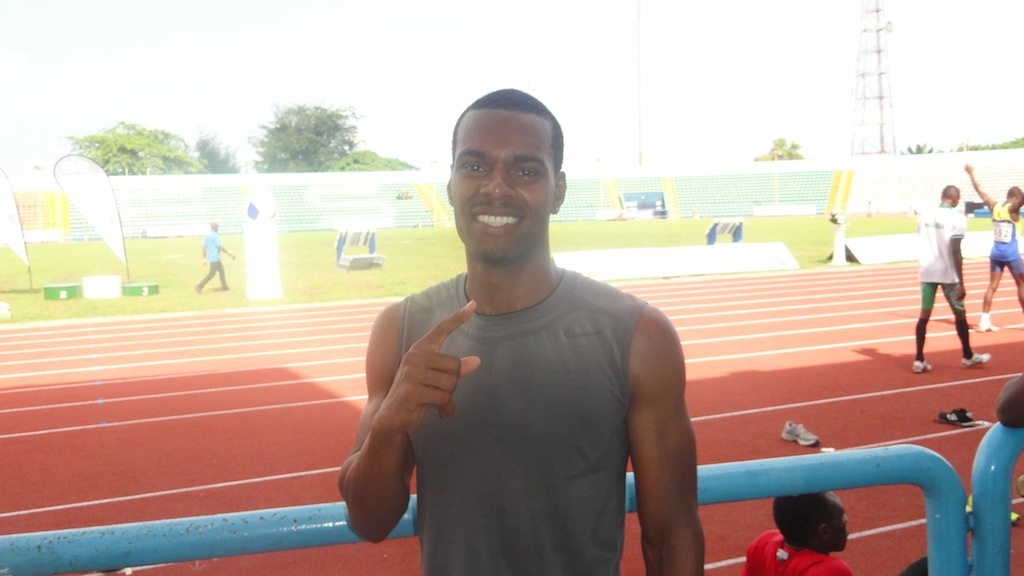 Amidst the ongoing controversy surrounding the American Athletes recently recruited to Team Nigeria, we analyse the chances of Nigeria's current 110m  Hurdles Champion, 28-year-old Tyron Akins, formerly of Team USA, in the 110m Hurdles at the Commonwealth Games on Tuesday, as well as the chances of runner-up at the Nigerian trials, 25-year-old Alex Al-Ameen, the former British athlete whose father is Nigerian.
On Sunday we asked the question of whether the recently recruited Americans had improved Nigeria's 100m sprinting pool and whether they could help Team Nigeria to win Commonwealth Medals, and today we're asking the same question for the 110m hurdles. At MAKING OF CHAMPIONS, we have EXCLUSIVELY put together the 2014 Commonwealth Athlete rankings in the 110m Hurdles to analyse Nigeria's medal chances in the event!
Essentially, Akins and Al-Ameen are evenly matched at the moment based on their Season's Bests, but Akins came out on top at the Nigerian Trials when it mattered, winning in 13.66s, with Al-Ameen second in 13.75s and three-time National Sports Festival Champion, Martin Ogieriakhi, third in 13.93s. While Al-Ameen and Akins have certainly given Nigeria an upgrade in terms of the men's sprint hurdles pool, they are only ranked 13th and 14th amongst Commonwealth  athletes this year, as such it looks like they would have to shave two or three tenths of their best times this season to be in medal contention at these Games.
Akins could be capable of that, if he rediscovers his best form – he has a PB of 13.25s from 2008, and ran 13.30s in three consecutive seasons from 2010 to 2012. Al-Ameen's best this season is also his lifetime best, and at 25, he still has a number of years to improve in the 110m hurdles, so it remains to be seen if this Games has come too soon for him to make an appreciable impact. The 110m hurdles kick off tomorrow (Tuesday) with 3 stacked Semi-Finals, with one of the three Nigerian hurdlers in each one – given the better ranked athletes that each race is filled with, our hope is that at least one of them can make the Final on Tuesday evening!
Men's 110m Hurdles Semi-Finals on Tues July 29th
10.55am: Heat 1 – Alex Al-Ameen (NGR No. 1, C'wealth No. 13) vs
Andrew Riley (JAM No. 2, C'wealth No. 2) &
Shane Brathwaite (BAR No. 1, C'wealth No. 5)
11.01 am: Heat 2 – Tyron Akins (NGR No. 2, C'wealth No. 14) vs
Hansle Parchment (JAM No. 1, C'wealth No. 1),
Greggmar Swift (BAR No. 2, C'wealth No. 6) &
Lawrence Clarke (ENG No. 2, C'wealth No. 7)
11.07am: Heat 3 – Martin Ogieriakhi (NGR No. 3, C'wealth No. 19) vs 
Wayne Davis II (TTO No. 1, C'wealth No. 3),
William Sharman (ENG No. 1, C'wealth No. 4) &
Ryan Brathwaite (BAR No. 3, C'wealth No. 10)
MoC PREDICTION: Based on how stacked each Semi-Final is, Akins and Al-Ameen might be racing each other for a fastest losers' spot in the final – at least one of them could scrape through, but anything can happen in the hurdles, so a great result would be to have both of them reach the final! It would be a huge surprise if either of them were to claim a medal in the Final on Tuesday night. Once again, it's the hurdles and anything can happen, so we can only hope!