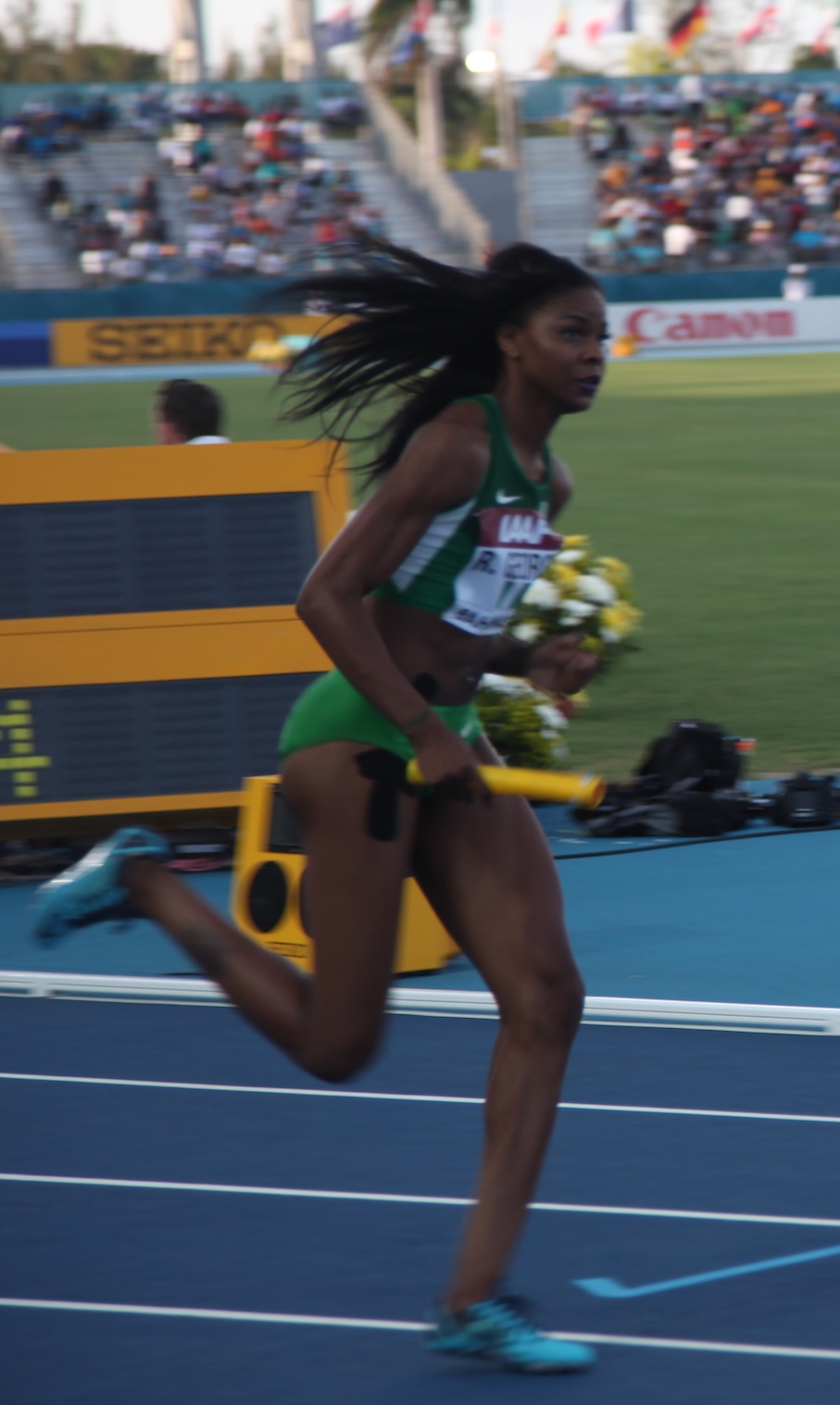 Nigeria put on a dominant display in the women's 4x400m Heats at the World Relays on Saturday, winning comfortably in a Season's Best of 3:27.07, to go through to the Finals on Sunday. The quartet of Sade Abugan, Regina George, Bukola Abogunloko andPatience Okon George  brought the team home, well ahead of their rivals in this heat:
Can they win a medal in the Finals on Sunday? The second Heat was stacked with USA, Jamaica & GB, who will all pose a threat for Nigeria in the finals. USA & Jamaica seem to be a cut above the other teams, and even though GB was third in that heat, the current 400m World Champion, Christine Ohuruogu did not run the Heats, so once she comes in for the Final, Team GB will also be tough to beat. Team Nigeria's ladies may have to shave off up to 2 seconds of their Season's Best to win a mdeal – we won't have long to find out!
Here's what Regina George had to say after the race:
Nigeria came home comfortably winning that heat in 3:27.07 – how does the team feel about the run? 
We came here to make the final, and you can't ask for much more, so we're pleased with that. Hopefully we can run a season's best in the final.
That was a season's best in the Heat just now, so how are you feeling about going even beyond that in the Final? 
Well, in any competition you're meant to run faster in the final if everything goes right…
You haven't met the Jamaicans or the Americans, so how do you feel about the team lowering your time enough to match them?
I feel pretty good about it. We'll take it one step at a time – everybody is here to compete for the GOLD, and that's what we came here to do. It will be hard, but it will be worth it once we come out with a season's best.
You ran a storming 2nd leg and you gave Bukola and Patience a great head start to lead from the front – will you be running the 2nd leg in the final?
I don't know – we just tried to moving things around in the Heats, but we'll see when we talk to the coaches, then they will tell us what order to run in the finals.
Thank you and good luck for the finals
Thank you