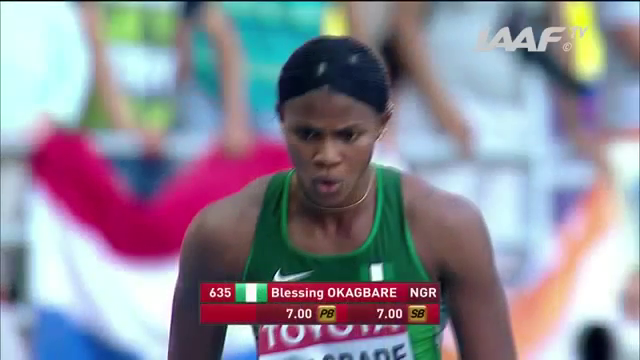 Podcast: Play in new window | Download
Last night I made an appearance on Sportsline, a Jamaican radio show on their Hot102FM channel to review the just concluded World Championships. I shared the airwaves with none other than MVP President Bruce James who focused on Jamaica's 6 Gold, 2 Silver and 1 Bronze medal performances at the Championships, while I brought the outsider's perspective, speaking mainly on the double medal feats of Blessing Okagbare of Nigeria and Murielle Ahoure of Cote d'Ivoire.
In this 9 minute section of the show, we discuss the Making of Champions documentary, the blog, investment in athletics in Nigeria, and Bruce James quizzes me on why Nigeria entered Blessing into 4 different events (100m, 200m, Long Jump and 4x100m) for these Championships! Click on the below to listen to our discussion…enjoy! (You might be wondering how come I appeared on a radio show in Jamaica yesterday? Well, the station dialled me into the discussion from my current base in the UK!)
Bruce James is more or less one of the founding fathers of the age of the Professional Track Club in Jamaica, after playing a pivotal role in setting up MVP Track & Field Club in 1999 – MVP is home to the likes of Shelly-An Fraser-Pryce, the double Olympic 100m Champion who became the first woman in World Championship history to win triple Gold in the 100m, 200m and 4x100m!
Audio is courtesy of Hot102FM in Jamaica. Watch out in the next few days as I release more snippets from our Sportsline conversation yesterday!
Podcast: Play in new window | Download

Podcast: Play in new window | Download