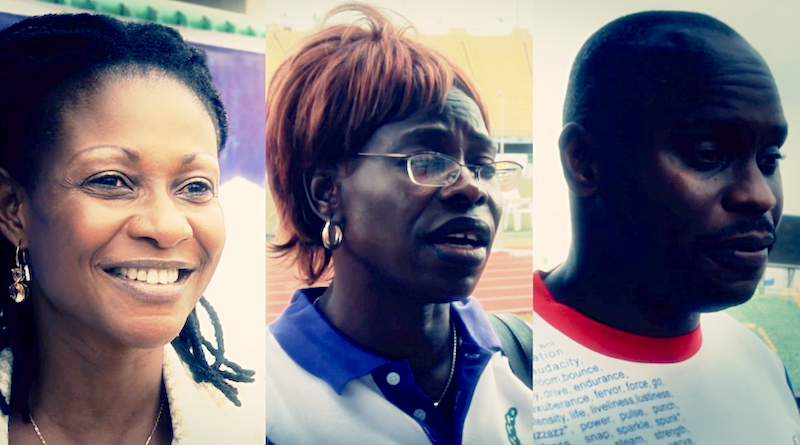 When I arrived in Nigeria in October, I had this idea – make a documentary to show Nigerians how Champions are made in Track and Field. At London 2012, our great nation had suffered the ignominy of not winning a single Olympic medal, the first time that had happened since 1988! I felt strongly that, as a nation of 170 million people, there was something that we must be able to do about this. Especially when our recent Olympic history has shown us that we have some undoubtably natural talent, in the sprints especially. Natural talent that as a nation we are slowly forgetting that we possess…The first person I met along this journey was Eniola, who runs a production company in Lagos called Liveboxx. In fact I met him at the Radisson Blu Hotel in Lagos, almost right after I had come off the plane, and I showed him my documentary plan – an ambitious 4-part project, that would involve shooting in Nigeria, and overseas, including such far flung and exotic locations as Jamaica and the Bahamas – afterall, if you're going to show how Track and Field Champions are made, how can you not go to the Caribbean, and Jamaica especially, arguably the "Home of Champions" right now?
Finding financial backers for such an ambitious project was obviously going to be pivotal to making it happen the way I had envisioned it. But who in Nigeria would realistically hand me cash to go to Jamaica and the Bahamas, for what they would no doubt see as me simply trying to catch some holiday fun? How could I make any potential sponsors know that I was serious about this venture? The only choice I had was to make the first part of the documentary in Lagos, a proof of concept if you will, that might convince potential sponsors to support the complete vision.
So that's exactly what I did – fortuitously for me, Nigeria's National Sports Festival was coming up, and was conveniently being held in Lagos (coined as Eko 2012) in November/December – I knew that to have any chance of attracting interest from sponsors, I had to find Nigeria's most celebrated athletes and put them on camera. My hunch was that they would mostly be attending Eko 2012 if they were based in Nigeria, so I put a plan in motion to make sure we had a team there to capture the games, and interview our former stars of Track and Field.
My hunch was correct – we hit the jackpot. We found many of Nigeria's former Olympic medallists trackside, including Nigeria's only 3 double Olympic medallists in our history – Mary Onyali-Omagbemi, Falilat Ogunkoya-Omotayo and Enefiok Udo-Obong (perhaps double Olympic medallists must all have double barrel names? 😉 ).
We were also privileged to meet the likes of Sunday Uti and Moses Ugbesien, two of the quartet of men who won Nigeria's first Track and Field medal in the 4x400m in the Los Angeles Olympics in 1984. Last but certainly not the least, we met Yusuf Ali, who competed for Nigeria in the long jump at multiple Olympics, and is still Nigeria's long jump record holder, 25 years after setting the record!
I certainly could not have executed this "phase zero" of this project without a long time friend of mine, Lamide, who used to read news on Channels TV and even won the Nigeria on-air personality of the year Future award back in 2009. Of the 5 days we shot, I was only present for a couple of hours on 2 of those days, and she did a fantastic job of handling all the interviews with our past Olympic stars! Thanks for helping to make this all possible! 🙂